Here are two very important notes for the gold market today…
Gold
January 27 (King World News) – Fred Hickey:  Inflows into GLD ETF in 5 of 6 past days (+2 tons today). Total over period +10 tons. Still 187 tons less than last April. Long net gold futures contracts up – but also still at small fraction seen around prior tops. Western (institutional) buying could continue to propel higher…
---
Listen to the greatest Egon von Greyerz audio interview ever
by CLICKING HERE OR ON THE IMAGE BELOW.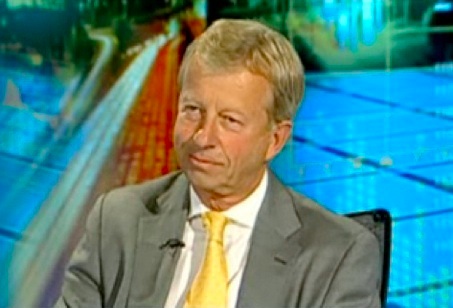 Sponsored
---
Gold pausing after hitting fresh cycle high
Fred Hickey:  Gold traded close to unchanged on the week, but not before reaching a fresh cycle high at $1950, driven by demand from speculators and investors seeing an improved outlook. Last year's headwinds are becoming tailwinds, as rate hikes eventually pause and yields and the dollar soften amid concerns about the economic outlook. This past week, traders have also moderated their estimates for how low inflation will eventually drop. This change is driven by the realization that some inflation measures are not that easy to kill, despite the inflationary dampening impact of the current rate hike cycle.
However, given gold's steep ascent during the past two months which has seen it rally some $330 above the November low, the need for a period of consolidation is long overdue. Whether it is consolidation or correction will depend on the yellow metal's ability to hold trendline and the 21-day moving average both currently around $1890.
Notwithstanding changes in the dollar and yields – both key directional drivers for algorithmic trading systems – we are watching ETF holdings, which reached an 11-week high following a modest increase this past week, the mentioned rise in US breakeven and inflation swap rates, and not least next week's FOMC meeting to gauge further insights into the thinking at the world's most important central bank.
$2,000
Apart from this week's high at $1950 and $1963, the 76.4% retracement of the 2022 correction, there is no major level of resistance before the psychologically important $2000 level, while support is well defined around $1900 where the 21-day moving average line meets the ascending trendline from the November low.
No Major Level Of Resistance For Gold Before The Psychologically Important $2,000 Level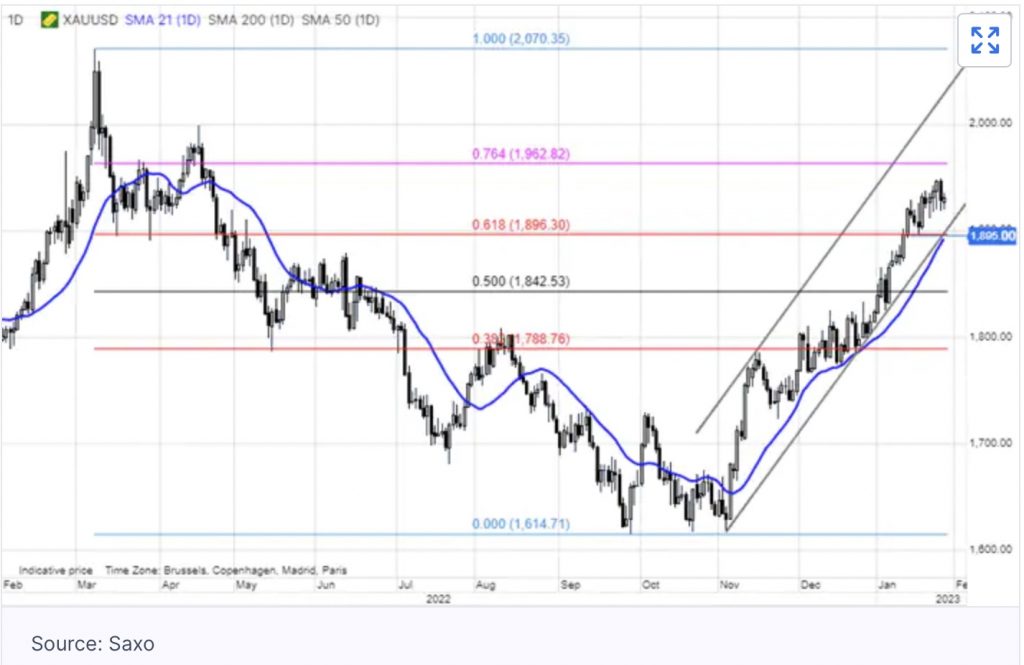 ALSO JUST RELEASED: CURRENCY WARS: Russia Is Leading The East To A Gold-Backed Currency CLICK HERE.
ALSO JUST RELEASED: More Evidence A Massive Gold & Silver Bull Market Is Coming CLICK HERE.
ALSO JUST RELEASED: Look At This Shocking Inflation. Plus Gold Price Surges To $1,950 But Look At This… CLICK HERE.
ALSO JUST RELEASED: This Is What Central Banks Are Up To As Gold Continues To Crush Fiat Currencies CLICK HERE.
ALSO RELEASED: Many Are Expecting Deflation But Here Is Why Inflation Hell May Still Be In Front Of Us CLICK HERE.
ALSO RELEASED: Silver Preparing For Blastoff, Plus 3 Key Charts And More CLICK HERE.
ALSO RELEASED: S&P Has Soared Since October But Gold Has Done Even Better CLICK HERE.
ALSO RELEASED: Gold Looks Strong Enough To Challenge All-Time High Of $2,075 CLICK HERE.
ALSO RELEASED: Greyerz – What The World Is Facing Is Nothing Less Than Catastrophic CLICK HERE.
© 2023 by King World News®. All Rights Reserved. This material may not be published, broadcast, rewritten, or redistributed.  However, linking directly to the articles is permitted and encouraged.