Gold surged more than $30 on Friday and silver broke back above the $24 level, but look at the bullish setup.
Alasdair Macleod's King World News audio interview has now been released!
January 6 (King World News) – Alasdair Macleod:  After a strong start to the New Year, gold and silver succumbed to profit-taking as the dollar recovered slightly. In European trade this morning, gold was trading at $1837, up $14 on last Friday after hitting a high of $1864 on Wednesday. Silver was at $23.43, down 52 cents on the week, after hitting $24.50 midweek.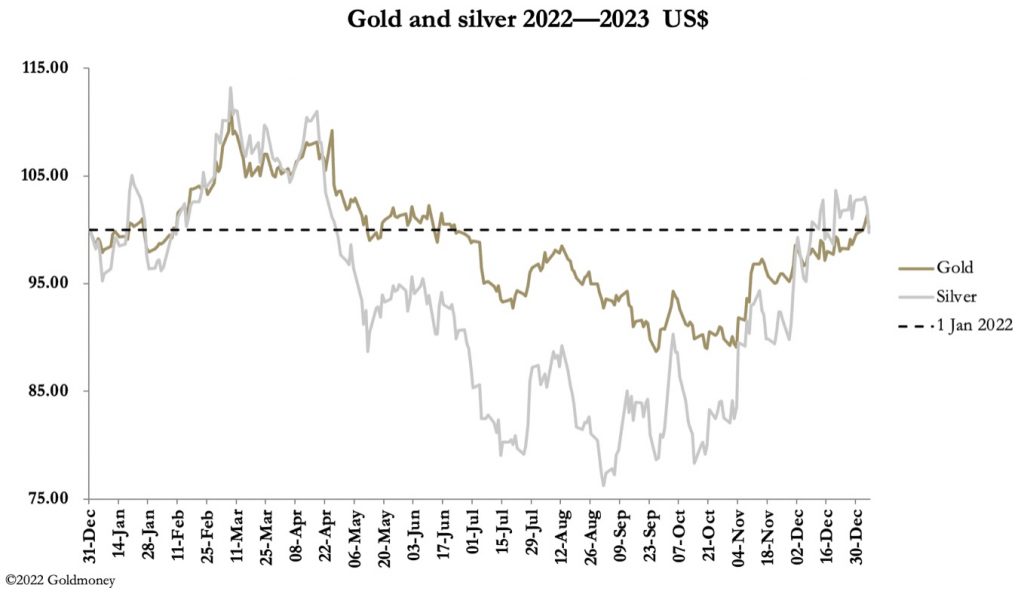 That precious metals would be vulnerable to profit-taking should be no surprise, given that in two months gold has rallied from $1617, and silver from under $18. These moves have been a mirror image of the dollar's trade weighted index, which since early November fell from113 to 103.5 on 30 December, before recovering to 105.3 this morning.
While profit-taking is the order of the day for gold and silver, neither market is overbought — looking at Comex figures we see that Open Interest, a general reflection of market sentiment, remains low.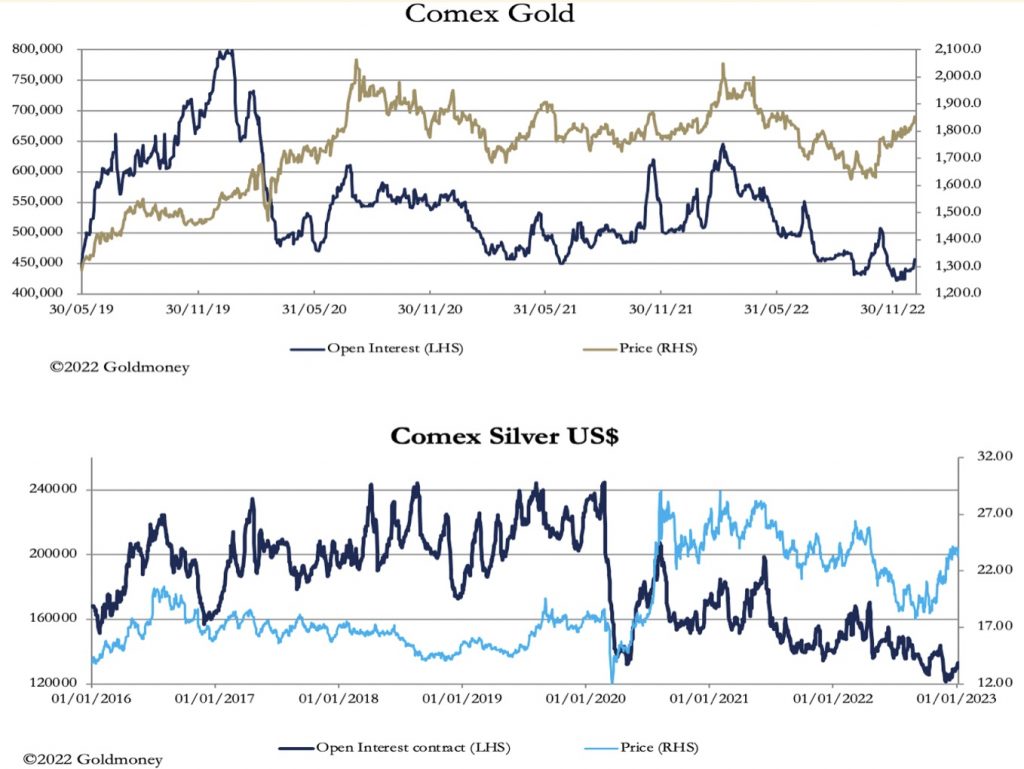 While profit-taking is in traders' minds short term, the question uppermost is the prospects for the dollar. And here we must turn to global bond market developments. After weaking on diminishing inflation concerns and increasing fears of recession, bond yields appear to be going no lower, and possibly increasing. Normally, that should provide some support for the dollar relative to gold. But there is a fly in this ointment: Japanese bond yields have risen sharply, this morning blasting through the Bank of Japan's 0.5% ceiling for the 10-year JGB yield. This is next: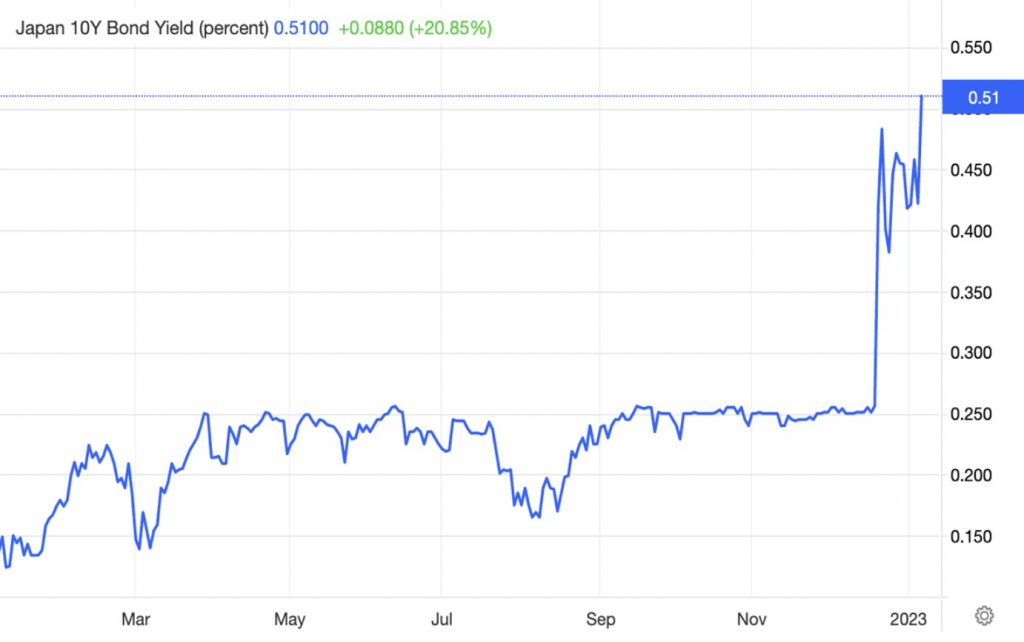 The relevance is twofold. Firstly, the global carry trade through currency forwards and swaps has been shorting the yen to buy dollars to pick up yield differentials. The reversal of the yen's spectacular fall reflects the beginning of this carry trade unwinding and probably has further to go. And secondly, with yen yields suppressed, excess capital has been invested by Japanese banks and institutions in other bond markets. 
Facing valuation losses on rising yields, Japanese institutions have already been detected selling French government bonds. They have also been reducing their US dollar interests, reflected in Treasury bonds sold $44bn between July and October, selling which is now likely to increase. Therefore, while US bond yields rise, the dollar may not rise with them as the global bond unwind accelerates…
---
ALERT:
Powerhouse merger caught Rio Tinto's attention and created a huge opportunity in the junior gold & silver space CLICK HERE OR ON THE IMAGE BELOW TO LEARN MORE.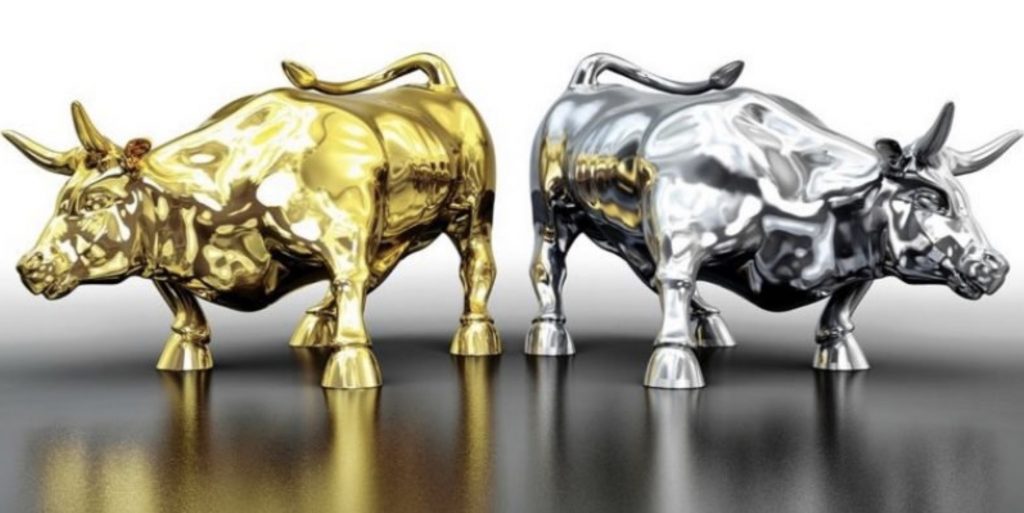 ---
How this plays out for precious metals remains to be seen, but it is not all bad news. Rising bond yields are unlikely to be US-led, as the sharp rise in JGB yields shows. Both the BOJ and ECB have some catching up to do, which suggests that the current dollar rally will be limited. 
Meanwhile, US M2 money supply is contracting at a record rate as our next chart shows.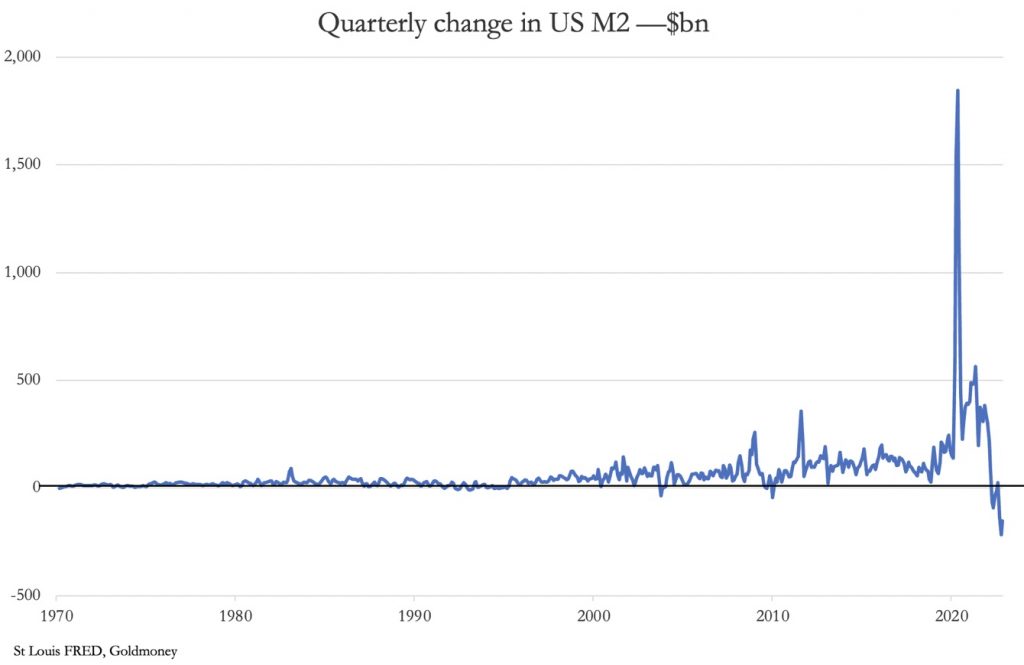 This is bound to soften Fed rate policy, forcing a pivot on QT to QE. That will not resolve the Fed's difficulties; instead, the developing situation is likely to highlight them.
While dollar prices for gold are still below their highs by some margin, in other currencies gold has outperformed as our last chart shows.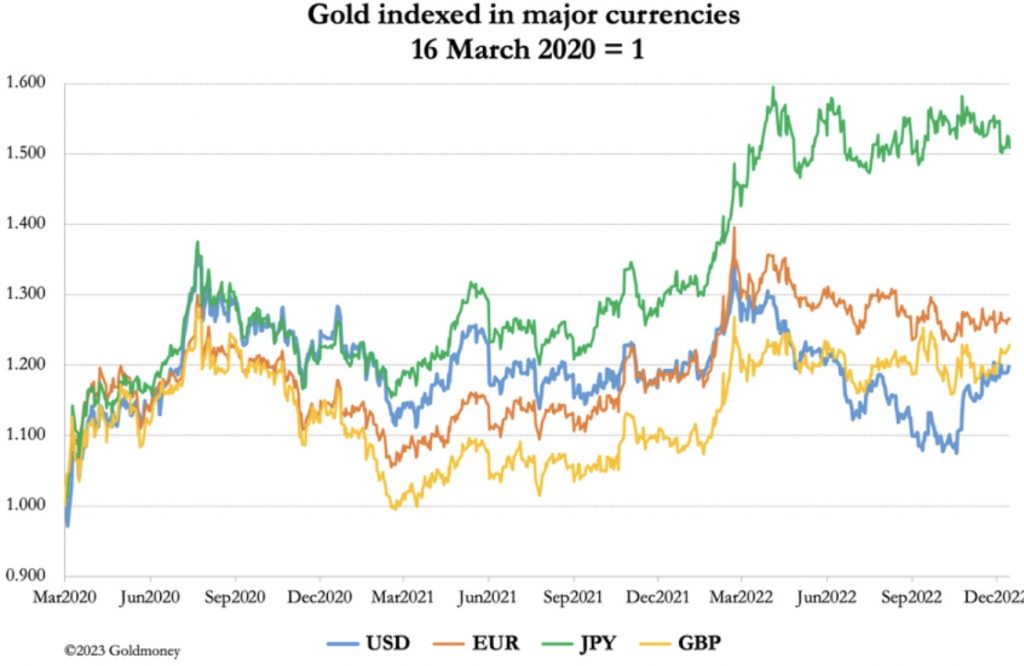 ***To listen to Alasdair Macleod discuss what Russia is up to in the gold market along with what surprises to expect as we kickoff 2023 CLICK HERE OR ON THE IMAGE BELOW.

ALSO JUST RELEASED: Cashin Confirms We May See Another Black Swan In Financial Markets CLICK HERE.
ALSO JUST RELEASED: GOLD & FIAT MONEY: The Achilles Heel Of The West Is The East's Strength CLICK HERE.
ALSO JUST RELEASED: Art Cashin – Another Black Swan May Be On The Horizon CLICK HERE.
ALSO JUST RELEASED: Historic 2022 Panic And How It Will Impact 2023 As Investors Move Into Gold & Silver CLICK HERE.
ALSO RELEASED: Celente's Shocking Global Predictions For 2023 CLICK HERE.
ALSO RELEASED: Here Is Why 2023 Will Be A Big Deal For Gold, Silver And The US Dollar CLICK HERE.
ALSO RELEASED: BUCKLE UP: The Terrifying Global Reset Is About To Begin CLICK HERE.
© 2023 by King World News®. All Rights Reserved. This material may not be published, broadcast, rewritten, or redistributed.  However, linking directly to the articles is permitted and encouraged.