With the US dollar, gold and silver all rallying to kickoff the new year, 2023 promises to be an interesting ride for those in the precious metals sector.
January 3 (King World News) – James Turk:  As we consider the investment prospects for our portfolios for 2023, Eric, we need to remember that the markets are always telling us their story. What we investors need to do is listen to what the markets are telling us and put emotions aside while searching out the trends and locating the good value. 
Most global stock markets just finished their worst yearly performance since the 2008 financial crisis. Meanwhile, bond prices were hit by their worst ever collapse. The Financial Times of London reckons that "global stocks and bonds lost more than $30 trillion in 2022 as inflation, interest rate rises and war in Ukraine triggered the heaviest losses in asset markets since the financial crisis."
These markets remain in downtrends, and even though they are now less overvalued than they were a year ago, their valuations are problematic. Instead, investors should be focusing on the significant upside potential in 2023 for the precious metals and the shares of companies that mine them…
---
ALERT:
This company is about to start drilling what could be one of the largest gold discoveries in history! CLICK HERE OR ON THE IMAGE BELOW TO LEARN MORE.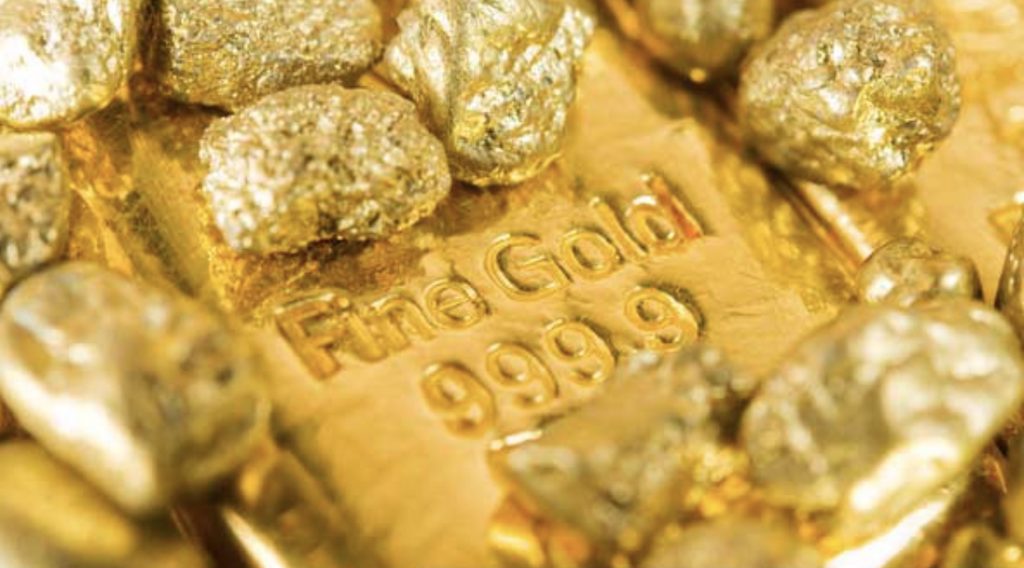 ---
There were a lot of crosscurrents in December, as is often the case. Tax loss selling and year-end window dressing can create a lot of irrelevant noise. Fortunately, the uptrends in gold and silver remain clear. These began with the break of the short-term precious metal price downtrends that stretched back to March.
We all know how badly the stock market, cryptos and most other assets have done over the past few months as the Fed has been tightening. The story here is that money was flowing out of these assets and into the precious metals as evidenced by the uptrend in gold – and silver too, which has done even better than gold.
Even the mining shares – long neglected by the wider investment community – started climbing higher again over the past few months. Importantly, the metals and mining shares by my methodology remain significantly undervalued.
On Friday we saw gold's first weekly close above $1800 since June. From its 2-year low in September. Gold has jumped 10.8%. 
Silver meanwhile soared 22.9%, so the gold/silver ratio over this period has fallen from 96.7 to 76.3. While that is a big drop, the ratio remains high, indicating that silver is still very undervalued relative to gold.
I'd like to refer to the interview we did, Eric, back at the beginning of December because the points I made then are still relevant. So too are the price targets I gave for gold and silver. 
Last month silver broke out of its short-term base by moving above $22. It's now trying to hurdle the first level of resistance I mentioned at $24. Once it does, then $26 is the next level that needs to be cleared.
Gold meanwhile is building up support at $1800 that is needed for it to hurdle major resistance around $1850-$1875. I am using the following weekly chart of spot gold as my roadmap.
Gold Headed Back To All-Time High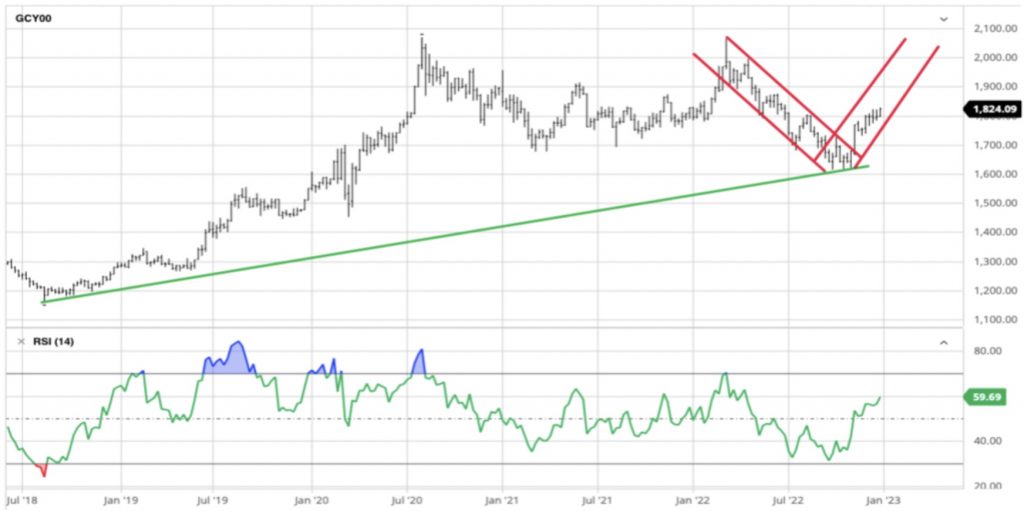 Whether this "V" pattern will continue remains to be seen of course. But if it continues we should be focusing on $2000 in February, which is only 9.9% from here. That $2000 level is an even more reasonable target now than it was when we spoke a month ago, particularly so if we keep in mind to never underestimate the power and duration of a trend.
The other major point I made in that interview a month ago is that the US Dollar Index was at a key testing point. Whichever way it broke – either below 104 or above 105 – will tell us its story for 2023. 
The dollar's break below 104 so far has not been decisive. So keep an eye on this 104 level, but it looks all downhill for the dollar is 2023, probably because inflation is likely to worsen.
We can't of course predict the future, but there have been 60-year uptrends in gold and silver as the US dollar has been debased. I see no reason or pending government action to suggest these uptrends – and the dollar's downtrend – will end. 
You often ask me, Eric, what I should say to your readers around the globe when looking ahead. I think this remark from the former US Treasury secretary John Connally is relevant. As inflation was worsening back in 1971, he told the world that "the dollar is our currency, but it is your problem". 
It was obviously an off-the-cuff remark, but these unrehearsed and unscripted comments are the ones that tell the true behind-the-scene story. Given what has happened to the dollar since then, his comment likely reflects current thinking in Washington D.C. So do not expect the US government to restore a sound monetary system by ending President Nixon's unconstitutional decision to "suspend temporarily" the dollar's redeemability into gold. 
My colleague Alasdair Macleod believes 2023 will be the "make or break" year for the dollar, and I agree with him. I therefore see owning physical gold and silver as essential to make sure that your readers and their family make it to the other side of the valley.
ALSO JUST RELEASED: BUCKLE UP: The Terrifying Global Reset Is About To Begin CLICK HERE.
© 2023 by King World News®. All Rights Reserved. This material may not be published, broadcast, rewritten, or redistributed.  However, linking directly to the articles is permitted and encouraged.