The economy is imploding much faster than people realize. Take a look at this…
First About The Banks…
May 9 (King World News) – Peter Boockvar:  What's unusual about what is going on with the banks in terms of the failures and the notable tightening of lending standards is that historically this behavior has taken place in response to a recession that has already begun. In the past, the economic downturn creates bad credit, some banks don't make it as a result and for most of the banks that do respond in kind with limiting the extension of credit. This time, it was the unwinding of the sovereign bond bubble with the pin being the aggressive rate hikes in response to inflation that caused the initial tightening of lending criteria, the deposit flight, the eventual bank failures, and in turn further tightening of credit even before a recession has technically begun. And now the downside of the credit cycle awaits with the stated vulnerability already in place…
---
ALERT:
This company is about to start drilling what could be one of the largest gold discoveries in history! CLICK HERE OR ON THE IMAGE BELOW TO LEARN MORE.
---
I have yet to mention one word about the debt ceiling in my commentary but will today with the meeting of both sides later. After doing this for a long time and seeing this movie so many times, it's hard not to have my eyes glaze over every time we see what's going on and hear the words 'catastrophic' or 'calamity' stated by both parties over decades if it doesn't get raised but it always does. What we are telling clients in case there are a few days of disruption is just to make sure you don't have T-bills maturing in the first few weeks of June if you need the money for something very important. As June 1st is a Thursday, to use that as an example date, if you are closing on the purchase of a house on June 1st or 2nd and your down payment money is in that T-Bill, sell it before then. And for any other important reason you need the money during those few weeks. Otherwise, the government will still pay you back even if the timing is off by a few days (unlikely weeks). Politicians like to talk tough but on something like this, they'll all fold to raise it again.
Collapse Alert
The NFIB April small business optimism survey fell to the weakest level since January 2013 at 89, down 1.1 pts m/o/m.
Small Business Optimism Near All-Time Lows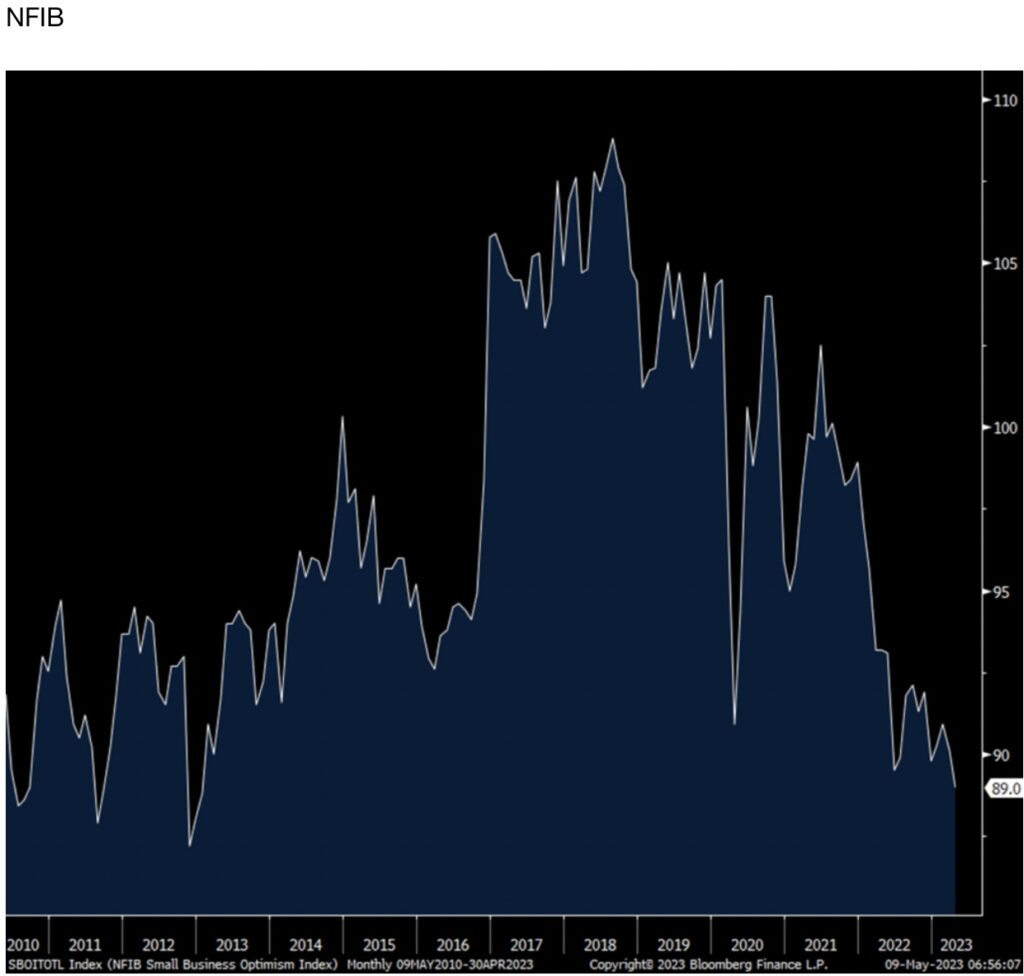 Plans to Hire rose 2 pts after falling 2 pts in March and Positions Not Able to Fill rose 2 pts after dropping by 4 in the month before. With respect to compensation, both current and plans for it, they fell a touch. The outlook for earnings softened 5 pts after improving by 5 pts in March. And as I've said before, if earnings/cash flow deteriorate, capital spending will slow as one follows the other. Capital spending plans fell 1 pt to match the lowest level since 2010 not including Covid.
Capital Spending Is Collapsing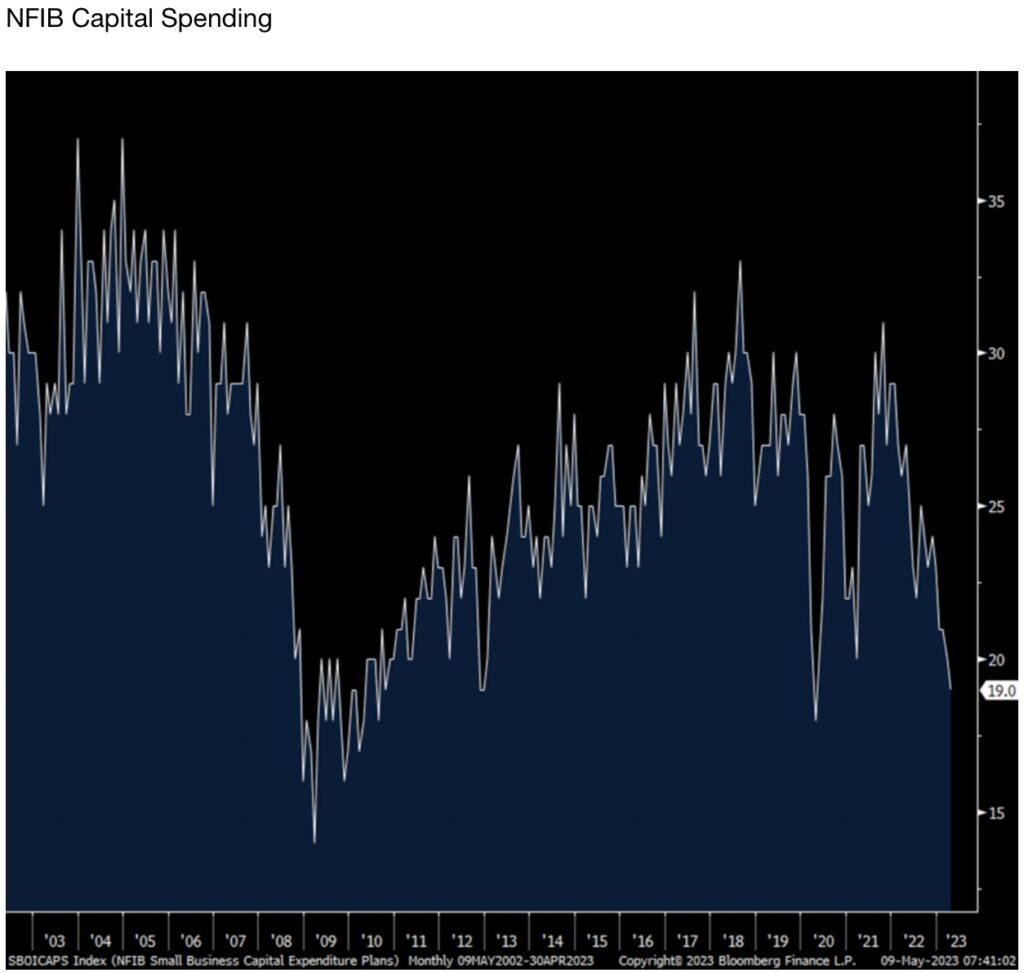 With inventory still elevated, now especially relative to sales, plans to increase it fell 1pt to -5. Higher selling prices continues to moderate, down 4 pts m/o/m. With respect to the outlook components, those that Expect a Better Economy fell 2 pts and is not far from the lowest on record.
Those That Expect A Better Economy Near Record Low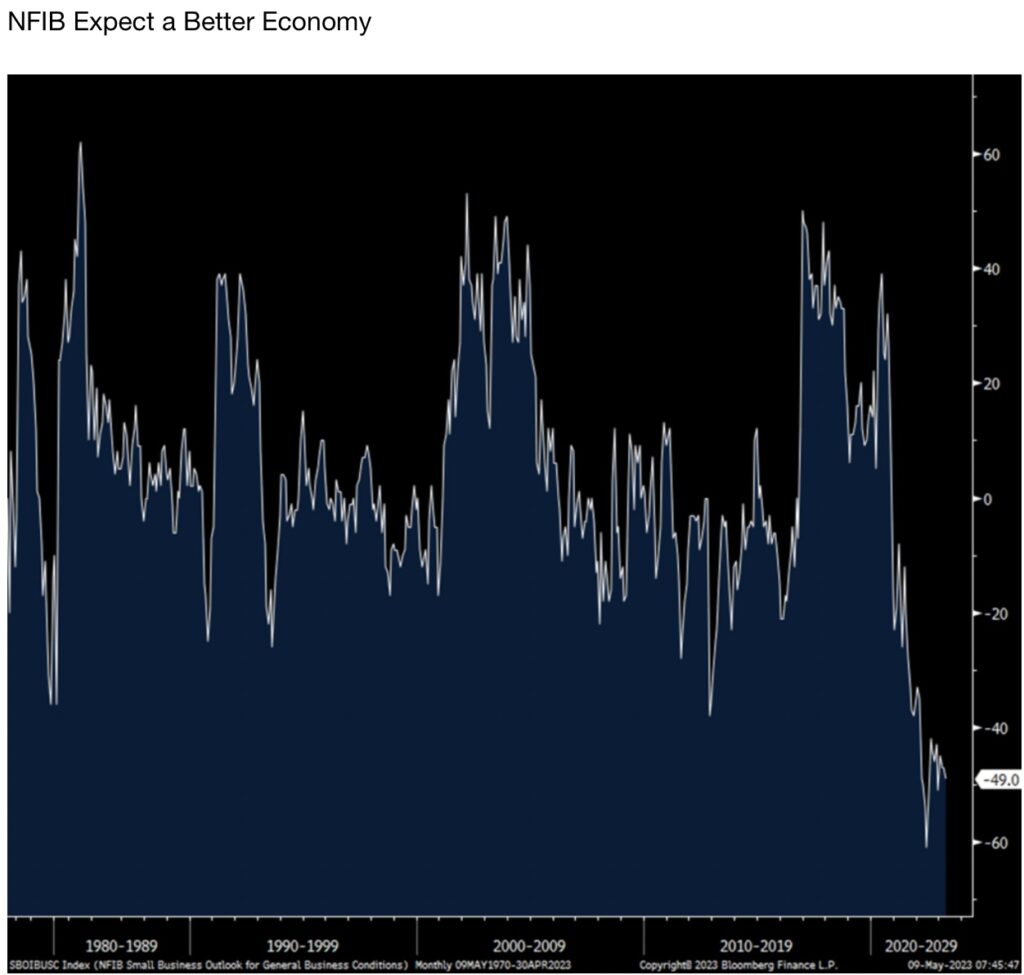 Those that Expect Higher Sales deteriorated by 4 pts to the softest since last July. Off the lowest level since 1980, those that said it's a Good Time to Expand rose just 1 pt.
Those That Think It's A Good Time To Expand Near Record Low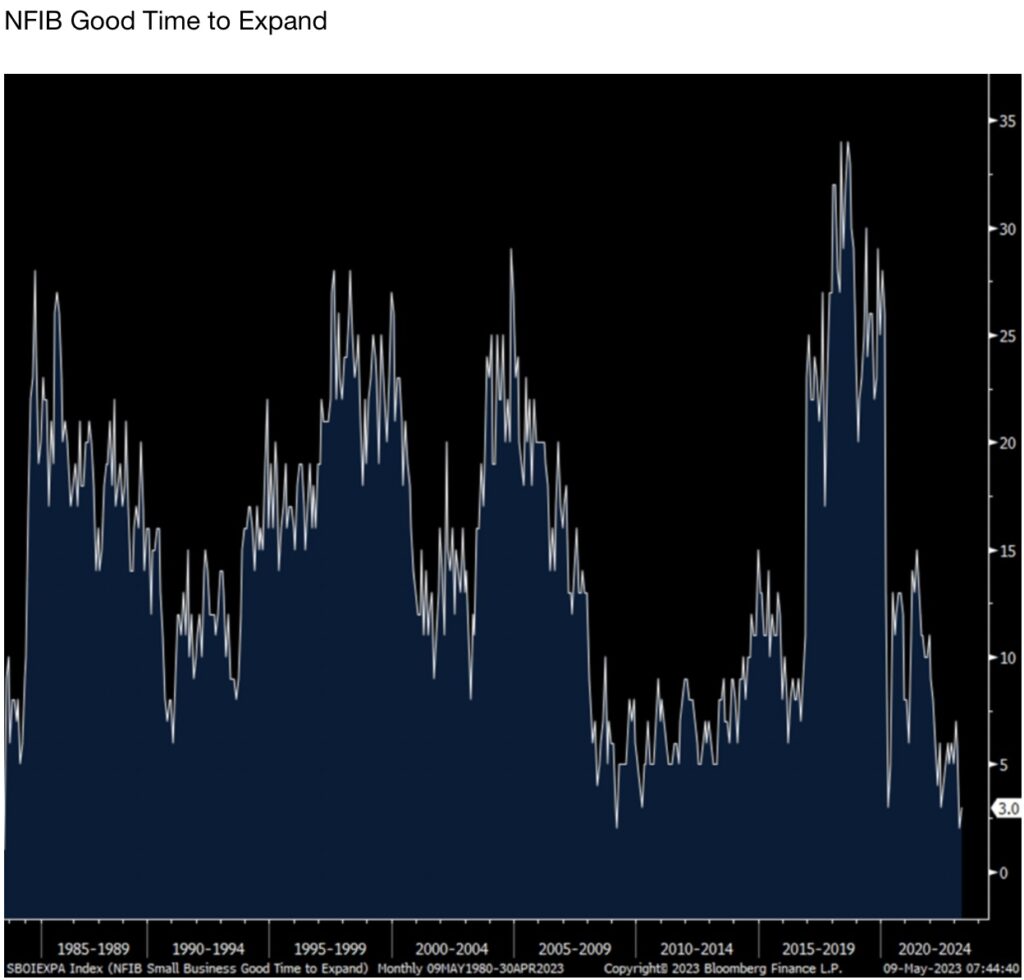 Finally on credit conditions, they remain negative but 1 pt less so at -8.
Just a bit more here on credit, "the average rate paid on short maturity loans was 8.5%, .7 percentage points above March and the highest since October 2007." This said, only 4% reported that financing was their top business problem (up 1 pt) and just 2% of owners said that their borrowing needs were not satisfied. This of course is something we'll be watching really closely in coming months and quarters.
The NFIB said "Optimism is not improving on Main Street as more owners struggle with finding qualified workers with their open positions. Inflation remains a top concern for small businesses but is showing signs of easing."
Insert
***To listen to James Turk discuss why the bank crisis is set to accelerate and how it will impact major markets including gold and silver CLICK HERE OR ON THE IMAGE BELOW.

***To listen to Alasdair Macleod discuss the accelerating bank crisis and how this will impact the gold and silver markets CLICK HERE OR ON THE IMAGE BELOW.

© 2023 by King World News®. All Rights Reserved. This material may not be published, broadcast, rewritten, or redistributed.  However, linking directly to the articles is permitted and encouraged.