There is no question that the silver bull market that has already kicked off will be one for the history books.
Silver Launching Into A Big Bull Market
December 20 (King World News) – Otavio Costa:  If we are indeed on the cusp of another long-term precious metals cycle, silver at its current price is perhaps the cheapest resource on earth.
When looking at the metal relative to M2 money supply, it may have recently just reached a historic double-bottom after re-testing the early 2000s levels, which preceded a major upward move in silver prices.
Silver Price Needs To Soar 20X To Reach 1980 Peak
Extreme daily moves in the dollar index should also be noted as part of the bullish thesis for precious metals.
We recently saw the largest 2-day drop in the DXY index since the Plaza Accord in '85 when major central banks coordinated to depreciate the USD relative to other fiat currencies.
After that agreement and the initial downward jolt in the USD, gold prices nearly doubled in 2 yrs.
Will Gold Price Double Again In The Next 2 Years?
There was another significant decline in the DXY that occurred right at the depth of the GFC in 2008 which marked the bottom for precious metals.
Price changes of such magnitude have coincided with major bottoms for gold.
We believe that will be the case again today…
---
Billionaire Eric Sprott is a big investor in this remarkable silver company click here or on the image below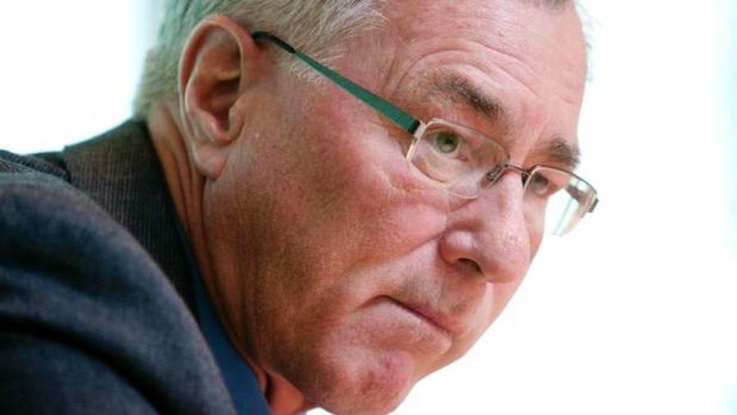 ---
Silver is showing similar signs. 
In October, the metal had an explosive daily move. 
The last time it did that was in November 2008, which marked the end of a major correction in precious metals.  
Silver then proceeded to charge up 400% in just two-and-a-half years.
Also, it's important to remember that just three months ago silver was having its worst year-to-date performance in 30 years. 
The worst is likely behind us.
We believe it is time to aggressively be long precious metals. 
Lastly, if we look at monthly returns, silver just had its strongest November performance in 52 years.
Silver Had Its Strongest November Performance In 52 Years
Silver has significantly lagged behind other commodities since 2020. 
We believe the metal is poised for a major catch-up. After two years of frustrating investors, silver looks ripe for an explosive and sustainable move to the upside.
Silver Preposterously Undervalued vs Commodities
Regarding The Mining Stocks…
The capex cycle often follows the gold prices with a lag.
Today, however, while gold is currently near its 2011 highs, capital spending for the miners remains at historically depressed levels. 
Management teams remain excessively conservative despite a firming gold market.
Mining Capital Expenditures vs Gold Price Remains At Unsustainably Low Levels. Watch For Both Investment Into High-Quality Junior Explorers As Well As Acquisitions
After two decades of continuous equity dilution, the top ten gold and silver miners have had three years of record share buybacks. 
These companies are going above and beyond to attract investors with accounting conservatism rather than investing for growth.
Record Share Buybacks By Miners Will Add Fuel To The Eventual Mania In The Sector
Dividends Are Flowing
We are also seeing mining companies paying very excessive dividends recently. 
With a long history of data, Newmont is a great example. 
The company has increased its dividend in six of the last nine quarters and the stock now has the highest yield in 40 years.
Newmont Mining Paying Highest Dividend In 40 Years
Looking at traditional fundamental metrics, major mining companies are currently at one of the most undervalued levels in history. 
The P/E ratio for the precious and base metals' miners in the S&P 500 Metals Mining Index is at its lowest level since the GFC.
S&P 500 Metals & Mining Index At Cheapest Level In History
Precious metals mining is one of the most fundamentally attractive industry groups in the market today. 
Interestingly, the gold price is almost back to its 2011 monthly highs.
If that is the playbook for the miners, there is 85% upside from here.
Miners Need To Surge 85% Even If Price Of Gold Goes Nowhere
Let us not forget that knowing how bull markets for this industry tend to unfold, smaller companies with strong value propositions are likely to become multi-baggers in this cycle.
The metals and mining industry as part of the overall stock market is almost a rounding error. 
We believe this chart will look completely different by the end of this decade.
This Should Hit All-Time Highs During The Manic Phase. Translation: Massive Upside For Mining Stocks
As part of the growth-to-value transition, and as investors begin to make larger allocations towards tangible assets, the mining industry is likely to gain significant traction over the next several years.
ALSO JUST RELEASED: The Trifecta For Gold Is In Place But Are Investors Prepared? CLICK HERE.
ALSO JUST RELEASED: ALERT: Collapse In Gold Production To Unleash Skyrocketing Gold & Silver Prices CLICK HERE.
ALSO JUST RELEASED: Global Financial Chaos: It's Now Inevitable CLICK HERE.
ALSO JUST RELEASED: SentimenTrader Says Gold And Mining Stocks Are Set To Rally CLICK HERE.
ALSO JUST RELEASED: MORE COMEX DELIVERIES: Gold & Silver Demand Has Now Exceeded Supply For 2 Years CLICK HERE.

© 2022 by King World News®. All Rights Reserved. This material may not be published, broadcast, rewritten, or redistributed.  However, linking directly to the articles is permitted and encouraged.