Frustrated silver bulls if you are only going to read one thing today let it be this.
The Big Picture For Silver
March 2 (King World News) – Graddhy out of Sweden:  Do not get beat down by the declines, or lose interest during them. Understand them, be ready for them. Do not fight the market, use that energy to improve mental balance and emotional control.
And, always know the very big picture.
Big Picture For Silver Is Massive Multi-Decade Cup & Handle Formation That Will Break Decisively Above $50 And When It Does It's Off To The Races For Silver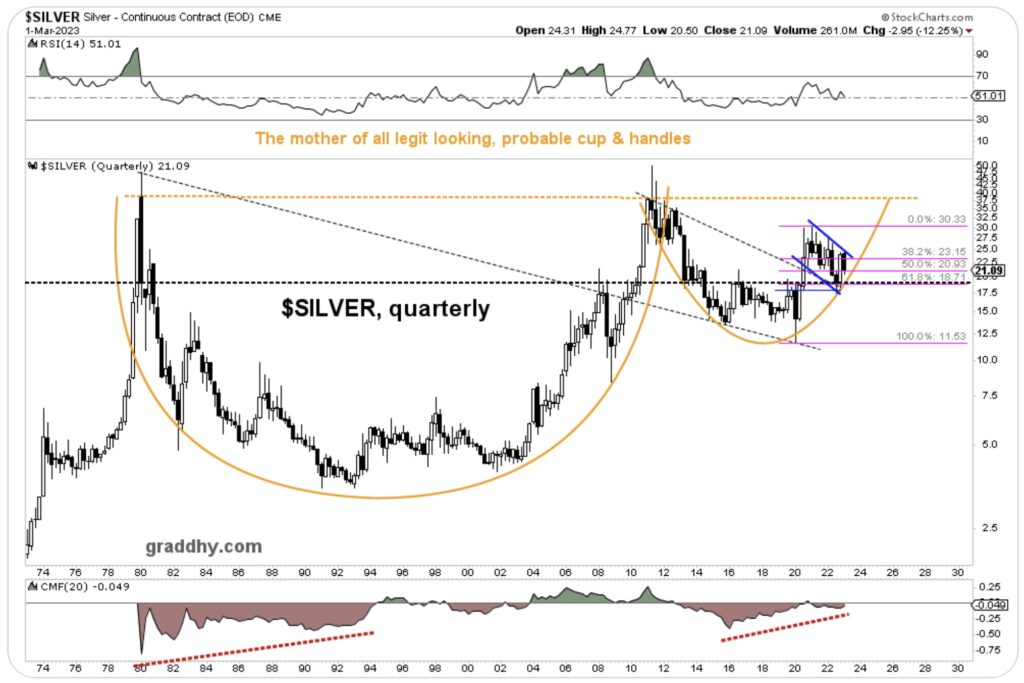 King World News note: For those of you accumulating physical silver, use any weakness to continue adding to your hoard. Many of you dollar cost average your purchases of silver and gold. Stay disciplined and continue adding at the exact time each month or quarter. Do not try to get tricky and time the market.
ALSO JUST RELEASED: Interest Rates Will Continue To Rise Threatening The Entire Western Financial System CLICK HERE.
ALSO JUST RELEASED: SentimenTrader – The Gold Market May Finally Be Poised For A Big Rally CLICK HERE.
ALSO JUST RELEASED: Yes US Housing Market Plunged $2.3 Trillion, Biggest Since 2008, But Here Is The Big Surprise CLICK HERE.
ALSO JUST RELEASED: This Is How You Make A Major Bottom In The Silver Market, Plus "Rent Too Damn High!" CLICK HERE.
ALSO JUST RELEASED: Worried About The Recent Plunge In Gold And Mining Stocks Just Read This… CLICK HERE.
ALSO JUST RELEASED: US Stock Valuations Have Entered Dangerous "Death Zone", Plus Latest Time We Saw This Gold Bottomed CLICK HERE.
ALSO JUST RELEASED: Greyerz – You Better Have Escape Plans For The Next Global Collapse CLICK HERE.
© 2023 by King World News®. All Rights Reserved. This material may not be published, broadcast, rewritten, or redistributed.  However, linking directly to the articles is permitted and encouraged.