More Parabolic Moves, Some Stunning Charts, Plus A Wild Ride.
December 21 (King World News) – Peter Boockvar:  Just as winter is now here, European natural gas prices are spiking again because of the supply issue worries with Russia.
More "Transitory" Inflation As European Natural
Gas Prices Continue To Skyrocket!
Netherlands Nat Gas 10X Higher In Price
The Netherlands one month natural gas forward is up 11.5% today after a 9% jump yesterday. At 164 euros/mwh, it compares with just 17 one year ago. In response, the euro 5 yr 5 yr inflation swap is higher by almost 5 bps to 1.89% and back to a 2 week high.
Meanwhile in Germany
As a result of new Covid rules and rising inflation, German consumer confidence fell to -6.8 from -1.8 and that was well below the estimate of -2.7. That's the lowest since June and remains sharply under the pre Covid level. GFK said
"Consumer sentiment continues to be under a lot of pressure from two sides as the year draws to a close. High case numbers due to the 4th wave of the Corona pandemic with further restrictions, as well as significantly increased prices, are putting more and more pressure on consumer sentiment. Above all, the 2G rule, requiring customers to be either fully vaccinated or have recovered, which applies to large parts of the retail sector deals a heavy blow to the holiday business."
This is not market moving and the underlying factors are not a surprise and thus not negatively impacting German markets. The euro is flat but the DAX is rallying and bund yields are higher. The German 10 yr inflation breakeven is up by 3 bps to 1.74% at the same time the 10 yr bund yield is at -.34%.
China Struggles
On the belief that yesterday's prime rate cut from Chinese banks, while negligible could be the beginning of more, iron ore prices, the key ingredient in steel, is quietly up 50% from its lows last month and higher by 2.5% today and up by 13% over the past 4 trading days. It still is 33% from its peak seen in May but double the price it stood pre Covid. Iron ore, along with steel prices, have also been a proxy for China's residential real estate market and the stress it is currently under.
Wild Ride For The Lira
After the sharp midday reversal in the Turkish lira yesterday as I highlighted in a note, it is up another 3% today at just under 13. Its intraday low Monday was 18.4. Erdogan better hope this deposit protection plan works because it will be really expensive for them if it doesn't. Unfortunately the next presidential election in Turkey is not until 2023 but the Turkish people can only hope that there is an early one called for 2022. This will be a great investment opportunity when he's gone…
---
ALERT:
Legendary investors are buying share of a company very few people know about. To find out which company CLICK HERE OR ON THE IMAGE BELOW.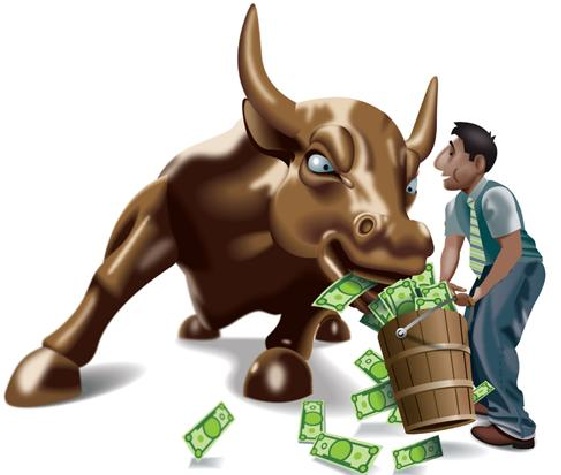 Sponsored
---
South Korean trade figures, because of their big presence in semi's and auto's, has become a key global economic data point. For the 1st 20 days of December, exports rose 20% y/o/y. Imports were higher by 42%. The Kospi was higher by .4% but has badly lagged global markets this year with just a 3.5% gain. A big reason is because Samsung Electronics is down on the year and it dominates the index. Investors can buy Apple all day paying 30x earnings or they can buy Samsung trading at just 12x.
South Korea also reported its November PPI rose 9.6% y/o/y reminding us again how inflation is global.
Speaking of which, Italy said its November PPI skyrocketed by 27% y/o/y after rising by 25.3% in October. And rates are still negative in Europe. The Italian 10 yr inflation breakeven is up 5 bps to 1.67%, a one month high.
***ALSO JUST RELEASED: Gold, Silver, The Invisible Enemy, Plus A Surprising Look At What Is On A Parabolic Ride CLICK HERE.
***ALSO JUST RELEASED: A Trip Down The Rabbit Hole Of Market Madness And $7,000 Gold CLICK HERE.
***ALSO JUST RELEASED: Greyerz – The World Has Now Entered The First Of Four Major Phases Of Chaos And Financial Destruction CLICK HERE.
***ALSO JUST RELEASED: CALL IT A COMEBACK: Mining Stocks Have Soared Every Time After This Signal! Returns Averaged 25% In 3 Months But Look At Longer Term Gains! CLICK HERE.
To listen to Stephen Leeb's forecasts and surprises to expect for 2022 as well as what to expect in the gold market CLICK HERE OR ON THE IMAGE BELOW.
To hear Alasdair Macleod discuss the long delays for large orders from refiners of physical gold and silver CLICK HERE OR ON THE IMAGE BELOW.
© 2021 by King World News®. All Rights Reserved. This material may not be published, broadcast, rewritten, or redistributed.  However, linking directly to the articles is permitted and encouraged.