Today Michael Oliver, the man who is well known for his deadly accurate forecasts on stocks, bonds, and major markets, warned King World News that the financial system is now facing something far worse than the Covid collapse in early 2020.
U.S. Bond collapse!
September 27 (King World News) – Michael Oliver, Founder of MSA Research:  A further collapse has occurred since our Friday Fed "Nuke" warning. We'd love to see what the Fed/Treasury Bond desks look like in middle of the night tonight!
Think they aren't having panicked calls back and forth? Think that whatever river flow of massive liquidity they need to provide isn't being readied? And won't be employed?…
---
This Is Now The Premier Gold Exploration Company In Quebec With Massive Upside Potential For Shareholders click here or on the image below.
---
Worse Than The Covid Collapse
This is worse than the Covid collapse in early 2020. The Fed came in and bid up debt market ETFs (corporate and municipal), and when they quit bidding later in 2021 those markets topped and collapsed again. The Fed was the primary (non-market) support apparently.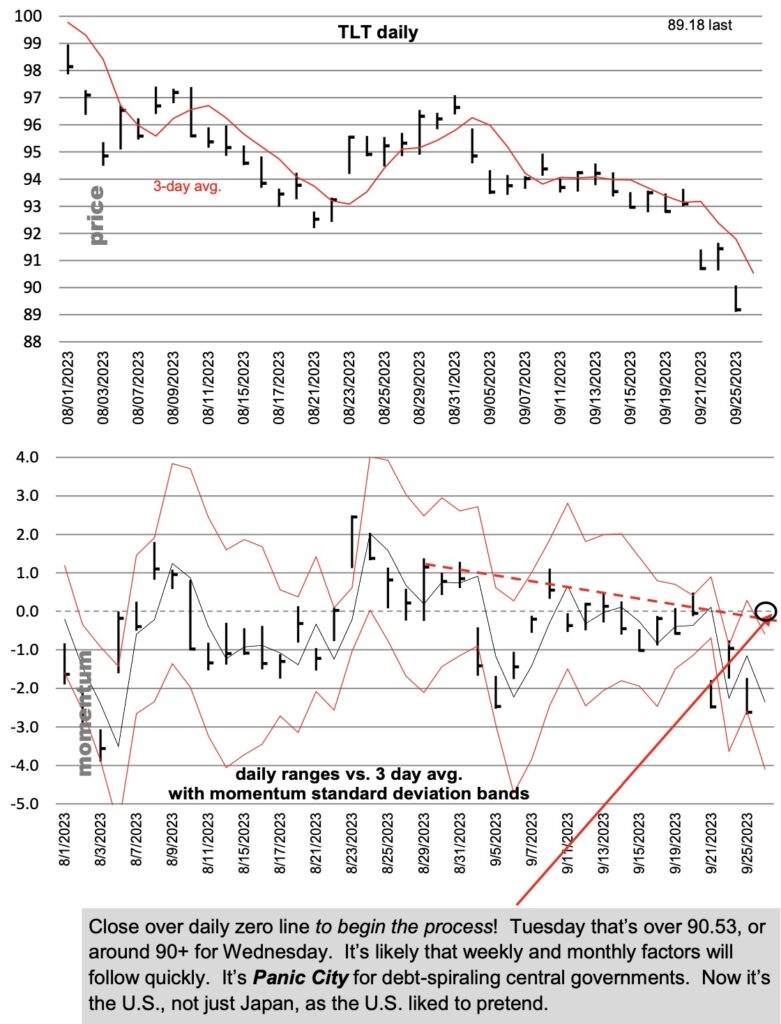 Illiquidity & An Upturn In Gold
This time it's U.S. debt! Yellen screamed last year about her fears of "Illiquidity!" in the U.S. bond market. Well, it's back, and big time!
We suspect that panic intervention is at hand. And it's interesting that gold's daily, weekly, and monthly momentum are ripe for upturn—as ripe as T-Bond technicals for a panic-buying, short-covering rally
(some of those charts are in the weekend report). TLT daily momentum here.
The difference is—gold will sustain.
To receive the special KWN discount to subscribe to Michael Oliver's internationally acclaimed MSA Annual Research which is used by serious investors and professionals all over the world CLICK HERE.
ALSO JUST RELEASED: GOT GOLD? Look At What Major Currency Is Being Destroyed As Global Collapse Accelerates CLICK HERE.
ALSO JUST RELEASED: Ignore Gold & Silver Takedown And Take A Look At This… CLICK HERE.
ALSO JUST RELEASED: James Turk – Silver Preparing For Massive Breakout That Will Take Price To All-Time High CLICK HERE.
ALSO JUST RELEASED: Greyerz – Gold Is On The Verge Of Being Revalued Thousands Of Dollars Higher CLICK HERE.
Timely And Fantastic Interview Just Released!
To listen to Nomi Prins discuss the radical moves she expects to see in the gold, bond and foreign currency markets CLICK HERE OR ON THE IMAGE BELOW.

NEW!
To listen to Alasdair Macleod discuss what to expect next week in the gold and silver markets as well as what surprises are in store across the globe CLICK HERE OR ON THE IMAGE BELOW.

© 2023 by King World News®. All Rights Reserved. This material may not be published, broadcast, rewritten, or redistributed.  However, linking directly to the articles is permitted and encouraged.