The lowest in more than 50 years? Plus another recession warning.
Unemployment & Recession
February 7 (King World News) – Liz Ann Sonders, Chief Investment Strategist at Charles Schwab:  Regardless of your outlook, saying the economy is 'nowhere near a recession because the unemployment is so low' goes against history of unemployment rate always near (or at) its lowest right before recession starts.
Low Unemployment Is Always Seen At The Beginning Of Recessions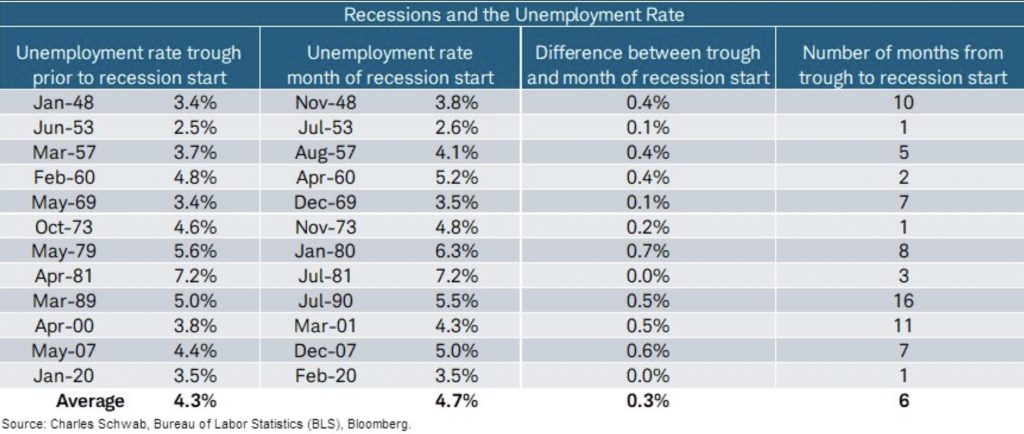 Lowest In More Than 50 Years?
Peter Boockvar:  You don't have a recession when you have 500,000 jobs and the lowest unemployment rate in more than 50 years" said Janet Yellen yesterday. When I heard this I had no choice but to post this chart again of the unemployment rate in blue and the recessions in gray. It reflects that since WWII recessions ALWAYS start when the unemployment rate is at its lows of the cycle.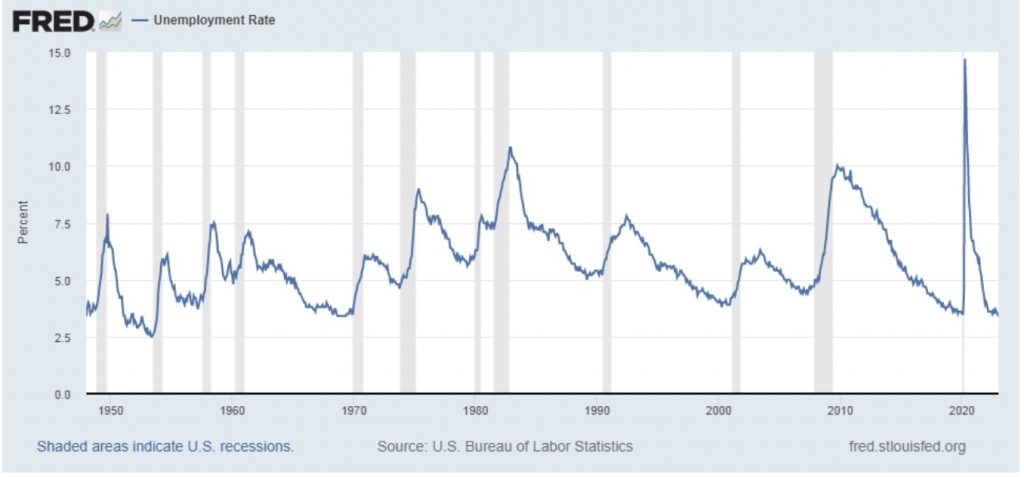 The US 2 yr yield rise in the past two days was quite amazing in rising 39 bps to the highest level since November, almost adding back 2 rate hikes since the Powell presser and ahead of his comments today. Daly, Bostic and Kashkari (just on CNBC this morning) this week are all for more rate hikes. Kashkari, who wants to go to 5.25-5.5% though doesn't vote, again blamed the models in not picking up on inflation coming out of covid. Some though didn't need models in predicting the outcome and again, the Fed shouldn't be so beholden to them. 
As we've seen some stocks this past month in the market party like its 2021, nothing reflected this more than Bed Bath Beyond yesterday whose stock almost doubled as its 2024 bond is trading at 6 cents on the dollar. And in immediate response the Reddit traders are giving the company an opportunity to sell convertible preferred shares and warrants…
---
To Find Out Which Uranium Company Is Positioning Itself To Become A Powerhouse In Nevada Click Here Or On The Image Below.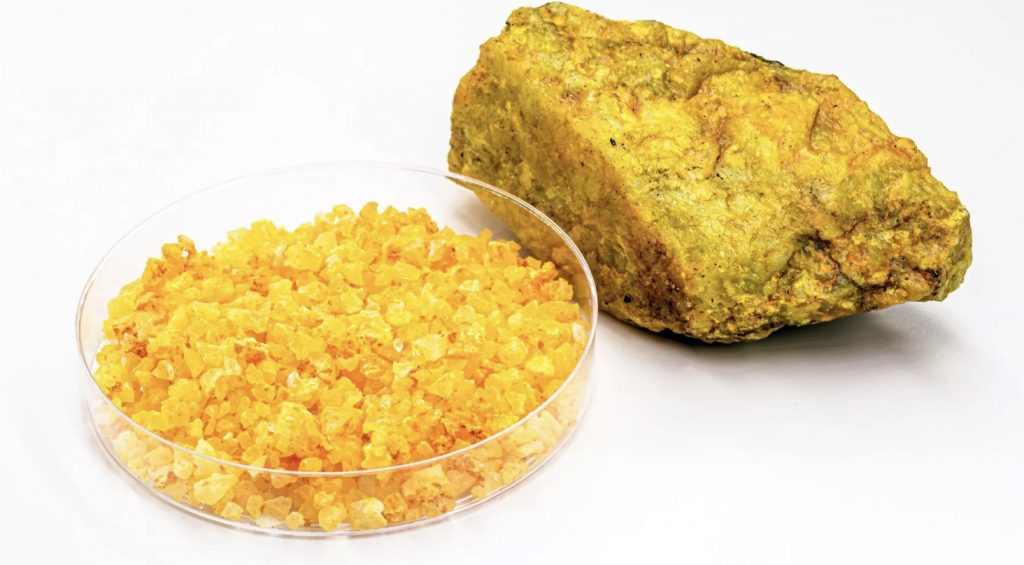 ---
The Reserve Bank of Australia raised rates by 25 bps as expected to 3.35% but governor Lowe unexpectedly said they are going to keep on hiking. Markets were expecting a pause announcement. He said "The Board expects that further increases in interest rates will be needed over the months ahead to ensure that inflation returns to target and that this period of high inflation is only temporary." Their bond market was left offsides and the 2 yr yield jumped by 15 bps to 3.23%, a one month high and the 10 yr yield was up by 14 bps to 3.60%, also a one month high. The Aussie$ is higher too while stocks sold off.
Whoever it is that replaces Kuroda at the BoJ is going to have a really tough job and the December wage data highlights that, in addition to the high inflation stats. Regular base pay rose 1.8% y/o/y. While that might not sound like much to you, it's the quickest increase since 1994. If we include a 7.6% y/o/y rise in bonuses, we're talking about a 4.8% y/o/y cash earnings figure…
---
ALERT:
Legendary investors are buying share of a company very few people know about. To find out which company CLICK HERE OR ON THE IMAGE BELOW.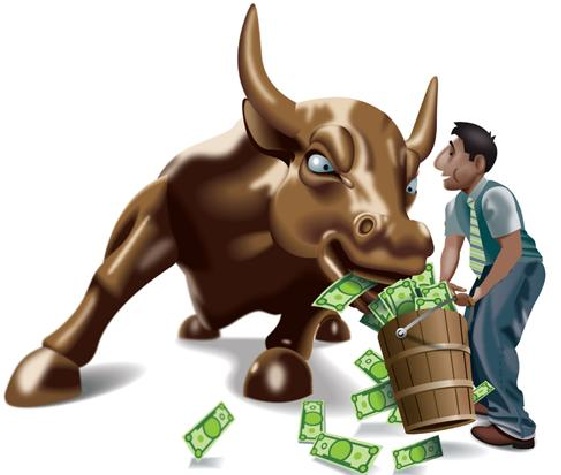 Sponsored
---
From purely a monetary policy and inflation/wage standpoint, it's an easy decision for the next governor to get rid of YCC and out of NIRP but because of the size of the Japanese government debt, small increases in interest rates gets VERY expensive in terms of government interest expense. The 10 yr yield is still stuck at .50% but the 40 yr yield rose 3 bps to 1.82% and the yen is rallying. The Nikkei was flat and we are still positive on Japanese stocks. They will benefit from the China reopening.

Base Pay In Japan Year-Over-Year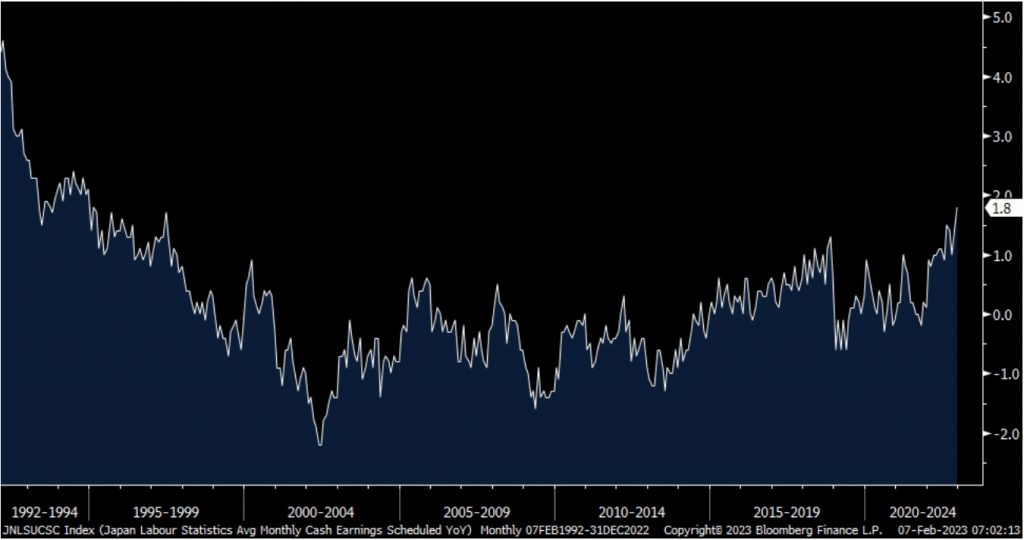 The trade data out of Taiwan for January was pretty weak but as expected and should improve in coming quarters as China's economy gets back to normal. Exports fell 21.2% y/o/y vs the estimate of down 20.3% and that's the biggest drop since 2009.
ALSO JUST RELEASED: Silver May Hit $700 After Multi-Decade Breakout CLICK HERE.
ALSO JUST RELEASED: Newmont Newcrest Merger May Kickoff A Golden Wave Of Merger Mania CLICK HERE.
ALSO JUST RELEASED: The Global Financial System Is Already Doomed And The Collapse Will Be Terrifying CLICK HERE.
To listen to Stephen Leeb discuss Putin, gold, China, the US and what surprises to expect in 2023 CLICK HERE OR ON THE IMAGE BELOW.

To listen to Alasdair Macleod discuss the $100 takedown in the paper gold market and what to expect next CLICK HERE OR ON THE IMAGE BELOW.

© 2023 by King World News®. All Rights Reserved. This material may not be published, broadcast, rewritten, or redistributed.  However, linking directly to the articles is permitted and encouraged.