Gold's Open Interest is collapsing again and here is what is so interesting.
Within hours the audio interview with billionaire mining legend Pierre Lassonde will be released where he discusses his thoughts on where the price of gold is headed from here as well as what he is doing with his own money right now.
Gold & Silver
June 2 (King World News) – Alasdair Macleod, head of research at Goldmoney:  The sell-off for gold and silver during May appears to have come to an end with the expiry of the June Comex contracts. In European trade this morning, gold was trading at $1980, up $36 from last Friday's close. And silver was up 65 cents at $23.95.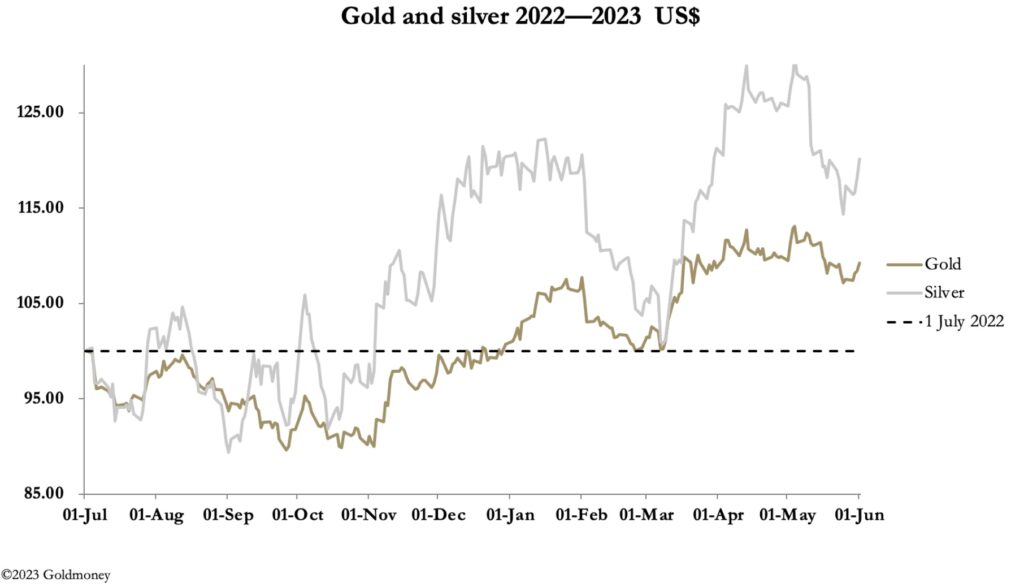 Silver's turnover on Comex was moderate, while in gold it declined over the week.
For turnover to decline on a falling price tends to confirm that a bull market exists, because it reflects diminishing profit-taking on falling prices and otherwise futures contracts being held in firm hands. And where gold goes, silver will follow. In confirmation of the elimination of shaky bulls is Open Interest on Comex, which for the gold contract takes it deep into oversold territory. This is our next chart.
Gold's Open Interest Collapsing…Again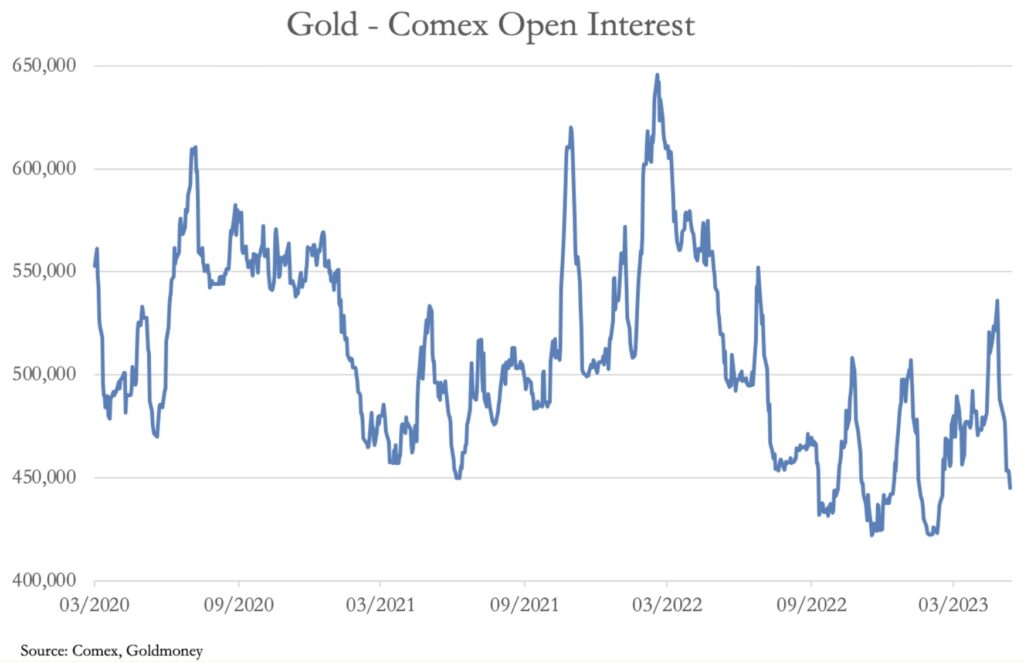 Preliminary figures for yesterday show gold's Open Interest to be just 443,700 contracts, a level which in the past supports significant rallies, so this one should have legs. But interestingly, the Managed Money category (hedge funds) appears to be stubbornly long. This is next.
But Managed Money Remains Historically Long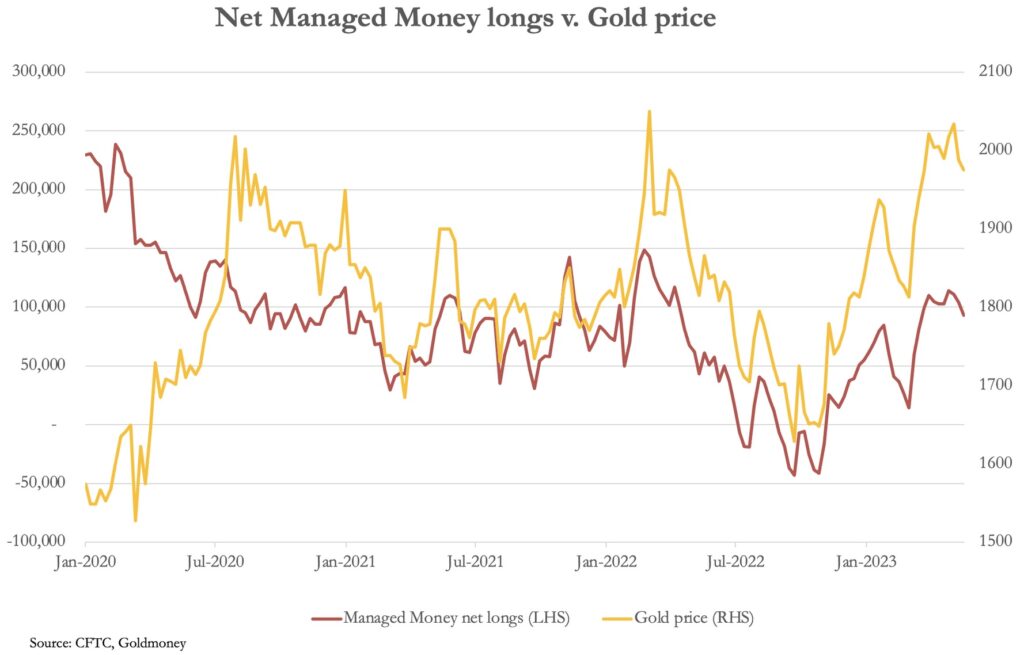 At the last Commitment of Traders report (23 May) net longs in this category were 93,139 contracts, close to the long-term average of 110,000 contracts. And the Swaps (mainly bullion bank trading desks) are stubbornly short, with gross shorts still over $50bn. This is our next chart.
Open Interest Collapsing But Swaps Remain Extremely Short The Gold Market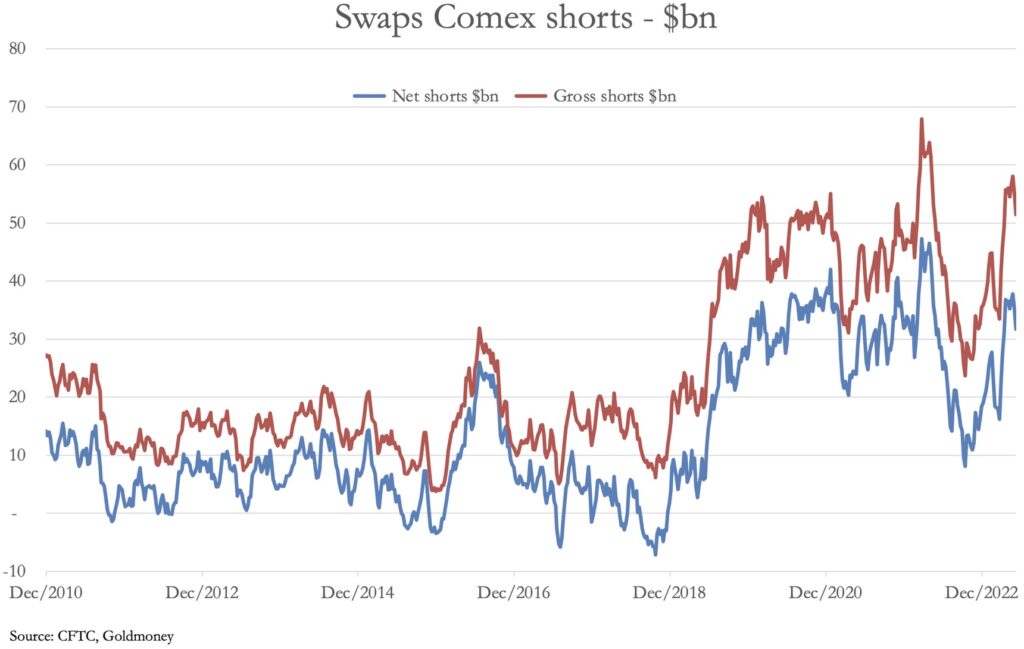 The message from this is that liquidity in the gold contract appears to be declining. On further examination, we find that over the years, the net short position of the Producers and Merchants category (the other short side category) has reduced substantially.
This Is Also Fascinating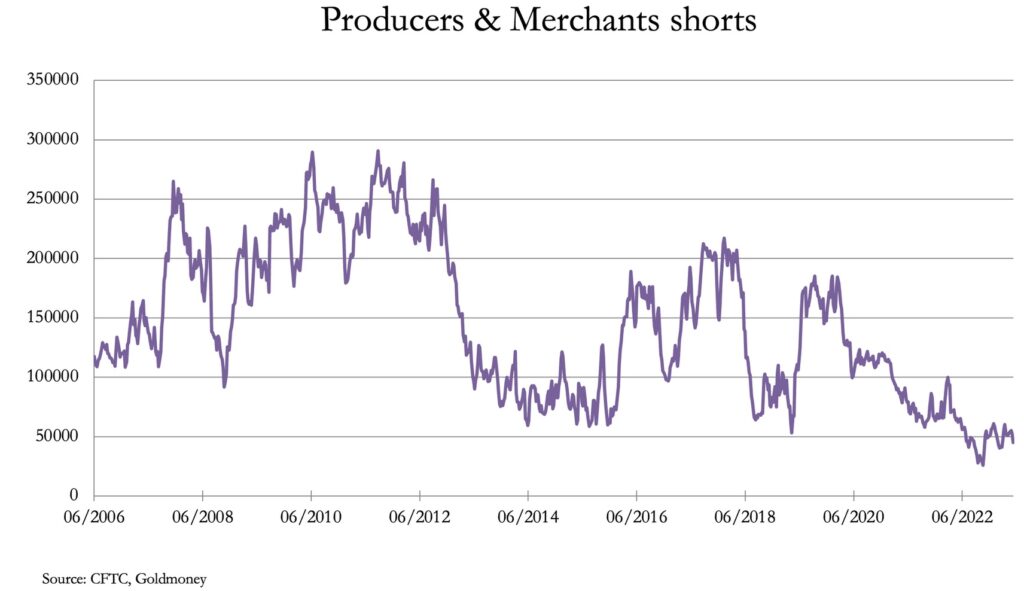 This is an overlooked development. In the past, it was relatively easy for the gold contract's ringmasters to persuade miners to hedge their future output. Furthermore, this category includes large financial institutions in the industry, or claiming to be so, such as Glencor, Trafigura, and some of the big banks not confined to simply trading on their own account. 
The Comex gold contract is probably only a tenth of all global derivative trading, with the London bullion forward market having the lion's share. That is where the really large obligations are, and if the big boys are reducing their short positions on Comex, they are likely to be doing the same in London…
---
ALERT:
This company is about to start drilling what could be one of the largest gold discoveries in history! CLICK HERE OR ON THE IMAGE BELOW TO LEARN MORE.
---
Is this reduction in short positions simply an aberration, of does it send an important message? A multiyear trend is never an aberration, probably indicating that the really big money sees every reason not to be short. Surely, that is the message.
It leaves the Swaps category holding the can for the short side of the Comex market, at a time when there is an increasing leakage into deliveries out of the market. This week, there has been a total of 15,561 gold contracts stood for delivery (48.4 tonnes) with a further 4,555 June contracts likely to be delivered as well. In the first five months of 2023, the total stood for delivery is 74,473 contracts, representing 231.6 tonnes.
Within hours the audio interview with billionaire mining legend Pierre Lassonde will be released where he discusses his thoughts on where the price of gold is headed from here as well as what he is doing with his own money right now.
ALSO JUST RELEASED: What Is Happening In The Economy Is Terrifying Even As Stock Market Rally Continues And Gold Attacks $2,000 Level CLICK HERE.
ALSO JUST RELEASED: THIS WON'T END WELL BUT GOLD WILL SHINE: We Now Have Fewest Stock Market Bears Since January Of 2022 CLICK HERE.
ALSO JUST RELEASED: Look At Who Is Buying Gold Right Now And How This Will Impact The Price CLICK HERE.
ALSO JUST RELEASED: PRELUDE TO FULL-BLOWN PANIC: This Type Of Move Into Gold Has Occurred Only Twice In 50 Years CLICK HERE.
ALSO RELEASED: Turk – Debt Ceiling Deal Suspension Similar To Nixon Taking US Off Gold Standard CLICK HERE.
ALSO RELEASED: BUCKLE UP: The "War On Inflation" Is Creating Even More Inflation CLICK HERE.
© 2023 by King World News®. All Rights Reserved. This material may not be published, broadcast, rewritten, or redistributed.  However, linking directly to the articles is permitted and encouraged.