Here is a look at gold's price action and tomorrow's Fed decision.
Fed Decision And Gold
June 13 (King World News) – James Turk:  Today's CPI number increases the odds that the Federal Reserve will not raise interest rates at its meeting tomorrow, Eric. 
While a 4% rise in consumer prices over the past year is still a high rate of erosion of the dollar's purchasing power – and double the Fed's 2% inflation target – the Fed will justify standing still because the inflation rate has been decelerating since last year's peak. What's more, the Fed surely does not want to put more pressure on the banks. 
The recent bank failures are still very much on their mind, for good reason. Higher interest rates increase the likelihood of more bank failures for two reasons…
---
ALERT:
This company is about to start drilling what could be one of the largest gold discoveries in history! CLICK HERE OR ON THE IMAGE BELOW TO LEARN MORE.
---
First, as interest rates rise, the value of bonds and fixed rate loans held by banks declines. The banking system has reportedly been reducing the amount of bonds held, and mortgage loans are more difficult to obtain. But bank regulatory capital as a percent of bank assets – which is a measure of bank soundness – has worryingly been falling since the peak reached before the pandemic.
Second, higher interest rates increase the likelihood that bank assets will deteriorate in quality, causing bank failures. It won't be an asset/liability mismatch where short-term deposits funded bank assets with a long-term maturity. It will be a deterioration in asset quality causing a 'black hole' to appear on bank balance sheets. If loan write-offs are greater than bank capital, there are not enough assets in the bank to repay its depositors. It is the reason that banks with poor quality assets fail in economic downturns.
So in my view, it is way too early to say that there will not be any knock-on effect from Silicon Valley Bank and the other bank failures. 
In the meantime, gold keeps chugging through overhead resistance. It remains in this same uptrend channel we've been following since December.
Gold Remains Stubbornly In Uptrend Channel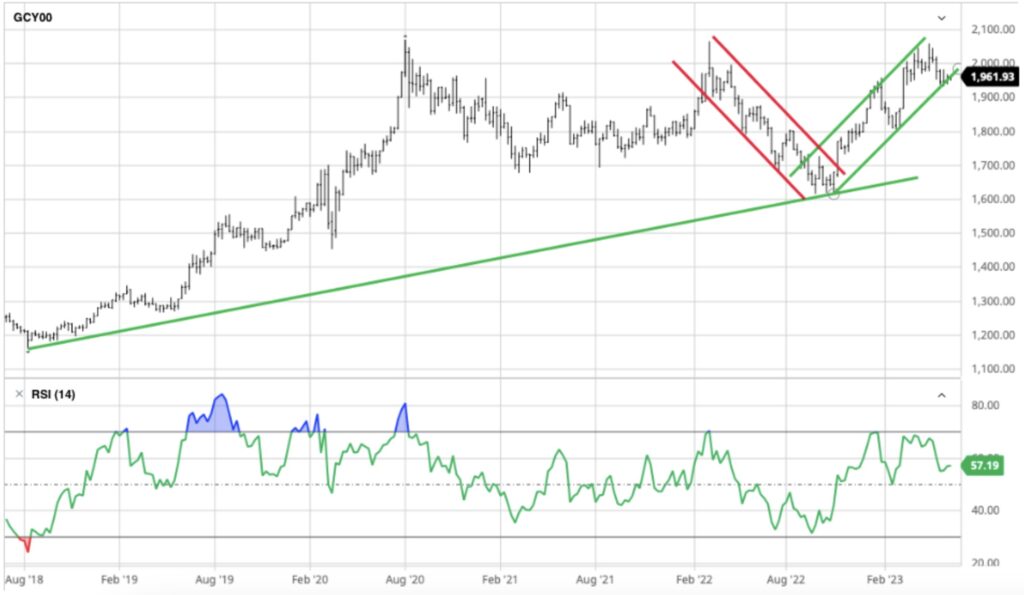 Right now gold is testing support at the bottom of this uptrend channel. I expect this support above $1950 will hold, but of course, only time will tell. But in the meantime look at the above 5-year weekly chart on the assumption the uptrend does hold.
Two Huge Accumulation Patterns
There are two huge accumulation patterns. The first stretched for two years from August 2020 to March 2022, when the second pattern began. The two trend channels mark the "V" pattern we have been following.
There is a market adage that triple tops are always broken. The above chart shows three clear attempts by gold to hurdle $2050. So will this 'triple top' eventually be broken? 
Given all the monetary and economic problems being created by governments and central banks around the world, the odds favour a higher gold price. And if the old market adage proves right, this "V" pattern will be a launchpad sending gold into new record high ground.
That would be just a repeat of what gold has been doing for decades, Eric. As the purchasing power of the dollar and the fiat currency of other countries is eroded by bad decisions by policymakers, gold goes up. And silver too.
ALSO JUST RELEASED: ALERT: Look At Silver And Silver Stocks CLICK HERE.
ALSO JUST RELEASED: Big Fed Decision This Week, Plus The Credit Crunch Is Here CLICK HERE.
ALSO JUST RELEASED: The US Economic Nightmare And The Great Unwind Set To Accelerate CLICK HERE.
ALSO JUST RELEASED: Man Who Predicted The Banking Collapse Three Years Ago Says It Will Get Much Worse CLICK HERE.
***To listen to the timely and powerful audio interview with Gerald Celente where he discusses why investors need to get ready for a major takedown in the economy and global markets CLICK HERE OR ON THE IMAGE BELOW.

© 2023 by King World News®. All Rights Reserved. This material may not be published, broadcast, rewritten, or redistributed.  However, linking directly to the articles is permitted and encouraged.