The most important chart of 2023 will blow your mind. Make sure you take a long look at this chart.
March 21 (King World News) – Otavio Costa:  This remains the most important macro chart of this decade. Parts of this investment thesis are already playing out: The growth to value transition Failing 60/40 portfolios Commodities supercycle Peak cheap energy prices The bursting of speculative Expensive Tech stocks being re-rated These trends are all interconnected with the idea that monetary conditions are too tight for financial assets at these valuations but too loose for secular inflationary forces.
Commodities vs Stock Ratio Remains Near Lowest Level In History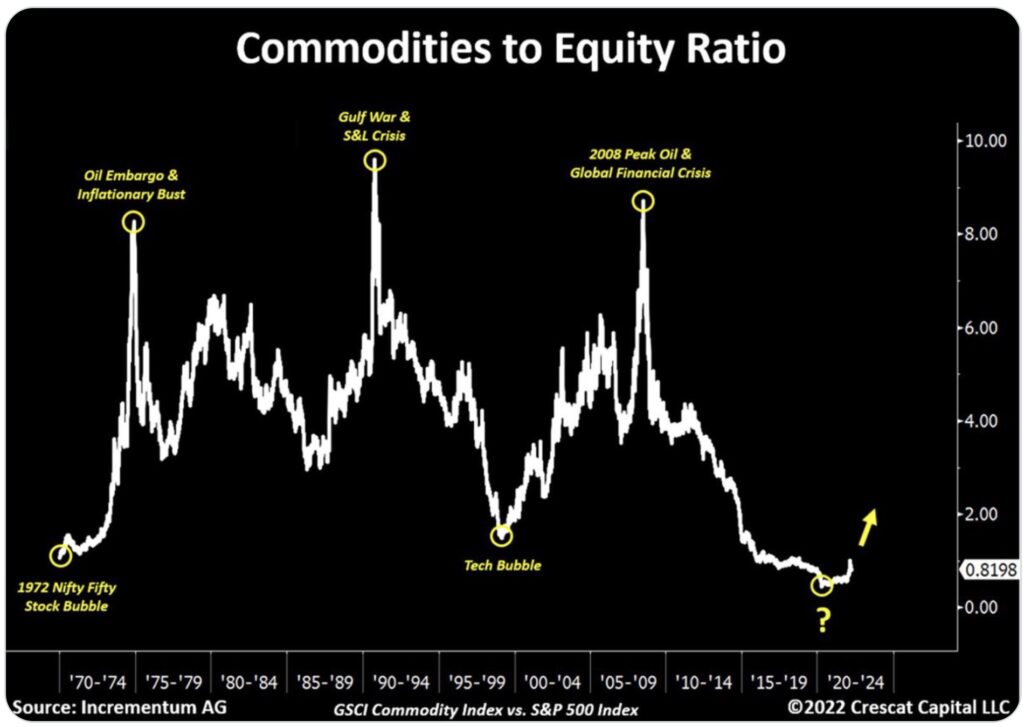 Gold, Silver & Commodity Bull Markets Will Be Violent On The Upside
King World News note:  The chart above is one that originated from Ronnie Stoeferle at Incrementum and Costa credited Stoeferle for creating the original chart. KWN readers around the world need to take a very close look at the chart in order to understand how violent the bull market in commodities is going to be in terms of its outperformance vs stocks. Commodities may outperform stocks by a 12/1 margin. Regardless, the commodity bull market will certainly be a sight to behold and all of this will lead to massively higher gold and silver prices as well as the underlying shares of the companies that mine and explore for the metals. Make sure you are properly positioned for what is in front of us. And make sure you own physical gold and silver.
ALSO JUST RELEASED: The Great Rotation Out Of Stocks Has Begun. Here Is Where The Money Is Going CLICK HERE.
ALSO JUST RELEASED: Legend Richard Russell Warned Every Fiat Currency In The World Will Be Destroyed CLICK HERE.
ALSO JUST RELEASED: Greyerz – THIS IS IT! The Global Financial System Has Started To Collapse CLICK HERE.
ALSO JUST RELEASED: Gold Nears Record High As James Turk Warns US Dollar May Collapse In 2023 CLICK HERE.
ALSO JUST RELEASED: CHAOS ERUPTS: It's Going To Get Much Worse As The Collapse Will Spread To Currencies And Gold Shines CLICK HERE.
***To listen to James Turk discuss the ongoing global collapse of the financial system and the underlying currencies as well as what people need to do right now to protect themselves CLICK HERE OR ON THE IMAGE BELOW.

***To listen to Alasdair Macleod's powerful and timely KWN audio interview where he discusses the ongoing collapse in the banking system as well as what this means for global currencies and other markets as well as why gold is set explode higher CLICK HERE OR ON THE IMAGE BELOW.

© 2023 by King World News®. All Rights Reserved. This material may not be published, broadcast, rewritten, or redistributed.  However, linking directly to the articles is permitted and encouraged.