The great rotation out of global stock markets has already begun. Here is where the money is going.
Gold & Silver And The Great Rotation
March 21 (King World News) – Graddhy out of Sweden:  Gold vs S&P 500 has clear break out on 3 year chart.
Silver has been leading though and broke out on 14 year chart 3 months ago. Now backtesting.
Precious metals outperforming the stock market, means global capital is flowing into the precious metals. So it begins.
Silver Has Already Broken Out vs S&P 500 And Is Now Backtesting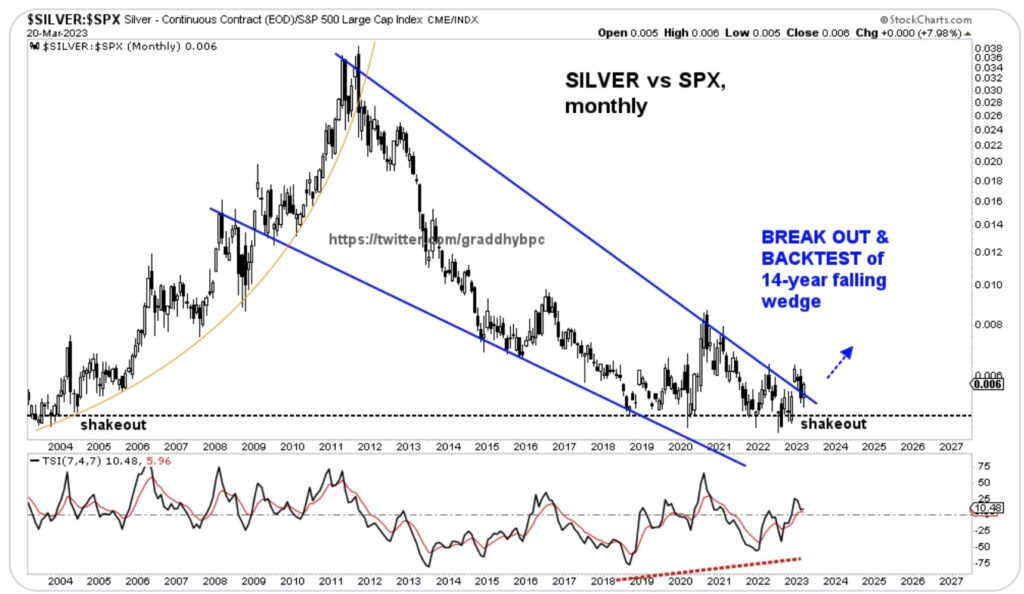 Banking Crisis Plus Gold & Silver
Peter Boockvar:  I mentioned last week that small and medium sized banks made up 38% of all corporate and household loans. If you didn't see the WSJ yesterday, using info from the Federal Reserve, they broke down the distribution to highlight the importance of these banks in creating loans and the setup for what a credit contraction brings. They made up 28% of C&I loans, 37% of residential real estate loans, a large 67% of commercial real estate loans where many office properties are now in trouble, 27% of credit card loans, 15% of auto loans and 48% of other loans.
I wanted to include here some charts on lending standards as of the end of January and we can only imagine what the next survey is going to look like. As seen for C&I loans, they were the tightest since 2009 not including Covid.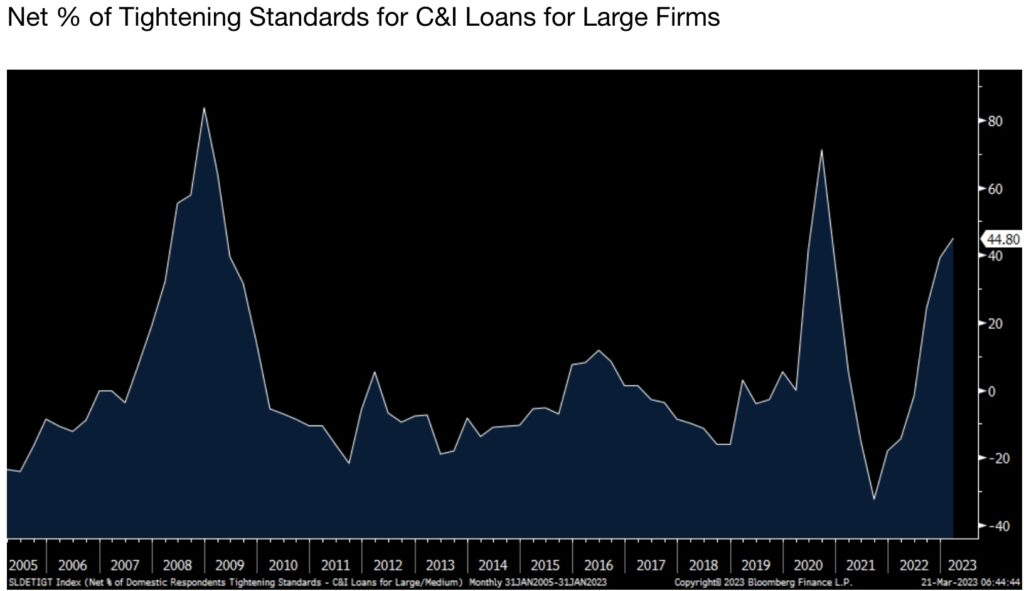 Bloomberg is reporting that "US officials are studying ways they might temporarily expand FDIC coverage of to all deposits, a move sought by a coalition of banks arguing that it's needed to head off a potential financial crisis. Treasury Department staff are reviewing whether federal regulators have enough emergency authority to temporarily insure deposits greater than the current $250k cap on most accounts without formal consent from a deeply divided Congress, according to people with knowledge of the talks."
To solve this, I'm sure there are plenty of US insurance companies that would write policies for businesses that want to insure deposits above $250k without the banks and the FDIC getting involved. And maybe for individuals we can raise the insured deposit cap…
---
ALERT:
Legendary investors are buying share of a company very few people know about. To find out which company CLICK HERE OR ON THE IMAGE BELOW.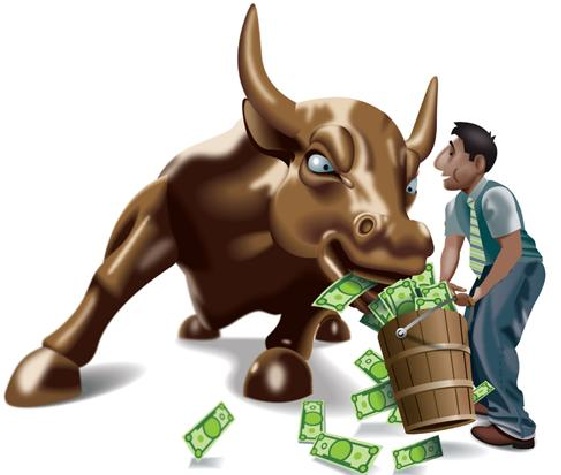 Sponsored
---
As for autos, this could be the next interest rate sensitive part of the economy that cracks as we're already seeing a rise in subprime delinquencies and repossessions. From the NY Fed, "The rejection rate for auto loans increased to 9.1% from 5.8% in October, its highest reading since February 2017."
Since mid April 2022 to now, the S&P 500 has traded in a closing range of about 4300 on the upside and just under 3600 on the downside. The exact mid-point is 3950 and yesterday it closed at 3951. Call it technical no man's land.
US Dollar Worries
With respect to the US dollar, I want to highlight how tightly it has traded over the past few years based on Fed tightening, which implies that there is further weakness ahead assuming the relationship remains, as it should and for other reasons like what will be a further rise in the US budget deficit as a % of GDP. It was at the June 2021 FOMC press conference when Jay Powell said they are finally talking about tapering QE, which began that November but the playing field had been set. As seen in the chart of the DXY, that is when the dollar started to rally. The 27% rise in the dollar that followed peaked in late September 2022 and a 2nd retest failed on November 3rd, one day after the final 75 bps rate hike that was then slowed to 50 bps and then 25 bps as we know.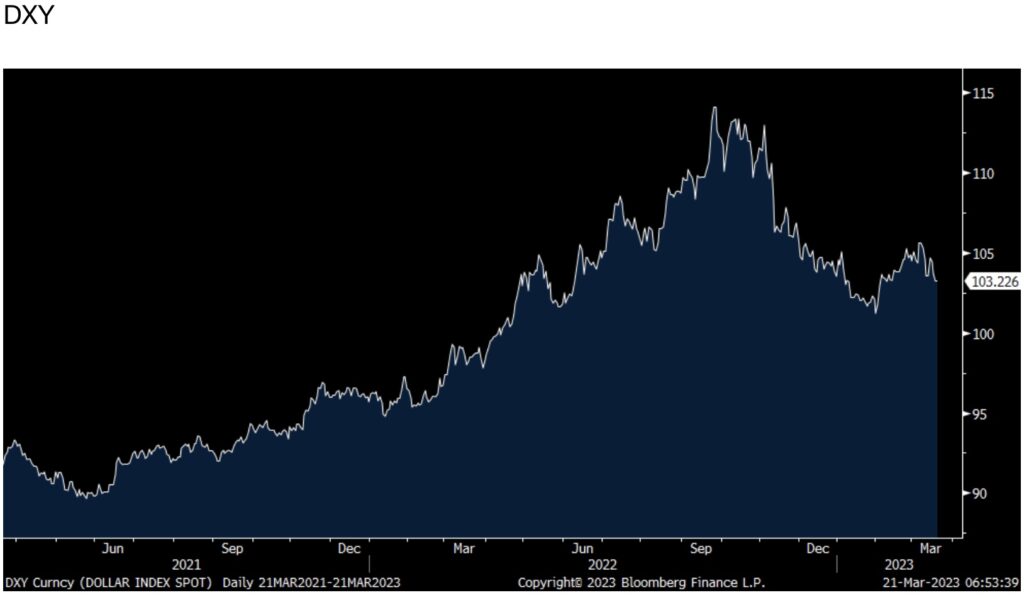 Gold & Silver Rally Is Only Getting Started
If this weakness continues as I expect it to, the gold and silver bounce of late is only getting started. Emerging market local currency bonds look very attractive as do international stocks relative to US ones.
Meanwhile In Germany
The March German ZEW investor confidence index in the German economy fell to 13 from 28 and that was 2 pts below expectations. The current situation remained deeply negative, down by 1 pt m/o/m to 46.5. ZEW highlighted the recent financial turmoil. "The international financial markets are under strong pressure. The high level of uncertainty is also reflected in the ZEW Indicator of Economic Sentiment. The assessment of the earnings development of banks has deteriorated considerably, although it still remains slightly positive. The estimates for the insurance industry have also declined significantly."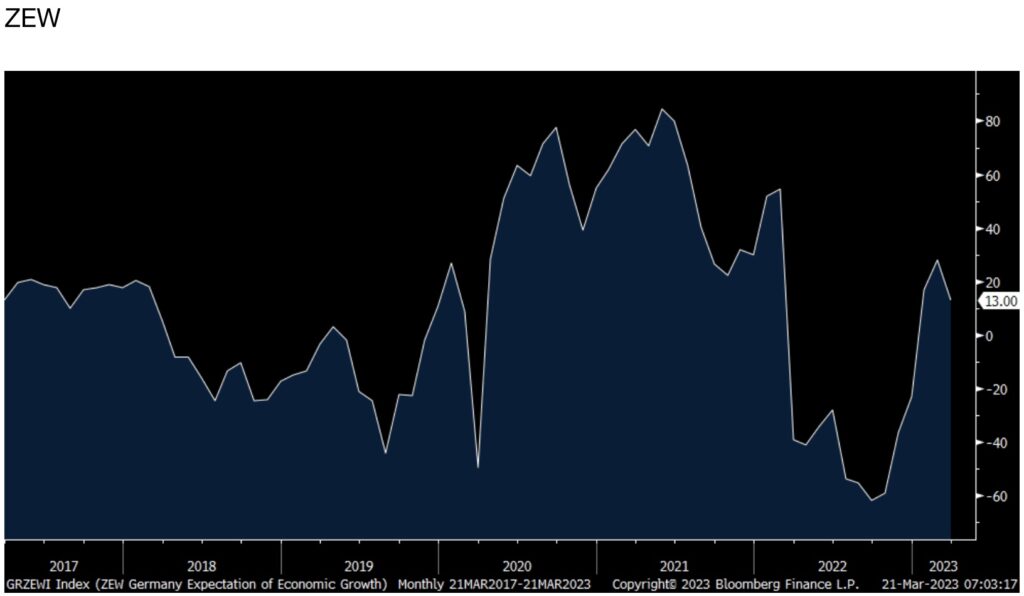 Monetary Knees Are Buckling
The very hawkish ECB member Robert Holzmann who just a few weeks ago said he wanted four more 50 bps rate hikes, one of which we got last week, today said, maybe not. "I wouldn't rule them out, but I also wouldn't say that they'll necessarily come either." The monetary knees are buckling.
ALSO JUST RELEASED: Legend Richard Russell Warned Every Fiat Currency In The World Will Be Destroyed CLICK HERE.
ALSO JUST RELEASED: Greyerz – THIS IS IT! The Global Financial System Has Started To Collapse CLICK HERE.
ALSO JUST RELEASED: Gold Nears Record High As James Turk Warns US Dollar May Collapse In 2023 CLICK HERE.
ALSO JUST RELEASED: CHAOS ERUPTS: It's Going To Get Much Worse As The Collapse Will Spread To Currencies And Gold Shines CLICK HERE.
***To listen to James Turk discuss the ongoing global collapse of the financial system and the underlying currencies as well as what people need to do right now to protect themselves CLICK HERE OR ON THE IMAGE BELOW.

***To listen to Alasdair Macleod's powerful and timely KWN audio interview where he discusses the ongoing collapse in the banking system as well as what this means for global currencies and other markets as well as why gold is set explode higher CLICK HERE OR ON THE IMAGE BELOW.

© 2023 by King World News®. All Rights Reserved. This material may not be published, broadcast, rewritten, or redistributed.  However, linking directly to the articles is permitted and encouraged.