Silver bottoming formation suggests strong year-end rally but look at what else is happening.
Silver
November 29 (King World News) – Otavio Costa:  Silver. Setting up nicely for a strong year-end rally.
Reverse Head & Shoulders Pattern Indicates
Silver Bottoming…Rally Should Soon
Commence On The Upside
---
To learn which company billionaire Eric Sprott bought a
$10 million stake in click here or on the image below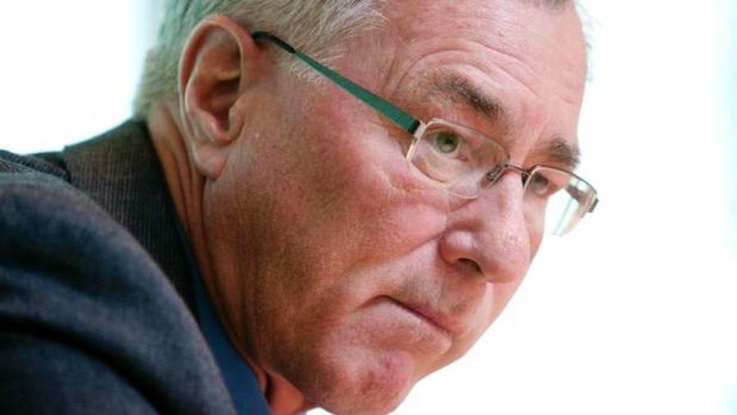 ---
What Will They Do?
Peter Boockvar:  With respect to the Fed, of course everyone's market attention then turns to 'what will the Fed do now?' We just can't live without them unfortunately it's apparent, again.
Assuming the vaccines still maintain a high level of effectiveness (remember that the flu shot is only 50% efficacious), the Fed should continue on with the taper, even at the faster pace hinted at as it will only be the fed funds rate that will be the right tool needed in dealing with inflation or at least give them the flexibility to do so as it is the only thing that can directly target the demand side. That's what they should do. What they will do is go slow as they always do when attempting to take away the punch bowl. We can only hope that omicron won't result in more supply chain problems. 
Buy The Dip In Commodities
Buy the dip in commodity related areas like energy, ag and the precious metals. I also would be buying travel/leisure stocks as if there is a mega trend that keeps bouncing back in the face of Covid, it is the desire to see the world, friends and be social. 
The US dollar was not the safe haven on Friday but the selloff comes in the context of a great run and a move that got overbought. Whether it's now just an interest rate differential play and nothing more we'll have to see but if that becomes the case, that would be quite the change. 
With Vietnam factories back open (for now at least), exports jumped 18.5% in November y/o/y and that was well better than the estimate of up 7%. Exports of machinery/equipment, textile/clothes and computer/electronics led the way. Imports were higher by almost 21% vs the forecast of up 8%. While Vietnam made a mistake in taking such a drastic approach to Covid by fully shutting down manufacturing over the past few months, I think they got the wake up call after many businesses threatened to leave if they didn't reverse themselves. Vietnam's manufacturing importance will only grow further in coming years. I own Vietnam stocks via an etf. The Ho Chi Minh stock market is up 35% year to date. 
While the ECB still has interest rate policy below zero, Italy said its PPI skyrocketed by 9.4% m/o/m in October. Yes, m/o/m. It was up by 25.3% y/o/y. The Italian 10 yr inflation breakeven is up almost 3 bps to 1.54% but that is off the October high of 1.86%. It did start the year though at .85%.
The November CPI in Spain rose .3% m/o/m after a jump of 1.6% in October. Prices are up 5.6% y/o/y with both as expected. Germany reported its regional consumer price indices and at 8am est we'll see the national number likely down by .2% m/o/m but higher by 5.5% y/o/y. 
As there are few places that has as bad a history lesson with inflation than Germany, ECB member Isabel Schnabel today was on German tv trying to soothe concerns. She said "I can very well understand that many people have worries." But, she is predicting 2% inflation next year. "If we thought inflation would permanently settle above 2%, we would definitely react. However, at the moment, we see no indications of this" she said. We'll see. While I talk about how the Fed is helping the US Treasury finance the US government, it is even more extreme in Europe where government finances are just about solely dependent on ECB and bank buying. So responding to inflation is easier said than done. 
The November Economic Confidence index out of the European Commission saw a dip to 117.5 from 118.6 but that was in line with the consensus and as seen in the chart below, remains high.
A drop in consumer confidence was the main reason for the m/o/m decline due to Covid worries as manufacturing was little changed and services, retail and construction were all higher. The challenge overall remains inflation. "Selling price expectations in all surveyed business sectors (i.e. industry, services, retail trade and construction) shot up further, reaching new all time highs. Consumer price expectations remained broadly stable" said the EC.
***ALSO JUST RELEASED: Greyerz – The World Is About To Experience Another Major Dose Of Economic, Financial And Social Upheaval CLICK HERE.
***ALSO JUST RELEASED: E.B. Tucker – Gold Market Poised For A Big Turnaround That Will Springboard Price Much Higher CLICK HERE.
***ALSO JUST RELEASED: Why Has 675 Tonnes Of Gold Suddenly Disappeared? CLICK HERE.
***ALSO JUST RELEASED: ALERT: Physical Gold Is Disappearing CLICK HERE.
***ALSO JUST RELEASED: CAUTION: Wow, Look At What Just Collapsed! CLICK HERE.
***ALSO JUST RELEASED: Absolute Distortion Continues–From Gold Manipulation To DC's Latest Lies CLICK HERE.
***ALSO JUST RELEASED: Things To Keep An Eye On CLICK HERE.
***ALSO JUST RELEASED: GOLD & SILVER SELLOFF CONTINUES: Michael Oliver – Here Is The Gold Number To Avoid, Plus Much More CLICK HERE.

***To listen to E.B. Tucker discuss the available physical gold disappearing and why he expects a big turnaround in the gold market CLICK HERE OR ON THE IMAGE BELOW.
***To listen to Alasdair Macleod discuss the available physical gold disappearing CLICK HERE OR ON THE IMAGE BELOW.
© 2021 by King World News®. All Rights Reserved. This material may not be published, broadcast, rewritten, or redistributed.  However, linking directly to the articles is permitted and encouraged.