As people continue to digest breaking news out of Greece and around the world, the Godfather of newsletter writers, 90-year-old Richard Russell, announced that the "bear market in gold is over!" Russell also covered everything from a desperate Fed ushering in QE4, to global hyperinflation, the California drought and coming Great Depression-style work programs.
Richard Russell: "The latest data suggests that the US economy is much weaker than thought. The weakness suggests that it could be quite awhile before the Fed raises rates. With short rates staying at zero as far as the eye can see, the situation is now bullish for gold.
The "Bear Market In Gold Is Over!"
As I write an hour before the close, gold is up 15.7 to 1217.7. Not being left out of the rally, silver is up 0.26 to 16.96. I believe the bear market in gold is over and we now have a large base to support much higher prices for gold.
Desperate Fed May Usher In QE4 And A World Of Hyperinflation
It now appears increasingly certain that the US is still grappling with the Great Recession. Not only will the Fed leave rates at zero, but I would not be surprised if the Fed ushers in QE4. With Europe's central bank following the Fed and turning to quantitative easing, it's entirely possible that with new trillions in currency units, the world will soon be dealing with hyperinflation. Thus the central banks are sending the currencies of the world to increasingly lower levels. The protection against currency wars is tangible items. Leading the list of possible tangible items are silver and gold.
California Drought
On another subject, the drought in California has become extremely serious. We've had four years of insufficient rain. It's unbelievable that the state has not erected desalinization plants along the coast. Another year or so of this and I'll probably have to move north to my son Ryan's farm in northern California, where there has been plenty of water available.
Pray For Rain
In the meantime, I pray and ask God for rain and water in the parched state of California. Farmland in California is turning to desert and no one laughs at my desert landscape anymore, which features my cacti. One eighth of the population of the United States resides in California, and the seriousness of the lack of water is starting to make the headlines of newspapers from coast to coast.
Desalinization plants should have been built years ago. One problem with our system is that it is not forward looking. We only recognize catastrophe when it is too late, or if it involves massive profits. We survived the Dust Bowl of the 1930s and we'll survive what I call the Water Bowl of the 2010s.
But not all the news is depressing. In the world of medicine, it appears that we are edging ever closer to defeating cancer. The research across the face of the planet in regard to health is extraordinary. Universities that I have never heard of are dealing with unimaginable medical research. My forecast is that major wars between leading nations will be a thing of the past as the human race moves ever further into spirituality and in other positive directions.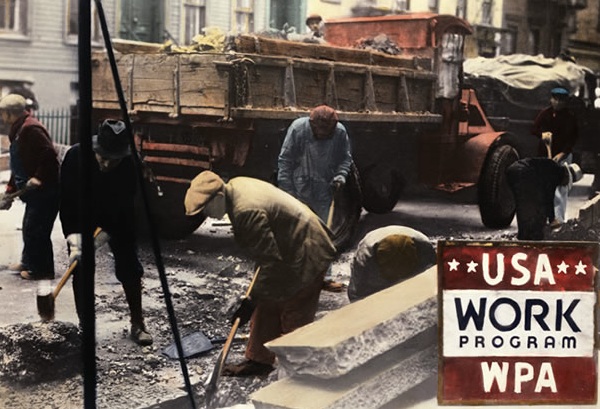 Great Depression-Style Work Programs To Be Introduced?
One last thought: I note that the politicians are now talking about massive make-work programs that promise to employ millions of people and to repair the crumbling infrastructure of the United States." I would encourage all readers around the world to access Richard Russell's 90 years of wisdom and remarkable writings at Dow Theory Letters by CLICKING HERE TO SUBSCRIBE.
***ALSO RELEASED: Key Market Notes From Doug Kass And The Quote Of The Week CLICK HERE.
© 2015 by King World News®. All Rights Reserved. This material may not be published, broadcast, rewritten, or redistributed. However, linking directly to the blog page is permitted and encouraged.
The audio interviews with David Stockman, James Turk, Rick Rule, Dr. Paul Craig Roberts, Bill Fleckenstein, Dr. Philippa Malmgren, Egon von Greyerz, Eric Sprott, Robert Arnott, Gerald Celente, Michael Pento, Marc Faber, Felix Zulauf, Andrew Maguire, John Mauldin, John Embry and Rick Santelli are available now. Other recent KWN interviews include Jim Grant — to listen CLICK HERE.