As we continue to see the Dow and the Nasdaq power to new highs in the early days of October, here is a look at QE4 and gold, Paulson & Co, plus a note on the action in the miners.
By Bill Fleckenstein President Of Fleckenstein Capital
October 3 (King World News) – The stock market was slightly higher early on, with the Dow the best index today. Yet for all the euphoria and fanfare about new highs it is interesting to note that FAANG have lost their mojo ever since the big reversal last June. Not that that matters much. Even a horribly disappointing quarter by Tesla wasn't good enough to see the stock decline to any meaningful degree before it gained ground on the day. Thus, the odds continue to favor more of the same through the end of the year.
Not So Fast
Having said that, it often is those moments in time when it seems impossible that stocks could decline (or go up, under opposite circumstances) that they actually do. However, if one is hoping to make money, from a tactical standpoint, there is no percentage in spending time or energy on being short until there are reasons to believe it might work. That could happen at any time, but for now it continues to be a decidedly bad idea. Perhaps we will get more clues as we get into earnings season in the next couple of weeks, but at the risk of stating the obvious, trying to fight this aged bull trend is not yet a profitable endeavor.
Turning back to the action, the afternoon was a "sideways" affair and with an hour to go, when I had to leave, the (upside-leading) Dow was 80 points higher. Away from stocks, green paper was mixed, oil was flat, fixed income was as well, and the metals were very slightly higher.
From the Ground, Up?
As for the miners, they behaved better than gold did again today. In the past, when they have tended to be firmer than the metal it has been a harbinger of higher gold prices, although — just like every "indicator" involved in the gold complex — nothing is even close to a sure thing. Given sentiment, the action of the miners, and the extent of the decline thus far, we might finally be close to a decent-sized rally. And recently some stocks — like Pretium, Kirkland Lake, and even New Gold for that matter — have been creeping higher in the face of sloppy gold action.
Included below are three questions and answers from the Q&A's with Bill Fleckenstein.
Warren Buffett
Question: Buffet says valuations make sense right now. I would assume you disagree, and if so, why would you think he believes that? He cites interest rates, does he not believe rates have been manipulated? To me he seems full of you no what!
Answer from Fleck:  "He said compared to rates, valuations make sense, but the manipulated nature of rates was not mentioned, and that is the big issue."
Paulson & Co. Rip Miners
Question: Bill- Paulson going after gold miners re: poor returns and management – nothing all that new, but seems like could be a positive development. Something worthwhile? Gold Equities: Myths, Dreams and Reality
Answer from Fleck:  "Not really, IMO. He has had especially poor choices, so he is particularly unhappy. Much of what he complains about, while certainly prevalent in the industry, is not as widespread as he makes it seem."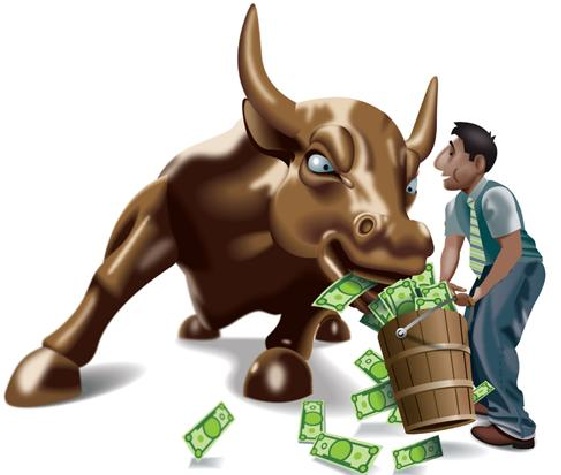 QE4 & Gold
Question: Bill: You have stated repeatedly that essentially you will not make any big moves on the stock market until it cracks and see how the market reacts AFTER the Fed rides to the rescue. Meaning, hold off on committing capital and do not pounce on shorts in any large way right after the initial crack This means two things to me. If the market acts very weak even after Fed infusion, go ahead and pick losers to short bigly. But what if the market LOVES the Fed infusion and continues onward and upward as it is now? Are we then in another, I don't know, 1 to 5 year holding pattern from the short side and possibly the gold side (what would Fed infusion do to the dollar and hence, gold)? Thank you
Answer from Fleck: "My plan is slightly different than what you have summarized. I will, in fact, attempt to catch a downside break, but I will do so knowing that the Fed will ride to the rescue at some point (down 15% to 20%?). After that happens, THEN I will look to determine what the right tactics are. At this point, I think the most certain outcome will be that QE4 will cause gold to rally dramatically."
***To subscribe to Bill Fleckenstein's fascinating Daily Thoughts CLICK HERE.
***To listen to Rick Rule and I discuss one of our top stock picks, the action in the gold and silver markets and much more CLICK HERE OR ON THE IMAGE BELOW.
***ALSO JUST RELEASED: John Embry – We Are Heading Into A Wild Decade Similar To The 1970s CLICK HERE.
***KWN has also released the remarkable audio interview with Bill Fleckenstein discussing the catalyst for gold breaking above $1,400, what to expect from silver, stock markets, interest rates, housing and much more and you can listen to it by CLICKING HERE OR ON THE IMAGE BELOW.
© 2017 by King World News®. All Rights Reserved. This material may not be published, broadcast, rewritten, or redistributed.  However, linking directly to the articles is permitted and encouraged.