Post Fed decision, look at who just said, "Buy gold and silver."
March 18 (King World News) – Peter Boockvar:  So, we have two things going on today with another jump in interest rates. 1) I'm sorry to sound like a broken record now but the more dovish Powell is, the higher rates will go. The US Treasury market is the new Siskel and Ebert giving a daily thumbs up, thumbs down on Fed policy (for those youngsters out there they used to have a tv show rating movies).
With the 10 yr yield jumping to 1.73-.74% Powell is getting another thumbs down as they don't want him to run things hot and now won't let him. As he said nothing about the rise in long rates, even when asked about it, he is clearly not in tune with the message of the market. Their desire to run extreme policy is now resulting in a tightening of higher cost of capital. When will they listen? Likely only after they get run over…
---
To learn which company billionaire Eric Sprott just bought a
$10 million stake in click here or on the image below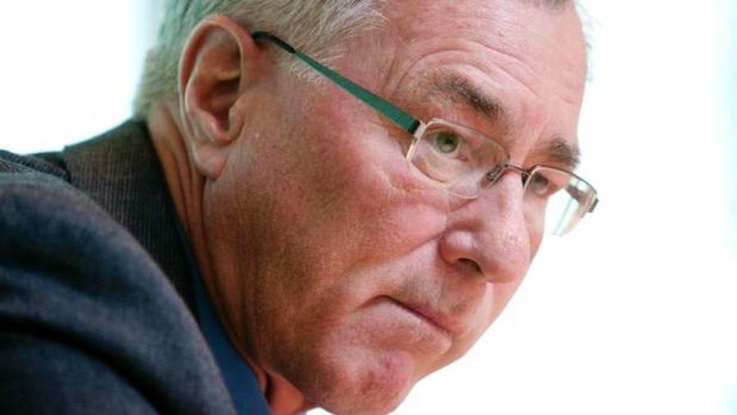 ---
2) Ahead of the results of the Bank of Japan review of policy there is now growing chatter that they will widen the allowed trading band around zero for the 10 yr yield to 25 bps from 20 bps. The BoJ has finally realized that killing off your regional banks is not worth 2% inflation and they need to give them a steeper yield curve in order to survive. It thus points to why YCC is bad policy if you sacrifice the profitability of your banks in return.
The BoJ also might get rid of its annual target for ETF purchases since they already own 7% of the Japanese stock market. Bottom line here, we've reached the end game of the extreme BoJ monetary policy where their balance sheet is almost 140% of GDP and their bank stocks are down 90% over the past 30 years. I'm bullish on Japanese banks. The 10 yr JGB yield rose 1.4 bps to .11% while the 40 yr was little changed as we'll see tonight what goes down. 
Even Brazil realizes that the economic world is changing with the vaccines and that we are not in 2020 anymore. Brazil's central bank raised its Selic rate by 75 bps last night to 2.75%, 25 bps more than expected and hinted that they will hike again in May by another 75 bps. In their statement they said "In the Committee's evaluation, a swifter adjustment has the benefit of reducing the probability of not meeting the inflation target in 2021, as well as of keeping longer horizon expectations well anchored." They straight out said this is the beginning of "policy normalization." So, the central bank of Brazil with years of experience in dealing with inflation is acting responsibly and understanding that raising short rates helps to control long rates. They also understand that 2021 with a global economic reopening doesn't deserve the same monetary policy as 2020 in the heart of the shutdowns. Jay Powell and Co. should take a monetary policy lesson in Brazil. 
The central bank that has found religion over the past 6 months in the need to contain inflation and regain credibility is in Turkey and they just hiked rates by 200 bps to 19% vs the estimate of 100 bps. I remain bullish on Turkey, its stocks, bonds and currency. The Lira is rallying 1.7% vs the US dollar in response.
We'll hear soon from the BoE and ECB.
Buy Gold & Silver
I think what we're also going to see, and yes I'm talking my position, is that gold and silver will trade in direct contrast in its view of the credibility of the Fed. You want to fade the Fed? Buy gold and silver. 
Australia said its job growth in February was much stronger than expected, adding 88.7k jobs vs the estimate of up 30k. Their unemployment rate fell to 5.8% from 6.3% helped by higher commodity prices, a rebound in China and barely any Covid cases. The 10 yr Aussie yield rose 6.5 bps to 1.78% (vs benchmark rate of .10% and YCC of .10% out to 3 yrs). The Aussie$ is also rallying and both combined led to a .7% drop in the ASX. Siskel and Ebert have also giving the RBA a big thumbs down.
To listen to James Turk discuss exactly what price targets to look for if the gold and silver markets have bottomed CLICK HERE OR ON THE IMAGE BELOW.
To listen to Alasdair Macleod discuss the action in the gold, silver and mining share markets and what to expect next CLICK HERE OR ON THE IMAGE BELOW.
© 2021 by King World News®. All Rights Reserved. This material may not be published, broadcast, rewritten, or redistributed.  However, linking directly to the articles is permitted and encouraged.