As we kickoff another trading week, here is a look at money destruction, QE taper and what to expect next.
December 6 (King World News) – Egon von Greyerz:  Probably not even 1% of Americans understand that their leaders and bankers are destroying their standard of living on a daily basis. How many Americans understand that since 1971 their US dollar has lost 98% of its purchasing power via inflation?
QE Taper
Peter Boockvar:  I've kept making the case that the reason why the yield curve is flattening is because of the market pricing in Fed tightening as the QE taper is now upon us (however the speed). This is because there is no such thing anymore of a 'soft landing' when the Fed tries to normalize policy as because the economy and markets are so dependent on Fed policy and intertwined, it's impossible to separate them out unfortunately. As I've also said before, we no longer have regular economic cycles and instead have credit cycles that ebbs and flows with the cost of capital driven by Fed policy. 
So the more formal restructuring of Evergrande now begins and in an attempt to smooth out any financial disruptions the PBOC announced a 50 bps cut in its reserve requirement to 11.5%. Not that they want this to encourage banks to broadly lend more but to give them more flexibility to deal with any residential real estate fall out. Evergrande's stock fell 20% in Hong Kong. The Hang Seng was weak again because of another decline in tech while the Shanghai comp was lower by .5%. The offshore yuan is little changed. In direct response to the RRR cut, the 10 yr China yield fell almost 4 bps to 2.86%. Copper, sensitive to China construction, but becoming less so, is up .9% to a one week high.
The bottom line with what is going on with the real estate sector in China is that it will slow overall growth and why the 30%+ savings rate of Chinese households is an important buffer. We'll see more debt restructurings and those builders who were more conservative in their business plans will likely benefit from the demise of their competitors…
---
To learn which company billionaire Eric Sprott bought a
$10 million stake in click here or on the image below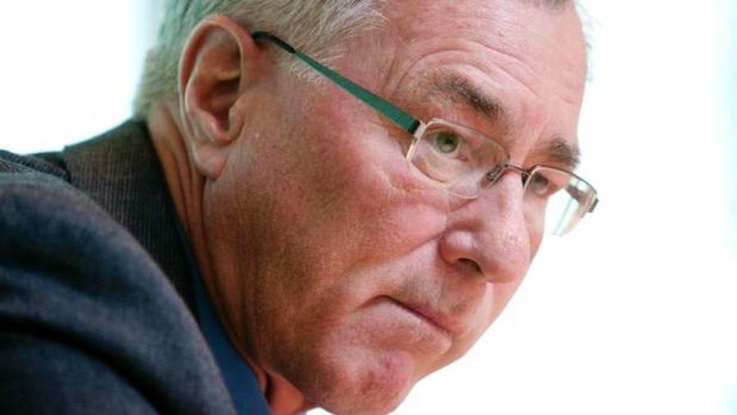 ---
German factory orders in October tanked by 6.9% m/o/m, well worse than the estimate of down just .3%. An 18.1% drop in non eurozone orders was the main reason. Because of the reliance on smoothly working supply chains, German industry has gotten all backed up, particularly with their auto production sector. While the estimate for this number was badly off, it is not a surprise that supply problems are resulting in order issues and why the German 10 yr bund yield is little changed. The 10 yr breakeven is down 1 bp and the euro is slightly lower. The DAX though is up about 1/3 of a percent. 
The Bank of England meets next week and while I think they hike rates, as they should have last month, a member last week said Omicron made it more certain. In contrast though, Deputy Governor Ben Broadbent today is sounding like he wants a hike. "The risks to future inflation from the tight labor market may well be more significant. Developments in domestic costs tend to be more persistent than those in tradable goods prices…Although it's made little contribution to higher inflation so far, the risks to future inflation from the tight labor market may well be more significant." In response, the 2 yr gilt yield is up almost 2 bps and the 10 yr is up 1 bp. The pound is rallying. With the 10 yr inflation breakeven at 4.18%, the highest since 1996 and their benchmark rate at just .10% how can they not hike if price stability is their sole mandate?
Either way, QE ends completely next week so the BoE is a step ahead of others and will join the Bank of Canada in their hard stop.
TOP TRENDS FOR 2022!
***To hear one of Gerald Celente's greatest interviews ever where he discusses the all-important top trends for 2022 CLICK HERE OR ON THE IMAGE BELOW.
Gold Shortage & Unprecedented Delivery Delays
***To listen to Alasdair Macleod discuss the shortage of available physical gold and unprecedented delivery delays CLICK HERE OR ON THE IMAGE BELOW.
© 2021 by King World News®. All Rights Reserved. This material may not be published, broadcast, rewritten, or redistributed.  However, linking directly to the articles is permitted and encouraged.