Last time this happened gold surged $800. Here is a stunning look at gold, mining stocks, real estate and the everything bubble.
Buckle Up Gold Traders
June 23 (King World News) – DER GOLDREPORT:  In the new reporting week, COMMERCIALS have reduced the short position from -316,851 to -300,495 contracts. Individually, this is the lowest short position since May 2019. I have marked this date for you in the gold price chart:
BUCKLE UP:
Last Time Commercial Traders Reduced
Gold Short Positions To This Level
(BLUE CIRCLE ON CHART)
Gold Surged $800 In 15 Months!
Mining Puke
Tim Ord:  Rare signal generated, RSI for Bullish Percent index for the Gold Miners index <5 (current RSI 4.04). Previous times marked intermediate term lows. Last signal came at the October 2021 low.
GDX At Major Support As Panic Selling Crescendos
At The End Of The Brutal Selloff In Mining Stocks
Fred Hickey:  Gold Miners Bullish Percent Index (BPGDM) fell to 20.7% today. I doubt this miner selling will last beyond another week (possible more quarter-end dumping). I expect to be buying every day until the dumping ends. I've got my basket out in order to catch the incredible bargains…
---
Listen to the greatest Egon von Greyerz audio interview ever
by CLICKING HERE OR ON THE IMAGE BELOW.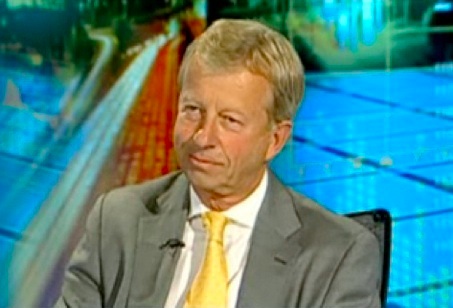 Sponsored
---
QT Seems To Be Bullsh*t
Sven Henrich:  Since QT began in June the Fed's balance sheet has actually increased 3 weeks in a row. Bravo.
Race To Print Money
Holger Zschaepitz:  The Bank of Japan has overtaken the Swiss National Bank (SNB) to take the lead in the global race to print money. BoJ's Total assets have swelled to 137% of GDP. SNB's balance sheet equals 'only' 135% of Swiss GDP.
BoJ & SNB Battling It Out For #1 Money Printer
Take That 1989 Japan!
David Hay:  Australian residential land is now worth more, relative to GDP, than residential land in Japan at the peak of the epic 1990s bubble.
COMPLETE AND UTTER MADNESS:
1989 Japanese Property Mega-Bubble
Now Exceeded By Australia!
Bad Omen
Otavio Costa:  Amazes me how much commodities are falling despite major supply constraints. That tells me how bad economic activity and corporate earnings are likely to be in the next months. 
Dr. Copper just turned negative on a YoY basis. Deterioration in labor markets comes next.
Yes, The Global Economy Really Is In Big Trouble
ALSO JUST RELEASED:  Russia, The Financial War And The War In The Gold Market CLICK HERE.
ALSO JUST RELEASED:  Is The U.S. Destined To Become A Nation Of Renters? CLICK HERE.
ALSO JUST RELEASED:  OUCH! Staggering Losses For Small Traders On The Wrong Side Of The Market CLICK HERE.
ALSO JUST RELEASED:  ALERT: More Market Chaos Across The Globe, Plus One Of The Most Shocking Charts Ever! CLICK HERE.
ALSO JUST RELEASED:  2022 MARKET DISASTER: The Worst Is Yet To Come CLICK HERE.
© 2022 by King World News®. All Rights Reserved. This material may not be published, broadcast, rewritten, or redistributed.  However, linking directly to the articles is permitted and encouraged.