Inflation will remain persistent in 2022. Here is what you need to know…
Inflation Moving To Stage Two
January 5 (King World News) – Graddhy out of Sweden:  When I called the commodities bear market bottom back in April 2020, I said it will be the start for big inflation. It was. Most have now caught on. Many now thinks inflation will take a breather. I think we are probably in for the opposite – inflation moving to stage two.
Supply Chain
Peter Boockvar:  In trying to figure out how supply chains settle out this year and what is the situation with inventories, we saw the December Logistics Managers' Index yesterday that clocked in at 70.1, down 3.3 pts in November. What this means is this, "Growth is INCREASING AT A DECREASING RATE for: inventory costs, warehousing utilization warehousing prices, transportation utilization and transportation prices." As for inventory levels, "growth is INCREASING AT AN INCREASING RATE." With respect to capacity, "warehousing capacity and transportation capacity are CONTRACTING." The large caps are theirs. 
With overall growth above 70, it is a level the LMI classifies as "significant expansion," but this inventory commentary is worth keeping an eye on, "Abnormally high inventory metrics, combined with tight capacity and unseasonably high price growth, are the drivers behind this month's continued expansion. They also suggest that some supply chains may now be carrying too much inventory – potentially a result of firms choosing the 'lesser of two evils' and stocking up to avoid potential missed holiday sales. This could foreshadow a coming bullwhip effect in which supply chains over-ordered to avoid shortages and are now dealing with the burden of having too much inventory – or too much of the wrong type of inventory – on hand."
Their bottom line as "considerable stress was put onto supply chains to avoid missed sales during the holiday rush" was this, "The month's report indicates that supply chains are now dealing with the aftermath of this herculean effort. This is likely to continue to strain on supply chain capacity well into the new year, and possibly through to 2023." 
I'll just add this, while inventory levels seem to be building, for whatever reason mentioned above, I do believe that the shift from Just in Time to Just in Case will mean generally a higher base level of inventory relative to sales going forward…
---
To learn which company billionaire Eric Sprott bought a
$10 million stake in click here or on the image below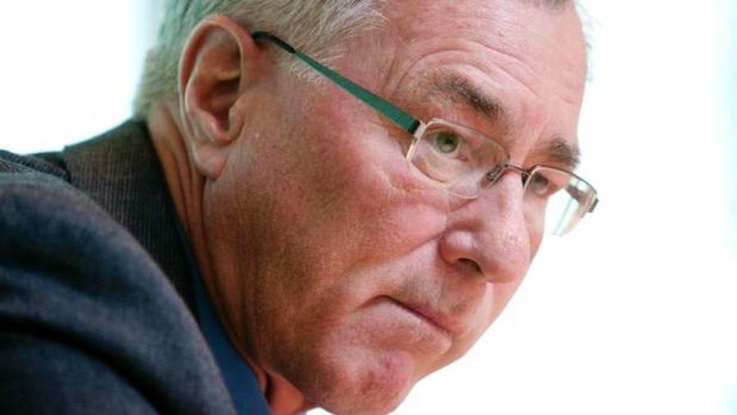 ---
Transport
And lastly, on the wage front for transportation workers, I saw a story this morning that privately held Lawrence Freight, a truckload carrier, is hiking wages by as much as 40% for company drivers and including an extra 2.5 cent per mile, up to $3,000 annually, in the form of quarterly safety bonuses. The end result will be salaries of up to $88,000 with certain drivers getting up to $92,000 per year.
December auto sales clocked in yesterday at 12.44mm at a seasonally adjusted annualized rate, well below the estimate of 13.1mm and down from 12.86mm in November and which compares with 16.7mm in December 2019. There is no question that the lack of supply is a key factor here but with a record price of both new and used cars, one has to wonder whether consumers are saying 'no way' to these prices and will just drive their existing car longer or buy out their lease which is likely a much cheaper price than the same used car on the market. S&P Global Platts Analytics said they don't see supply catching up to demand with auto production until early 2023. The Boston Consulting Group thinks that it will last into 2024 before stabilizing in 2025. 
What this means is higher auto prices for the rest of us but with a mix of price differentials otherwise. For example, if there are still not enough semi's and a finished product can't take place, there will be less demand for steel and in turn iron ore in the meantime. 
Why are energy stocks still a buy and energy prices are likely still going higher? Nikkei News today has a story titled "Global exodus from fossil fuel holdings tops 1,500 institutions." In the piece it says, "More than 1,500 pension funds, universities and other organizations around the world have announced that they will divest from fossil fuel assets, doubling from five years earlier and underscoring the surge in sustainable investing. These institutions have roughly $40 Trillion in assets under management." Thus, there will be continued under investment in conventional energy sources which will mean sustainably higher prices. 
Inflation To Remain Persistent In 2022
I bring this all up today to present further evidence of my belief that inflation in 2022 will remain sticky and persistent.
Please give a pass to weekly mortgage applications today as while they try to seasonally adjust, they just don't do a good job around the holidays. Purchases fell 10.2% w/o/w and by 12% y/o/y. Refi's were down by 2.5% w/o/w and by 40% y/o/y. 
In Asia…
In Asia, Hong Kong's December PMI fell to 50.8 from 52.6 with the Covid hardline the main reason. The more reasonable approach comes from Singapore and its PMI rose to 55.1 from 52. This said, "the latest survey was taken ahead of heightened Covid concerns which led to the temporary suspension of VTL ticket sales." Supply chains too were a problem, "supply constraints remained prevalent. Longer lead times, manpower shortages and resultant surge in prices all embodied the issues, although these remain linked to the demand-supply imbalances amid the recovery of APAC economies from the latest Delta wave." I remain bullish on Singapore and Singapore stocks where the Straits index is trading at 13x earnings with a dividend yield of 4.2%. 
India's services PMI for December fell to 55.1 from 58.1 which still remains at a good expansionary pace but worries about Covid and price pressures are still apparent. 
In Europe
The December Eurozone services PMI was revised down to 53.1 from the initial print of 53.3. That is down from 55.4 in November and the lowest since February 2021. Omicron is definitely the culprit. With pricing, "Although there was a marginal easing of price pressures, we're still in excessively hot territory – increases in both input and output costs were the 2nd quickest on record."
Notable today is the continued rise in European bond yields with the German 10 yr yield up another 4 bps to -.08% and getting ever closer to zero. That is the least negative since May 2019.
With the ECB the most offsides central bank with policy relative to the rate of inflation, today Governing Council member Martins Kazaks talked tough. "Don't be misguided that we won't raise rates, or that we won't cut the support if necessary. Of course we'll do our job." Without trying to sound hyperbolic here, I can't emphasize enough how relevant the European bond market means for global rates because of their deeply negative rate policy that resulted in the biggest financial bubble in the history of bubbles. If they actually do their job with respect to price stability, there is a whole lot of pain ahead for European fixed income investors, and possibly for others with any spillover.
To listen to Robert Arnott discuss what surprises to expect in 2022 as well as what to expect in global markets CLICK HERE OR ON THE IMAGE BELOW.
To listen to Alasdair Macleod discuss the setup for the gold and silver markets in 2022 CLICK HERE OR ON THE IMAGE BELOW.
Setup As We Kickoff 2022
ALSO RELEASED: Man Connected In China At Highest Levels Says 4th Bull Market In Gold Has Just Begun CLICK HERE TO READ.
ALSO RELEASED: Commodities Bull Market Climbing A Wall Of Worry At The Start Of 2022, Plus More Surprises CLICK HERE TO READ.
ALSO RELEASED: Rob Arnott On The Bang Moment And The Coming Great Awakening CLICK HERE TO READ.
ALSO RELEASED: Uncharted Waters As We Kickoff 2022 But There Will Be A Big Test In The First Half Of The Year CLICK HERE TO READ.
ALSO RELEASED: Here Is The Setup As We Kickoff 2022 CLICK HERE TO READ.
© 2022 by King World News®. All Rights Reserved. This material may not be published, broadcast, rewritten, or redistributed.  However, linking directly to the articles is permitted and encouraged.