As we move through the last few trading days of the year, here is a look at Happy 70th, "Shipageddon," and rise of the robots.
Happy 70th!
December 23 (King World News) – Danielle DiMartino Booth at Quill Intelligence:  The legendary Barry Gordon is going on his 70th year in show business. No surprise, the actor/voice actor/singer/talk show host holds the record as the longest-serving president of the Screen Actors Guild (1988-1995). At this time of the year especially, we are reminded of just how tender an age he started his career. Born December 21, 1948 in Brookline, Massachusetts, Gordon debuted at the ripe old age of three, winning second place on Ted Mack's Amateur Hour. He'd have wait a few years before hitting it big singing lead vocals for Art Mooney and His Orchestra. At six years old, Gordon became the youngest performer ever to hit the Billboard chart. The song, "Nuttin' for Christmas," peaked at number six in 1955; after selling more than a million copies, the tune was certified gold…
---
ALERT:
Legendary investors are buying share of a company very few people know about. To find out which company CLICK HERE OR ON THE IMAGE BELOW.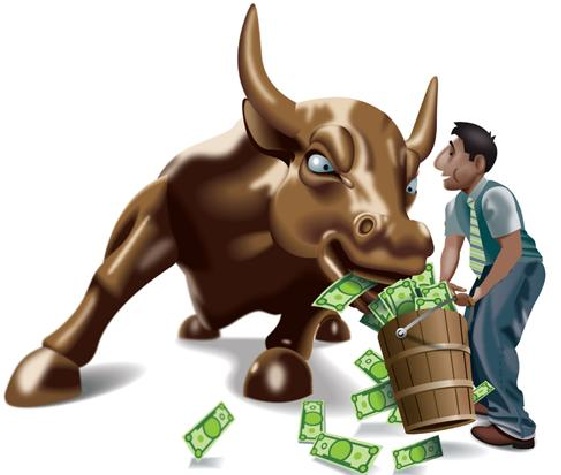 Sponsored
---
"Shipageddon"
We hope your little ones are NOT gettin' nuttin' for Christmas. We hate to break it to you, but with two days left until the big day, if you don't have that package in hand today, you're probably not getting it by Christmas. "Order early," they said. "Prepare for 'shipageddon.'" Parcel companies were already bogged down in bottlenecks before the extraordinary C19 online shopping shipping surge hit.
Consider the following testimonial via a social media posting: "Tips from your Mail Carrier." The 25-year veteran of USPS said:
"I've never seen anything like this year. I usually have 50 to 120 packages a day. I start at 7 and finish between 3:30 and 5 depending on amount of mail and boxholders. So, I still start at 7 but getting done between 5:30 and 7. This is unprecedented."
He's right. Tapping 2020's trademark term, this is "unprecedented." Workers in the Couriers & Messengers industry, dominated by USPS, UPS and FedEx, have never clocked longer hours. Through October, the latest month available, the worker workweek was 39.3 hours, a record in data back to 1990. Moreover, October's workweek lengthened by a full hour, a trend that no doubt continued into November and December.
The 11.3% year-over-year (YoY) rise in Couriers' & Messengers' workweek was the largest in nine years (red line). The additional hours for going the last mile add downstream costs in the distribution chain even as the dollar depreciates (green line), adding upside to import prices and core goods inflation (yellow line).
Juxtaposed against declining income expectations (blue line), stagflation risks are rising. Yesterday's Conference Board Consumer Confidence noted the spread between consumers expecting income to increase vs. those who see decreases six months hence remained subdued at a net 2.5%. Add to this the -12.6% YoY drop. There's precious little conviction in household income's recovery.
The specter of stagflation also concerns Chief Financial Officers (CFOs). Revenue is to corporate income as paychecks are to individuals. According to the Duke University/ Richmond Fed fourth quarter survey, the same CFOs who voiced the highest degree of uncertainty about 2021 revenues were also the least optimistic about the broad economy and their firms' prospects.
Rise Of The Robots
Thus, C-suite occupants remain in cost-cutting mode. Increasingly they're turning to workforce automation. Post-pandemic labor challenges have prompted more than half of large company CFOs to replace labor with technology. As per the survey:
"Among firms ramping up automation, approximately 80% say automation is reducing the need for low-skill workers, compared to about 45% replacing high-skill employees."
Stagflation risks also rise if the GOP retains its two Senate seats in Georgia's January runoffs. We've just borne witness to an eight-month grinding gridlock that's left small businesses hung out to dry and done a whole lot of nothing for the unemployed. Think about that span of time. By now, many of the out of work could be re-skilled or gainfully employed on massive infrastructure repair projects this country desperately needs…
---
To hear Sean Boyd discuss $3,000 gold and the big game-changer
for the gold market CLICK HERE OR ON THE IMAGE BELOW.
---
Hitting much closer to home for the most cash-strapped households, continued gridlock could force the starkest turn of events in some families' lives. The relief bill only extended the rental eviction moratorium through January 31st. Pushing workers in the lower third of the income distribution — many of whom are in the crosshairs of automation — over the double fiscal/technological cliff will decimate income generation capacity and restore unaffordable rents.
You might think that after more than $70 billion in foregone rental payments, landlords, 48% of which are small businesses, are rooting for double Democratic victories. It's likelier they know their future is bleak regardless of how the races swing. Even if they can evict, they'll be left with bad debts and forced to lower rents to re-occupy vacated units. Executives' blue wave anxiety was also manifest in the CFO Survey as tax policy zoomed up to fourth place from sixth in the third quarter.
Falling rents – the largest input to the Fed's favored inflation metric, mounting transportation costs that cut downstream purchasing power, and cost-cutting via automation — these are all deflationary forces that will boil over absent a blue wave. A blue wave pushes the economy closer to stagflation. Even as labor and shipping costs rise, housing's props are sustained and the unemployed keep getting paid to not work, as opposed to being re-skilled.
As for those exhausted carriers knocking at your door, as beseeched by our USPS veteran, practice compassion. "We're tired," he said. "Try to be understanding and kind. Leave your porch light on if you're expecting a package and it's dark. Keep the dog in the house until we're gone…"
On a more serious note, "Nuttin' for Christmas" is a reality for many American families this week. As of this writing, the stimulus checks might not even go out next week. Please join QI in continuing to donate to your local food bank.
***To listen to this powerful audio interview discussing the coming massive inflation/hyperinflation, global collapse, money printing, what people can do to protect themselves and much more CLICK HERE OR ON THE IMAGE BELOW.
© 2020 by King World News®. All Rights Reserved. This material may not be published, broadcast, rewritten, or redistributed.  However, linking directly to the articles is permitted and encouraged.