The gold market may be ending its correction and turning bullish, plus gold mining stocks and the world we live in.
Reason Gold Net Yet Getting Bigger Boost
November 19 (King World News) – Peter Schiff:  "The main reason gold is not getting a bigger boost from QE4 is that traders expect the markets to react the way they did to QE3. But when the Fed did QE3, markets believed it was the last QE, and that the Fed had an exit strategy. But QE4 is open-ended and exit is impossible!…
---
ALERT:
Mining legend Ross Beaty (Chairman Pan American Silver) is investing in a company very few people know about. To find out which company CLICK HERE OR ON THE IMAGE BELOW.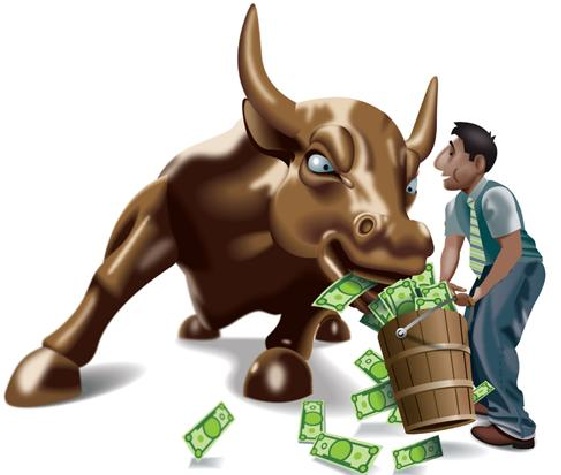 Sponsored
---
Caution On Bullish Stock Market Sentiment
King World News note:  Here is a chart from Jason Goepfert at SentimenTrader illustrating Smart Money & Dumb Money Confidence in the stock market:
WARNING: Smart Money Confidence In Stocks At 3 Year Lows, While Dumb Money Confidence Near 3 Year Highs
The World We Live In
Sven Henrich:  "The world we live in:
1%-1.5% GDP growth
Flat to negative earnings growth
25%-30% asset price inflation
Gold
Graddhy out of Sweden:  "We tagged that fib 38% plus backtested black dotted support line. And confirmed swing low yesterday with move above MA10. Note how MA50 is line up right at the blue triangle´s apex level, showing where the energy is. Major resistance now is circa 1484 plus MA50. (See below).
Gold May Be Ending Correction And Turning Bullish
GDX
We got a more solidly confirmed swing low as it moved above MA10 yesterday with gusto. Day 20 looks more and more like DCL but need to clear MA50 to label it DCL. And hoping it does not roll over into another DC. Looks like we have a green rounded bottom going on here too. (See below).
GDX Has Nice Rounded Bottom
The End Of The Road
READ THIS NEXT! One Of The Greats Warned We Are Now At The End Of The Road Of Monetary Activism CLICK HERE TO READ.
***KWN has released Gerald Celente's powerful audio interview discussing what investors should do to prepare themselves for the coming depression, including what to expect from gold, and you can listen to it by CLICKING HERE OR ON THE IMAGE BELOW.
© 2019 by King World News®. All Rights Reserved. This material may not be published, broadcast, rewritten, or redistributed.  However, linking directly to the articles is permitted and encouraged