China and the other countries that follow are about to change the world forever.
April 21 (King World News) – Gerald Celente:  As we have forecast, the 20th century was the American century – the 21st century will be the Chinese century. The business of China is business; the business of America is war.
CHINA'S SPIKES 18 PERCENT IN FIRST QUARTER
China's economy grew by 18.3 percent in 2021's first quarter, compared to the same period a year earlier, the National Bureau of Statistics reported.
The performance was the largest year-on-year quarterly gain since China began keeping records in 1992.
The country's March manufacturing output rose 14.1 percent against that of March 2020. Retail sales zoomed 34.2 percent as shoppers ventured out to malls, restaurants, and car dealerships.
For the first time in almost 30 years, China's economy contracted during the first three months of 2020, then sprinted back as the world turned to its factories to supply everything from masks to computers after the West shut down for months…
---
ALERT:
Legendary investors are buying share of a company very few people know about. To find out which company CLICK HERE OR ON THE IMAGE BELOW.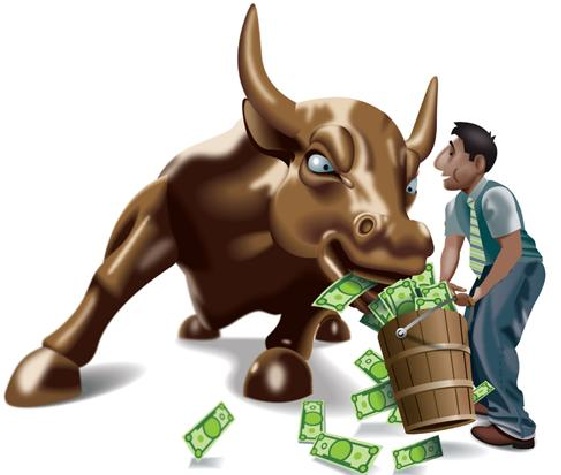 Sponsored
---
Those factors drove China's economy to grow faster than its pre-pandemic rate by the end of 2020. Indeed, it was the only major nation that registered a positive GDP in 2020.
"The monthly indicators suggest that following weakness in the first two months" of the quarter, Louis Kuijs, chief Asia economist at Oxford Economics, said in comments quoted by  Germany's Deutsche Welle news service.
TRENDPOST
While the U.S. GDP should catch up to its 2019 size by July as a result of record-low interest rates and President Biden's recent $1.9-trillion stimulus, in China, industrial production, consumption, and investment all gained pace in the last quarter.
In contrast, the Eurozone's economic output will grow only 4.5 percent in 2021, according to IMF, and not return to its pre-pandemic level until next year because of a double-dip recession in this year's first quarter, thanks to a slow vaccine campaign that has led political leaders to continue business lockdowns.
CHINA'S ECONOMIC GROWTH RESTING ON EXPORTS, HOUSING
Although China's exports grew 30.6 percent year on year in March, the volume of goods shipped overseas last month contracted by a seasonally adjusted 6.6 percent from February, Goldman Sachs calculated, as reported by the Wall Street Journal…
---
Billionaire Eric Sprott bought a 20% stake in a mining company
to find out which one click here or on the image below

---
Exports rose by 8.5 percent across January and February.
March's dip was expected because China's New Year's holiday last month briefly curtailed production and because American factories are coming back to life, meeting some demand that China has been supplying.
However, the latest round of U.S. stimulus spending and President Biden's $2.3-trillion infrastructure proposal probably will speed demand for goods past supply, lifting Chinese export volumes higher, WSJ analyst Nathaniel Taplin wrote on 14 April.
Domestically, China's economy rests more heavily on housing than officials would like.
Across 70 cities, home prices rose 0.4 percent from January through February, the steepest rise since August.
China's regulators have been tightening controls over property developers so more credit would be available to other facets of the country's internal economy.
So far, they have been less successful than hoped.
Tighter regulations strictly enforced could blunt the housing boom later this year and begin to fertilize other sectors of the domestic economy, Taplin wrote. 
Otherwise, the housing market will likely continue to swell, starving other consumer markets and raising the specter of a bubble.
CHINA TO OFFER IS DIGITAL CURRENCY TO 2022 OLYMPIC VISITORS
China hopes international visitors to next year's Beijing Winter Olympics will be able to acquire and spend the e-CNY, the country's new digital yuan, Li Bo, deputy governor of the People's Bank of China, said in an 18 April public statement at the annual Boao Forum for Asia that was reported by several news outlets.
The bank has conducted a real-world test of its e-currency several times in Beijing, Chengdu, Shenzhen, Suzhou, and other cities. The tests have shown the means of distributing and redeeming the e-money works with existing payment systems, the bank has reported.
Offering it to Olympic visitors would be the e-CNY's first test with foreign tourists…
---
New interview from legend Doug Casey discussing gold, silver and
global chaos! To listen click here or on the image below.

---
The bank hopes the e-CNY will eventually replace coins and paper money but is not a cryptocurrency, not designed like bitcoin, and not intended to challenge the dollar's role as the world's reserve currency, the bank has emphasized.
The c-CNY is intended for domestic use, Li said.
"Our goal is to allow the market to choose and to facilitate international trade and investment," he added.
However, the bank is collaborating with its counterparts in Hong Kong, Thailand, and the United Arab Emirates, among other nations, to explore the use of the digital yuan internationally.
The bank will continue testing the e-CNY in more cities and more situations and strengthen its technological and regulatory infrastructure as well as its security protections, Li added.
The People's Bank of China has set no date for a national introduction of its digital currency. 
TREND FORECAST
As we have been reporting, China will be the first major nation that goes to digital cash. In the years to come, much of the world will follow (See our 28 July article, "FROM DIRTY CASH TO DIGITAL TRASH.")
And, as we forecast, the more nations that go to digital cash, the stronger the crackdowns and regulations will be placed on cryptocurrencies that governments and their central banks will regard as competition.
In case you missed it…
25 Year Low
Chris Ritchie:  "Precious metals equities are close to a 25 year low in terms of their discount to the prices of the precious metals themselves. At the same time, commodities, as referenced by the GSCI (Goldman Sachs Commodity Index) are near 100 year lows relative to the DOW and S&P.
Very Nice Setup For Gold & Silver Space
With that as the backdrop, fund flows in the precious metals space have been negative for the last decade, which is leading to a very nice set up. Anyone investing knows the importance of heeding the mantra of "fear and greed" – it seems like greed is in the broader market and fear is in the precious metals market. Add to this the Pavlovian complacency created by government intervention, and what happens to the broader market if the government stops supporting the market?  What happens if they don't stop? 
Meanwhile, inflation data has been starting to tick up and more importantly, it's a topic of conversation. And any portfolio manager that's not paying attention isn't doing their job. Eric, 21% of all US dollars ever printed were printed in 2020, and 2021 is on pace for much of the same.  Meaning, we are in the middle of MMT already, when people are wondering if we're going to go down that path.  When you consider that the velocity of money has been low while the quantity of money in the system is at extreme levels, a recovery in the broader market, could speed things up.  So it's possible that the roll out of a vaccine could stimulate velocity while another wave of covid could lead to the creation of more money in the system.  So from a value and preservation of capital perspective, the sector is worth a look."
Eric King:  "You have set up one of the greatest vehicles for investors to take advantage of the long-term bull market in silver. Can you talk about that?"
Chris Ritchie:  "Our strategy is to create a vehicle for capital preservation with growth over a long period of time. There are many points that illustrate how fortunate we are to have this risk vs reward model:
Grade
With a reserve grade of 879 g/t silver equivalent, SilverCrest has one of the highest grade silver assets in the world, and the margins from our feasibility study can withstand a prolonged down period in the precious metals. We are trying to give investors confidence that we can not only ride out volatility and challenges in a turbulent market but add value at the same time.
Cost Curve
Our AISC (all-in sustaining cost) is below $7.00 an ounce for silver equivalent, as laid out in our feasibility study – the peer group is in the mid teens. So if the industry sees cost inflation, tax increases or operational challenges – we hope to be able to withstand that better than other investment vehicles.
Balance Sheet
We have ~$230 million of cash and $90 million of available debt. Our capex is $138 million and ~ half of that is a fixed price contract. We believe we have prepared for the worst so that we can truly protect this asset, while also being positioned to take advantage of the upside in the price of silver that is still in front of us. Eric, we also have a fast payback at lower prices – at $19 silver and $1500 gold we have a 1 year payback on our capital. And it is also important to remember that our team has executed on building mines severals times. This gives us confidence in our ability to execute and transition to cash flow in the near future.
Growth
We are getting to cash flow ~3x faster than our peer group (7 years vs 20). The goal of our feasibility study was to get to cash flow as fast as possible and pay back the capital quickly. And we are not done growing.
Only 15 veins of a known 45 veins at Las Chispas are included in the feasibility study. Nothing from Picacho is included, and even though it's very early stage, my bet is on our exploration team.
$100 Million Of Free Cash Flow
Within the feasibility study, our finding cost per reserve ounce was $.85 or ~$10m per year of production. At $19 silver and $1500 gold we are projected to have $100m per year of project level free cash flow. This is a great return on capital spent. And if you assume that we are 1/3 as efficient in finding new ounces, we're still extremely happy with that potential return profile.
Our budget in 2021 and potentially through ramp up is $42 million US and it's fully funded. That's over 70% of the meters we've drilled since we started drilling in 2016.
Recent News
We just released news from Babi Vista Splay – this was a discovery made after the date we cut off results to be included in the feasibility study. The objective of this particular drill program was to infill the ~14m oz at 2kg/t AgEq for potential inclusion into an updated official mine plan, ideally in the early years . We are currently 180m away from these resources so accessing this area is quick and inexpensive. We hope to be able to displace some lower grade material to make room for this higher grade material. This has the potential to inch up the already robust production and free cash flow profile.
Bottom Line
We are trying to create a vehicle that can withstand volatility, market uncertainty and the risks that we are aware and unaware of are.  We are fortunate to have an asset that we believe shields us from downside pressure far better than most of our peers.
At the same time, we have a significant amount of growth potential ahead of us and that growth is financed and under way. Production is expected to ramp up starting in the second quarter of 2022 with our first full year being in 2023.  The producers today are trading at very attractive levels while strengthening their balance sheets.  I don't think these dynamics stay unnoticed forever and we're working hard to get the potential re rate that typically comes from being a producing company.
Free cash flow profile – our life of mine production profile is expected to 12.4 million ounces per year of silver equivalent. And if we can execute anywhere near our $7/oz all-in sustaining cost as outlined in our feasibility study, we hope to have a significant amount of free cash flow. If you assume lower prices and compare that to other investment opportunities, we stand up extremely well while being able to invest in growth.  If and when we see higher prices, the investor can hopefully benefit as well.  We are trying to create a vehicle where the passage of time is rewarded and worth waiting for. SilverCrest Metals, symbol SIL in Canada and SILV in the US.
***To hear E.B. Tucker discuss the coming panic into gold, silver and the mining shares CLICK HERE OR ON THE IMAGE BELOW.
***To hear Alasdair Macleod discusses a possible short squeeze in the silver market CLICK HERE OR ON THE IMAGE BELOW.
© 2021 by King World News®. All Rights Reserved. This material may not be published, broadcast, rewritten, or redistributed.  However, linking directly to the articles is permitted and encouraged.