On the heels of the continued weakness in the precious metals markets there is no question that gold bulls are capitulating, which is a very good contrarian signal.
Gold Bulls Are Capitulating
May 25 (King World News) – Jason Goepfert at SentimenTrader:  Gold Bugs Are Selling Out
Key points:
Gold mining stocks have been sold hard over the past couple of weeks
The selling pressure has been enough to trigger an extreme reading in a Panic Breadth Composite
How investors treat this latest dip should go a long way toward showing the potential risk versus reward for the months ahead
Gold mining stocks continue to disappoint
Being a gold bug is a trying endeavor.
You're suffering losses most of the time while most other investors are enjoying easy gains. But every once in a while, you get rewarded handsomely, usually while almost everyone else is panicking. Maybe that's why so many gold bugs seem cynical and smug.
The latest round of selling pressure must have been excruciating because gold hasn't served as much of a balm against losses in other markets. So much for being smug…
---
Look At Who Is A Big Investor In This Soon-To-Be Self Funding Gold Exploration Company! To learn more click here or on the image below.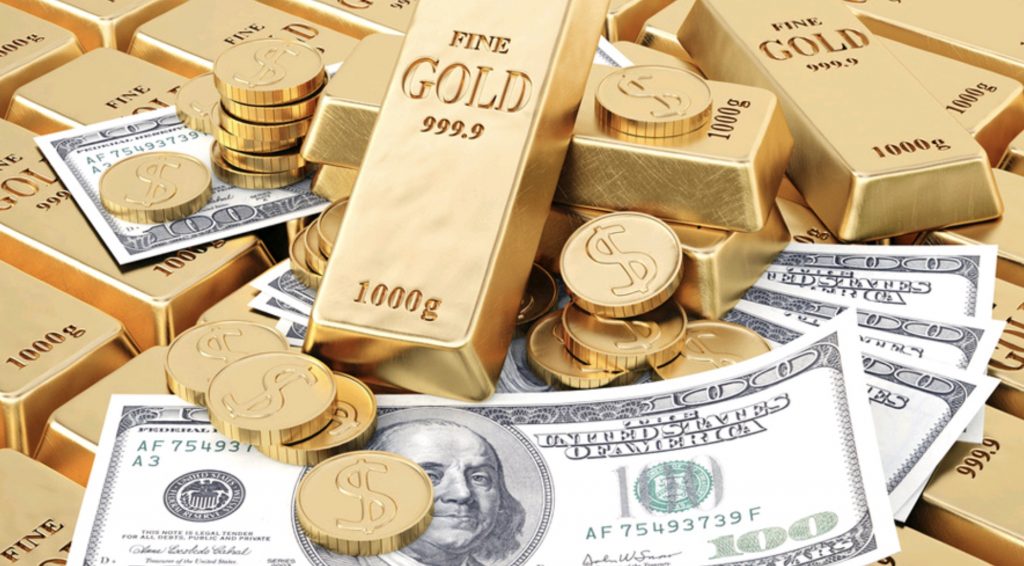 ---
At the worst point during the latest round of selling pressure, more than a quarter of gold mining stocks fell to a 52-week low at the same time. Over the past five years, that has meant a bottom.
Remarkably, almost every gold miner has been trading below its 50-day average for most of the past two weeks. The only comparable bout of depressing trends over the past five years was triggered during the pandemic crash in March 2020.
This one has been even worse than that crash. On an average day over the past two weeks, fewer than 1% of gold miners held above their 50-day averages. The last time that happened was in 2013. The Backtest Engine shows that over the past 40 years, it has gotten this bad only a handful of times.
What the research tells us…
When gold mining stocks enjoyed a thrust in March, they demonstrated the kind of momentum that has typically persisted in the long-term. In April, the selling pressure generated modest oversold signals, which had a good record at preceding gains when they follow upside momentum like March. But gold and the stocks that mine the metal have a long history of disappointing investors, and this one has been no different so far. According to the Risk/Reward Tables above, if gold bugs can build on some nascent eagerness to buy the recent dip, that should be a good long-term sign. This is just a portion of today's important report from SentimenTrader. To read the full report, subscribe to the internationally acclaimed work Goepfert produces at SentimenTrader CLICK HERE.
Also of importance…
Huge Acquisition
Kraken is pleased to announce that it has entered into a share exchange agreement pursuant to which the Company will acquire 100% of the issued and outstanding shares of Panerai. Panerai holds a 100% interest in 8,850 acres (3,580 hectares) of lode mining claims in Lander County, Nevada surrounding the past-producing Apex uranium mine.
"This will be a transformative acquisition for Kraken Energy," said Dave Forest, Kraken's Chief Executive Officer. "Our ongoing technical review of the Apex project has suggested potential for uranium mineralization across multiple kilometres. The addition of this new land package will increase our total land position tenfold to capture that scale. We're fortunate to be able to consolidate such a controlling land position in a proven American uranium district like the one surrounding Apex. This acquisition will create a district-scale play with multiple kilometres of prospective geology and structures for new uranium discoveries. We've also further strengthened our uranium team to move the project forward."
Garrett Ainsworth, newly appointed Chairman of Kraken, served as Vice President Exploration & Development at NexGen Energy, a $3 billion uranium development firm, during its development of one of the largest uranium deposits in the world. Mr. Ainsworth commented: "The past-producing Apex Property and associated district-scale uranium land package to be acquired has immense potential to develop mineral resources and to deliver additional uranium discoveries.  The timing is right as the importance of establishing a domestic supply of uranium is becoming more and more evident.  Apex and the new land package to be acquired tick all of the boxes from technical to jurisdictional, which has transformed Kraken Energy into one of the best uranium opportunities that I've seen in my career." Kraken Energy, symbol UUSA in Canada and UUSAF in the US.
JUST RELEASED: Leaders Brace For Economic Downturn CLICK HERE.
JUST RELEASED: "Tightening Into A Popped Bubble Is Insane." Plus Gold, Inflation And Housing CLICK HERE.
JUST RELEASED: There Are Very Serious Economic Problems As Market Tests Low, Plus A Look At Real Estate CLICK HERE.
JUST RELEASED: We Are Living Through One Of The Most Dangerous Times The World Has Ever Faced CLICK HERE.
JUST RELEASED: Is A Historic Bull Market In The Mining Shares About To Begin? CLICK HERE.
JUST RELEASED: The Domino-Effect That Would Crush Markets And Economies Faster Than A Hot Knife Through Butter CLICK HERE.
JUST RELEASED: Greyerz Just Warned We Are Entering A Global Depression And The Real Inflation Rate Is 20%-30% CLICK HERE.
***To listen to the man who has become legendary for his predictions on QE and historic moves in currencies discuss the incredibly dangerous scenario the world faces as well as what to expect from major markets including gold CLICK HERE OR ON THE IMAGE BELOW.
© 2022 by King World News®. All Rights Reserved. This material may not be published, broadcast, rewritten, or redistributed.  However, linking directly to the articles is permitted and encouraged.