It appears that the global slowdown is now picking up steam. What will central planners do next?
Global Slowdown Picking Up Steam
April 24 (King World News) – Here is what Peter Boockvar wrote today as the world awaits the next round of monetary madness:  With respect to the semiconductor companies, the bellwether Texas Instruments last night in its earnings release and call said "we're going through a semiconductor downturn. That is normal. It happens every few years because of the way the industry works." They said on the call that "cycles can last four to five quarters" and "we're two quarters into that." I have no positions in semi stocks so I could care less where these stocks go. I just mention it because these products go into phones, cars, other industrial products, data servers, computers, etc… and thus are a good tell on the state of the global economy and why I follow the sector…
---
ALERT:
Mining legend Ross Beaty (Chairman Pan American Silver) is investing in a company very few people know about. To find out which company CLICK HERE OR ON THE IMAGE BELOW.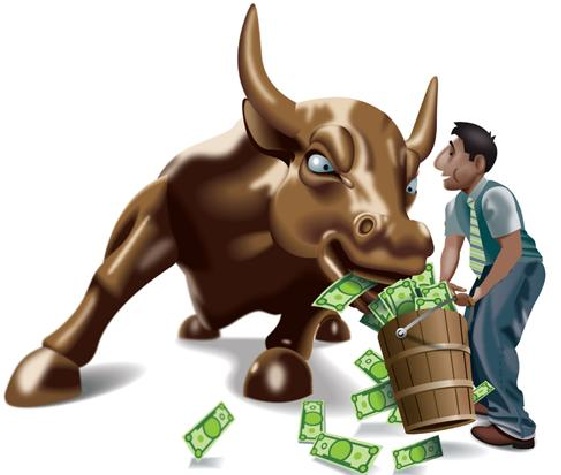 Sponsored
---
Interest Rates And Real Estate
With the slight uptick of 2 bps in the average 30 yr mortgage rate to 4.46%, mortgage applications fell 7.3% w/o/w. Within this, refi's fell for the 3rd straight week, down 11%, after strong gains at the end of March. They remain up though by 13% y/o/y. Purchase applications fell 4.1% w/o/w to a 4 week low and are higher by just 2.9% y/o/y. This of course is the important spring season and the housing numbers seen so far have been somewhat mixed and not clear in response to the mortgage rate drop. Lower rates are great for stimulating demand but the industry is still dealing with the issue of many years of 5%ish annual price gains. That is why I cheer a slower pace of home price gains so as to bring out more buyers. 
Stock Market Bulls & Bears
Sentiment into last weekend and thus not capturing yesterday's record close saw Bulls slip 1.4 pts to 53.4 according to Investor Intelligence. Bears though also fell to just 18.4 from 19.2 last week. That's the least since October 17th. All went into the Correction side which rose to 28.2 from 26. That's just the 2nd time in the past 12 weeks that has seen an increase. Bottom line, the Bull side is still below what is considered extreme, above 60 and Bears are still above the 15 level which would be extended but both are still certainly close. Yesterday for the first time this year, the CNN Fear/Greed index hit 75 and what they consider 'Extreme Greed.'
German Economy "Continues To Lose Steam"
The key April German IFO business confidence index fell .5 pt to 99.2 which was below the estimate of 99.9. This is the 7th month in the past 8 with m/o/m declines. Both current conditions and expectations components fell m/o/m. The IFO said "Companies are less satisfied with their current business situation. March's gentle optimism regarding the coming months has evaporated. The German economy continues to lose steam." Due to extraordinarily low rates, construction has been the only bright spot but IFO said "doubts are growing that the construction boom will continue." The DAX is up solidly however but because of just two stocks, Wirecard (Softbank news) and good numbers from SAP. Of the 30 components, half are up, half are down. The euro is weaker and the German 10 yr bund yield is back to zero, down by 3.5 bps. The euro heavy dollar index is at the best level since June 2017.
Meanwhile, In France…
French business confidence in April held at 105 which was 1 pt better than expected but the manufacturing component was softer and fell to match the lowest level since June 2015. There was no change in the services component while the retail sector improved. The employment component sagged to the lowest since January. The CAC is little changed and the 10 yr oat yield is lower by 3 bps to just .36%. 
The drop in European bond yields on the softer data is dragging US yields lower. The 10 yr yield is back below 2.55% at 2.53-54%. As stated yesterday, the last time the S&P 500 was above 2930 the 10 yr yield was above 3%. 
What Do They Expect To Accomplish?
The Aussie $ is down almost 1% after a less than expected CPI print. The RBA has their benchmark rate at a record low of 1.5% but there are still calls for them to cut rates further. What they expect to accomplish if they do I'm not exactly sure since they are already so low and the last thing they need is to reignite their housing bubble. Will a central banker ever say "I've done enough?" Unlikely. Bond yields fell sharply in response to the number and the ASX rallied 1% on hopes for a rate cut.
***KWN has now released Gerald Celente's KWN audio interview discussing what will surprise investors in the back half of 2019 CLICK HERE OR ON THE IMAGE BELOW.
***Also just released: UPDATE: Commercial Hedging Reaching Extreme Levels In Oil & Silver CLICK HERE TO READ.
© 2019 by King World News®. All Rights Reserved. This material may not be published, broadcast, rewritten, or redistributed.  However, linking directly to the articles is permitted and encouraged.