On the heels of the Fed raising interest rates, are they preparing to reverse course? Plus silver ready to soar.
The Last Hike?
May 3 (King World News) – Charlie Bilello:  Hiking rates to bring down inflation is not a "policy mistake," it's the Fed's #1 job.  The true policy mistake was believing that 0% rates, buying billions of mortgage bonds in a housing bubble, & increasing the money supply by 40% in 2 yrs would have no negative consequences.
The Last Hike?
The market is currently saying this is the last Fed hike of the cycle, and rate cuts will start in the fall and continue throughout 2024…
Market Forecasting Serious Fed Rate Cuts
Fed Rate Hike Won't Do Anything
Peter Schiff:  Today's 1/4 point Fed rate hike, basically another price increase, won't do anything to subdue inflation.  Consumer prices still have a long way to rise due to past QE and will rise even further as a result of future QE as the Fed soon responds to a worsening financial crisis.
The U.S. Government never pays its bills, that's why the National Debt is so high. Powell refuses to comment on the debt, as he claims its a matter of fiscal policy, and none of his business. But the driving force behind the inflation the Fed creates has been fiscal policy…
---
ALERT:
Powerhouse merger caught Rio Tinto's attention and created a huge opportunity in the junior gold & silver space CLICK HERE OR ON THE IMAGE BELOW TO LEARN MORE.

---
Silver Gap
Graddhy out of Sweden:  Just realized that silver gapped above 12-year blue trend line on this monthly chart.
It was up against it for April and gapped above it when starting May.
That is just historical, goosebumps TA silver is delivering.
What a beauty.
Means this chart has breakout.
Historical Breakout In Silver Signals Massive Upside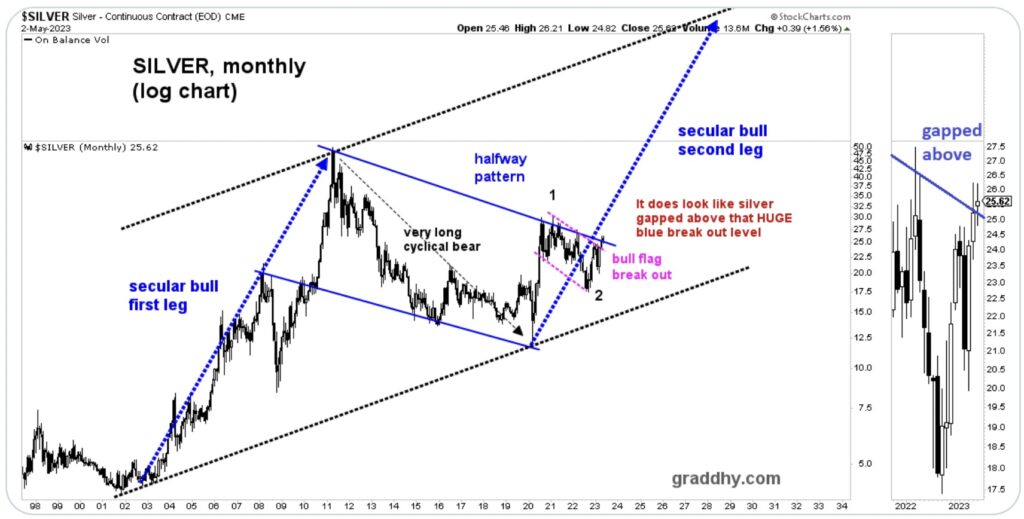 ***To listen to Michael Oliver discuss the looming stock market collapse as well as what this will mean for major markets including gold CLICK HERE OR ON THE IMAGE BELOW.

ALSO JUST RELEASED: Michael Oliver Just Warned This Global Collapse Is Going To Be Far Worse Than 2008-'09 CLICK HERE.
ALSO JUST RELEASED: Gold Surges To $2,025 As Fears Of Bank Failures Accelerates But Here's The Big Surprise CLICK HERE.
ALSO JUST RELEASED: Gold & Silver Close To Major Upside Breakouts But Take A Look At This… CLICK HERE.
ALSO JUST RELEASED: Mikhailovich – Expect A Long And Brutal Collapse CLICK HERE.
ALSO JUST RELEASED: Greyerz – The Everything Bubble Is Now Turning Into The Everything Collapse CLICK HERE.
***To listen to Alasdair Macleod discuss the key for the next major move in the gold market CLICK HERE OR ON THE IMAGE BELOW.

© 2023 by King World News®. All Rights Reserved. This material may not be published, broadcast, rewritten, or redistributed.  However, linking directly to the articles is permitted and encouraged.