The price of gold is surging strongly today as fears mount that more bank failures are on the way, but here is the big surprise.
This Is Going To Be Very Interesting
May 2 (King World News) – Art Cashin, Head of Floor Operations at UBS:  The Bulls finally managed to get them off the lows, but so far but no follow through. It's a mild moral victory, in that they got the S&P back up above the 4100 level. If they reverse and close below it, it can have intermediate ranged negative implications. 
All remains near the lows, but as we said earlier, that's pretty much a China story. The yields are down again because of the flight to safely due to the concerns about another regional bank, perhaps more than one. 
So, the final 90 minutes will be very important, can they mount a relief rally here and how they close will can be very important. 
So heat up the popcorn, the movie is going to be very interesting. 
Stay safe. 
Arthur 
Gold Volatility Set To Spike
Graddhy out of Sweden:  The gold volatility index (think VIX but for gold) looks ready for another big move.
Gold has a huge weekly break out and the gold volatility index is finishing up its big backtest.
This looks explosive.
Gold VIX Ready To Launch Higher Along With The Price Of Gold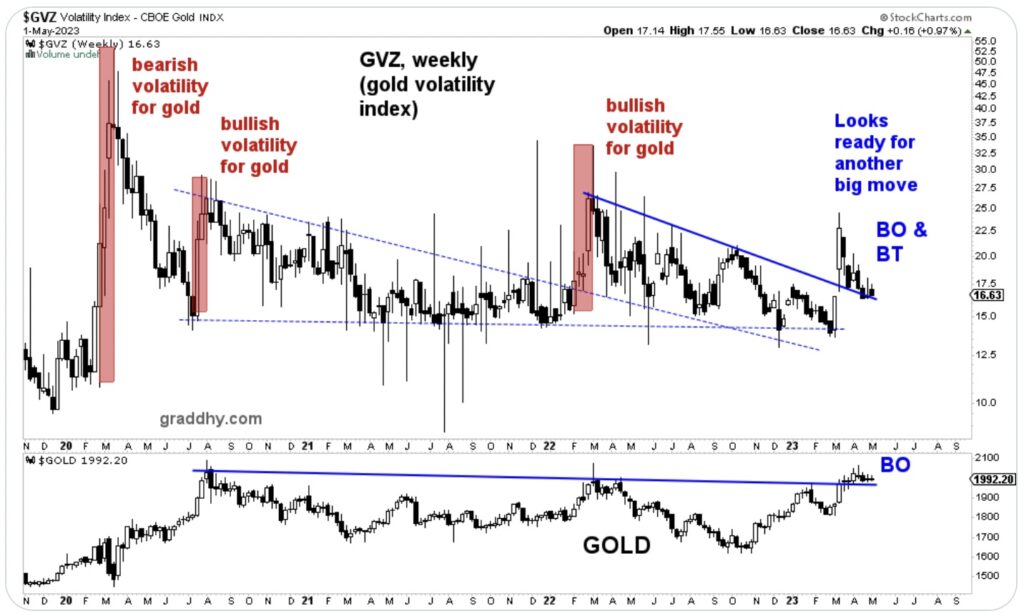 Graddhy out of Sweden:  Technically, the monthly close well above that 12-year blue trend line is a mega break out.
And it does have a higher high after the break out which is what one wants to see.
Fed FOMC now on Wednesday will be crucial.
Silver Is Already On The Launch Pad Ready To Explode Higher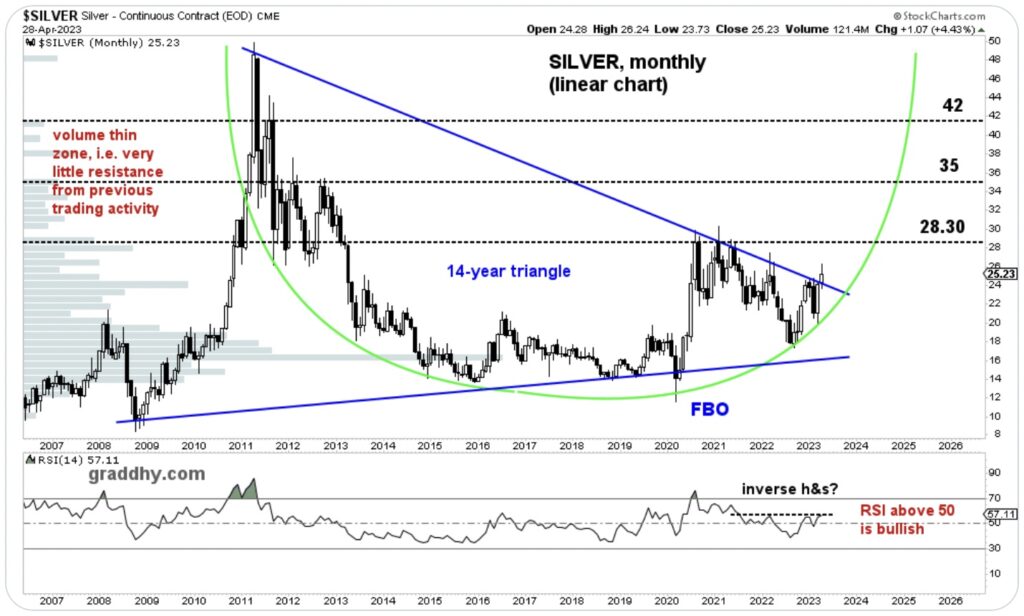 Bank Failures
Kevin C Smith:  A reminder that back in the Global Financial Crisis over 150 banks went out of business.
Today, 4 failures already equate to nearly the entire amount of assets financial institutions held during the banking crisis issue of '08 and '09.
If you are asking yourself whether the Fed will allow the same systemic problem to unfold today, look no further than gold prices starting to sniff around liquidity injections to sustain financial stability.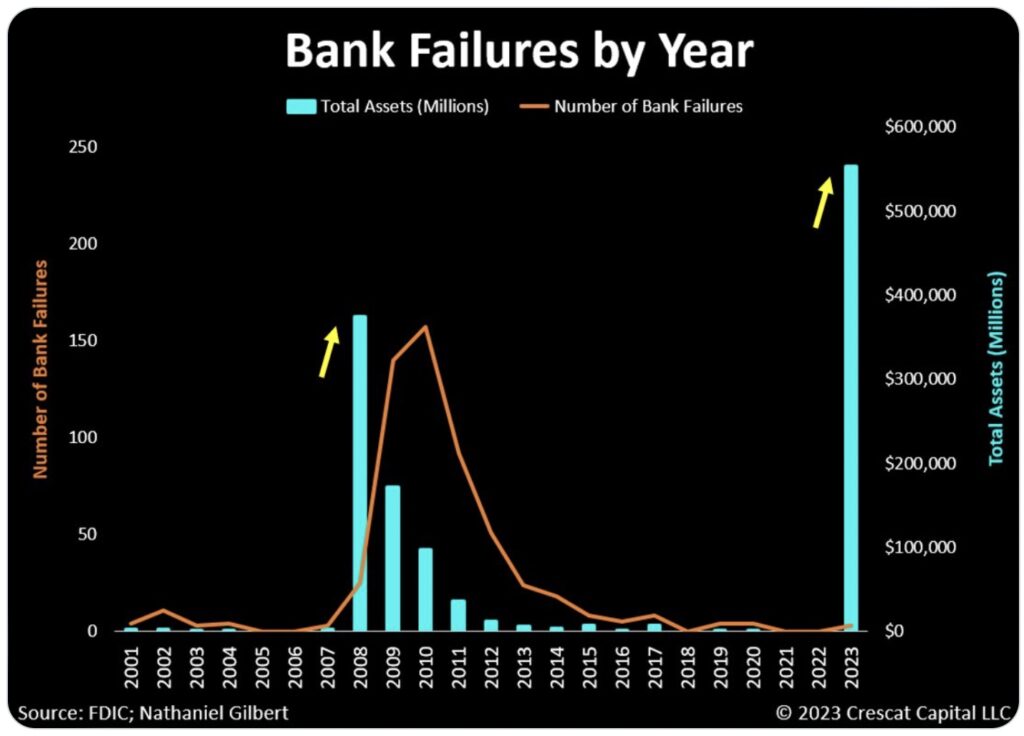 Also of importance…
Big Gold Acquisition
American Pacific Mining has announced the acquisition of Clearview Gold Inc., and its portfolio of three Nevada gold projects, further cementing itself as a premier exploration and development company, well-positioned to deliver results from its growing portfolio of precious and base metals assets.
This latest acquisition includes the Zuggerat Gold Project, which has a joint venture earn-in agreement with the US $1.5 billion Centerra Gold Inc.  American Pacific continues to attract multi-billion dollar joint venture partners (Rio Tinto, Dowa Metals & Mining and now Centerra Gold) who are expected to spend as much as US $30 million, or more on the Company's US based projects in 2023 alone.  The Company is also advancing a highly prospective pipeline of 100%-owned mineral exploration projects in the United States, several of which it will be drilling this year. American Pacific Mining, symbol USGD in Canada and USGDF in the US.
ALSO JUST RELEASED: Gold & Silver Close To Major Upside Breakouts But Take A Look At This… CLICK HERE.
ALSO JUST RELEASED: Mikhailovich – Expect A Long And Brutal Collapse CLICK HERE.
ALSO JUST RELEASED: Greyerz – The Everything Bubble Is Now Turning Into The Everything Collapse CLICK HERE.
***To listen to Alasdair Macleod discuss the key for the next major move in the gold market CLICK HERE OR ON THE IMAGE BELOW.

© 2023 by King World News®. All Rights Reserved. This material may not be published, broadcast, rewritten, or redistributed.  However, linking directly to the articles is permitted and encouraged.