Gold and silver are close to major upside breakouts but take a look at this…
Gold vs US Dollar
May 1 (King World News) – Graddhy out of Sweden:  The inverse correlation Gold vs US dollar can be strong shorter term, but longer term it is not an issue…
---
This Is Now The Premier Gold Exploration Company In Quebec With Massive Upside Potential For Shareholders click here or on the image below.
---
This chart fits well with that USD most probably has topped for good, as said when called the US dollar top back in September.
Gold Has Clear Breakout vs US Dollar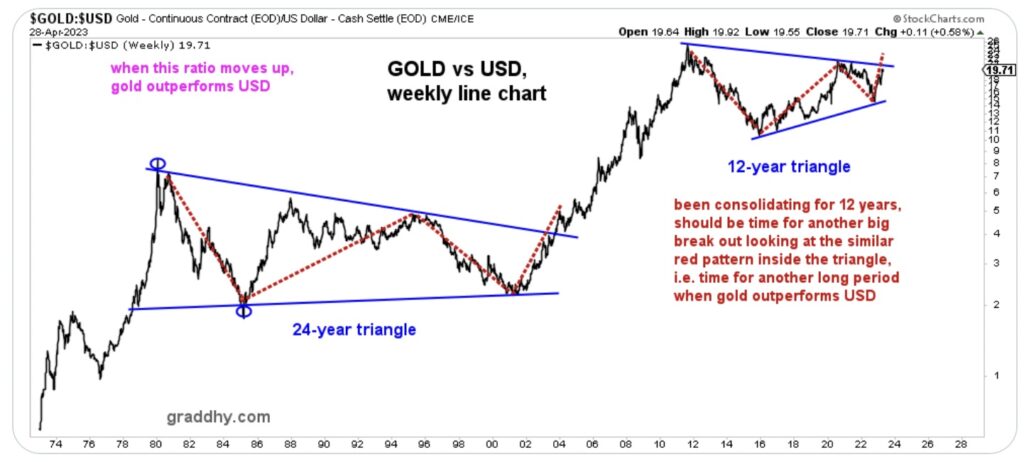 Time for gold to outperform.
Silver
Graddhy out of Sweden:  Silver is moving. As said, it was very impressive that it was holding fibonacci 23% retracement plus yellow support line, and extra bullish should it only have such a shallow daily cycle decline.
Silver Near Another Big Breakout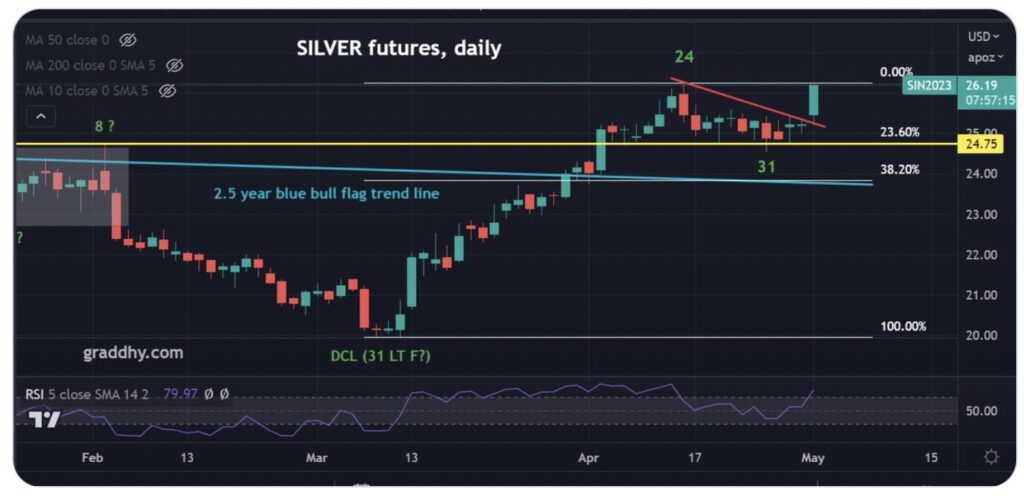 A higher high comes in above $26.24.
Another Gold Catalyst But Not Really A Standoff
Graddhy out of Sweden:  The debt ceiling standoff will end like it has done the previous 78 times, with Washington raising it. Do not waste your time on fear-mongering channels that uses it to market themselves.
It is completely unthinkable that Washington will not raise the debt ceiling a 79th time.
ALSO JUST RELEASED: Mikhailovich – Expect A Long And Brutal Collapse CLICK HERE.
ALSO JUST RELEASED: Greyerz – The Everything Bubble Is Now Turning Into The Everything Collapse CLICK HERE.
***To listen to Alasdair Macleod discuss the key for the next major move in the gold market CLICK HERE OR ON THE IMAGE BELOW.

© 2023 by King World News®. All Rights Reserved. This material may not be published, broadcast, rewritten, or redistributed.  However, linking directly to the articles is permitted and encouraged.