With many investors worried about the economic turmoil that has engulfed the globe, here is China's stunning plan for gold and a new monetary system.
China's Plan For Gold & A New Monetary System
Stephen Leeb:  "The world is headed to a new monetary system. But most in the West are still valiantly trying to deny that reality. Whether you're reading The New York Times or Bloomberg News, or delving into recent white papers released by various institutions, you're sure to find anti-gold propaganda, stories about how oil is plentiful, all the while stalwartly maintaining that the dollar won't be superseded by the renminbi…
---
IMPORTANT:
To find out which high-grade silver mining company billionaire Eric Sprott just purchased
a nearly 20% stake in and learn why he believes this is one of the most
exciting silver stories in the world – CLICK HERE OR BELOW:
Sponsored
---
"One of the white papers I referred to above was authored by Amar Reganti. He's on the asset allocation team of the massive asset management firm GMO, and formerly served as deputy chief of the U.S. Treasury Department's debt management unit. Reganti argues the renminbi won't usurp the dollar as the world's foremost reserve currency in either the short- or medium-term. But that's really missing the point, because promoting the renminbi over the dollar isn't China's goal. Rather, as I've argued before, the Red Dragon wants a new monetary order in which gold plays a central role, with the renminbi first among equals among fiat currencies.
China, in an orderly and deliberate way, is accumulating critical commodities like oil and metals like gold. Equally relevant, it's also acquiring vital technologies, ranging from its purchase of a high-tech German firm to the development of 21st century defense items, ones that in some cases the West can't create because it lacks access to the critical commodities that would be required.
The Path To A New Monetary Order
Also relevant is that China's newest supercomputer is five times faster than the fastest U.S. supercomputer. Supercomputers, thanks to their unique ability to create fantastically intricate code, will play a vital role in a world that moves to conduct international trade using digital currencies in conjunction with gold. This is a possible path China may choose in its push to create a new monetary order.
I had originally believed the transition from West to East would revolve largely around SDRs assuming a larger role. The idea was that after the renminbi and then gold joined the basket of SDR currencies, the renminbi, whatever its initial weighting, would naturally emerge as the currency of global choice because of China's outsized gold holdings and its control of critical technologies. This would be a likely orderly path to a new monetary order. 
I am still hoping such an orderly path exists – because if it doesn't, the world will stumble to a new monetary order in far more chaotic fashion. Developments in an increasingly turbulent West, rather than actions by the Chinese, would be the catalyst. 
Just this morning I was reading about protests in Europe over trade deals with North America and over the past week there were stories about German banks being up in arms about new regulations that would require them to raise massive amounts of new capital. Meanwhile, NATO member Turkey appears to be taking a page out of Russia's book – not the Russia of today but Russia circa 1950. 
As KWN's extremely informative interview with Nomi Prins showed, the Chinese are no fans of chaos. They don't want to see a market meltdown, even though they wouldn't be hurt by it nearly as much as the West, where a far greater proportion of wealth resides in the stock market. A replay of 2008 – which, given the potential for a collapse of the eurozone, not to mention a Russian bear bearing down on the Baltics, could turn into 2008 on steroids – would not be in their interests.
King Dollar Just An Illusion
My guess – and it is only a guess, and maybe more of a hope – is that China recognizes the potential for chaos and may take action to minimize it by slowing down the rise in oil prices to the $60-70 area rather than three digits, and by preventing gold from taking off too fast. In other words, it will move to a new monetary order but at a slower pace that will keep chaos in check. During this interim, this could help maintain an illusion that the dollar is still king. 
Earlier this week the International Energy Agency (IEA), which works at the behest of the OECD and is considered the keeper of the most comprehensive and accurate data on oil, came out with what I consider a nonsensical report. The gist of it was that an unexpected slowdown in Asian oil demand led by China and India will prolong the glut. I was truly nonplused and so was Michael Rothman, former winner of Institutional Investor's award for top oil analyst and now an out of the box thinker on oil dynamics. If anything his views were even harsher than mine. 
My opinion of the EIA, the America-only counterpart to the IEA however, may match his in scorn. Oil inventories, perhaps the most watched statistic in the oil market, have started to fall in the U.S. So to prepare us for a further drop, the EIA announced that after many years it is changing its way of calculating oil inventories. No longer will it count "leased oil", whatever that means, as part of inventories. The net result is that the next 7 percent to 10 percent fall in inventories will be a one-off event. What happens after that? Probably more tricks.
Will Chaotic America Become Even More Chaotic?
Low oil prices are important because they keep other commodity prices down. And indeed the one bit of very happy news last week, the big uptick in real household incomes, stemmed largely from falling oil prices in 2015. Those trends, falling oil prices and rising real incomes, have already partially reversed in 2016, but a full reversal could make chaotic America even more chaotic.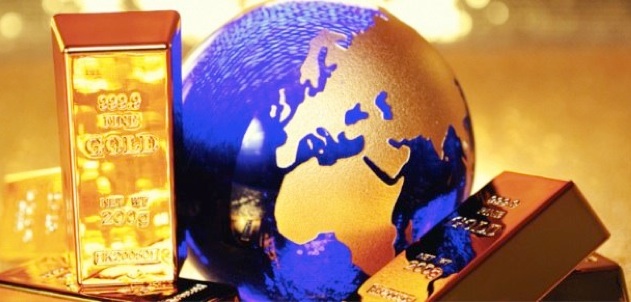 Gold's Role In The New Monetary System
All said, we still think Plan A is China's plan. The renminbi's inclusion in the SDR will be followed by the establishment of an Eastern oil benchmark under Chinese auspices. (It never ceases to amaze me how the most important news, such as the budding friendship between Russia and Saudi Arabia, never makes headlines). Gold will be added to the SDR, and the new monetary system will be ready to go. Can anyone say five-digit gold? Get used to it. But as we said above, China may choose to proceed to this goal at a very deliberate pace.
Regardless, whether the transition to a new monetary system is orderly or chaotic, you must – for your own sake and your children's – own gold. Just don't get upset if gold goes down in the near term. It will only be to ensure that order does trump chaos and yes it will give the Chinese cheaper prices to buy even more gold. Hold fast to the thought that once the world reaches a point of inflection, years' worth of change can take place in a matter of days. ***Nomi Prins also discusses China and their plans for gold and a new monetary system, what to expect in the gold market as well as what surprises are in store for the rest of 2016 and you can listen to it by CLICKING HERE OR ON THE IMAGE BELOW.
***Also just released: Massive Money Flowing Into Gold Stocks, Even As They Sell Off CLICK HERE.
© 2016 by King World News®. All Rights Reserved. This material may not be published, broadcast, rewritten, or redistributed.  However, linking directly to the articles is permitted and encouraged.