As we kickoff what promises to be another wild week of trading after Saudi's attacked and crude oil is surging, here is what you need to know.
KWN will be publishing extra articles today due to the violent nature of the trading in global markets after the attack on Saudi Arabia. Let's get started…
With Respect To Crude Oil And Inflation
September 16 (King World News) – Peter Boockvar:  "I have to leave the geopolitics among Saudi Arabia, Iran, the US, etc, the supply/demand analysis of oil and how quickly the Saudi's can come back on line to others. With respect to any inflationary implications, WTI oil has traded in a $50 to $65 range all year and until it breaks out above, I don't think it will matter that much. Brent has been between $55-70 give or take. This all said, if central bankers want an increase in inflation, then there is a part of them that wants to see higher oil prices as a price rise is a price rise. I'm sure though on Wednesday we'll hear from Powell the word 'transitory' again if asked about any sharp rise in fuel prices. But, this could complicate the job of the Fed if it lasts. Note the idiocy of all this on the part of central bankers in wanting higher prices of the things we consume.
I'm sure many are going to try to figure out the economic consequences if oil prices rise further and stay high. I'll just say simply, it's good for oil producers and not good for oil users. If sustained at a higher prices, the industrial users will do their best to pass it on via surcharges while the consumer will be left holding the bag. Also, in the context of what is already a slowing global economy, many countries don't absorb higher oil prices well.
Flight To Safety
Treasuries for now are benefiting from a flight to safety trade, along with the dollar, rather than being sold on inflation worries. Because the TIPS market trades so thin at this hour of the day, I'll wait a few hours to see the impact on inflation breakevens.
Weakness In Shipping
The Cass Freight late Friday reported its August shipping data and the index fell y/o/y for the 9th straight month, by 3%. Cass Freight said "weakness in demand is being seen across most modes of transportation, both domestically and internationally, with many experiencing increases in the rates of decline…we see a growing risk that GDP will go negative by year's end."…
---
ALERT:
Mining legend Ross Beaty (Chairman Pan American Silver) is investing in a company very few people know about. To find out which company CLICK HERE OR ON THE IMAGE BELOW.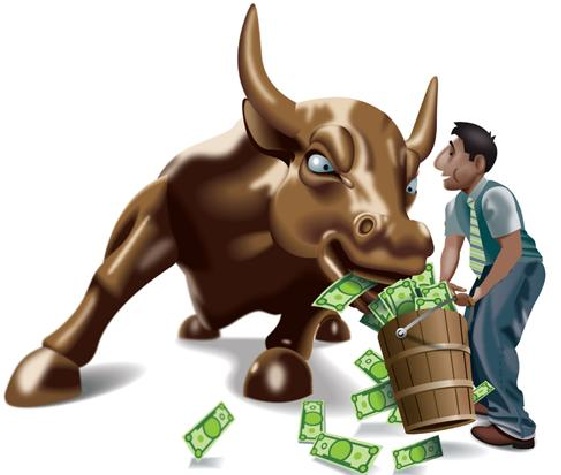 Sponsored
---
Here are their 3 main areas of concerns:
1) "We are concerned about the increasingly severe declines in international airfreight volumes (especially in Asia) and the ongoing swoon in railroad volumes, especially in auto and building materials;
2) We see the weakness in spot market pricing for transportation services, especially in trucking, as consistent with and a confirmation of the negative trend in the Cass Shipments Index;
3) As volumes of chemical shipments have lost momentum, our concerns of the global slowdown spreading to the US and the trade dispute reaching a 'point of no return' from an economic perspective grow."
Bottom line according to Cass Freight, "more and more data are indicating that this is the beginning of an economic contraction."
Let's now hope that the spike in oil prices doesn't last and we can finally get a cooling off with China and an end to the tariffs.
The data out of China yesterday for August was soft again. Industrial production weakened to a pace of 4.4% y/o/y, down from 4.8% in July and below the estimate of 5.2%. That's the slowest since 2002. Retail sales grew by 7.5% y/o/y, down one tenth from July and 4 tenths less than expected (see below).
China Industrial Production Hits Lowest Levels In 17 Years!
Lastly, fixed asset investment ytd y/o/y was up by 5.5% vs 5.7% in the month prior and where no change was expected. As for this rise in oil prices, Saudi Arabia is China's biggest supplier. I'll leave it to Chinese Premier Li to bottom line the data when he said yesterday that it's getting more difficult to sustain economic growth of 6%.
Will All Of This Lead To A Surprise Trade Deal
Many eyes are now back on the PBOC as to whether they will cut interest rates in response. It also encourages China to make a trade deal with the US just as slowing growth in the US makes the administration incentivized to do so as well. The Shanghai comp shrugged off the oil jump and this economic news as it was flat but the H share index sold off by .6%.
In Europe, we await the results of the Boris Johnson/Jean-Claude Juncker luncheon. The pound is lower ahead of it after last week's jump.
Gold & Oil
King World News note:  Commodities as a whole should be trading much higher if the rally in the price of oil can see a sustained upside advance.  This will not only ramp up inflation, but it will also act as yet another bullish catalyst for the gold market.  Although it is possible for the price of gold to see further weakness in the days and weeks ahead, the attack on Saudi oil facilities sending the price of gold higher is a very good example of how surprises in bull markets tend to be on the upside.
***KWN has now released the powerful audio interview where Dr. Stephen Leeb says the world may see $20,000-$25,000 gold CLICK HERE OR ON THE IMAGE BELOW.
Oil Spikes $7 And Gold Surges Back Above $1,500
READ THIS NEXT! Oil Spikes $7 And Gold Surges Back Above $1,500 After Drone Attacks On Saudi Oil Facilities CLICK HERE TO READ
More articles to follow…
In the meantime, other important releases…
Dr. Stephen Leeb – The World May See $20,000-$25,000 Gold CLICK HERE TO READ
Bullion Banks And Commercials Making Moves In The Gold & Silver Markets CLICK HERE TO READ
This Is Where Things Stand After The Dust Has Settled In Global Markets CLICK HERE TO READ
Today's Violent Trading In The Gold Market And A Warning For Stock Market Bulls CLICK HERE TO READ
© 2019 by King World News®. All Rights Reserved. This material may not be published, broadcast, rewritten, or redistributed.  However, linking directly to the articles is permitted and encouraged