We are seeing a rally after yesterday's takedown in the gold and silver markets along with reports of more shortages of silver in London.
More Shortages
February 5 (King World News) – Alasdair Macleod out of London:  "I've enquired about the silver position in London, and it echoes what was seen in the US. Many dealers ran out of coins and the Royal Mint has tried to recall coins out on consignment. Premiums peaked at 56% including sales tax, but have eased off somewhat since. There appears to be very little physical available."
KWN has now released an audio interview with Alasdair Macleod discussing the shortages in the London metals market and you can listen by CLICKING HERE OR ON THE IMAGE BELOW.
Things Are Tough All Over
Danielle DiMartino Booth at Quill Intelligence:  From Seinfeld: (Rick sits back in the car a second, then hurriedly jumps out and reaches for the gas pump. Kramer pops up from behind the pump and scares him) 
Rick: "Ahh!"
Kramer: "No, man! Not the gas!" 
Rick: "But it needs it, Kramer! It needs it bad!"
Kramer: "Do you think that this'll make you happy? 'Cause it won't!" 
Rick: (Walking away) "Ah, you can just go on without me."
(Kramer grabs him by the collar) 
Kramer: "Listen to me. When that car rolls into that dealership, and that tank is bone dry, I want you to be there with me when everyone says, 'Kramer and that other guy, oh, they went further to the left of the slash than anyone ever dreamed!'"
By now, long time readers may have noted we've never kicked off your trading day with a Seinfeld reference. We're amazed ourselves. Maybe kismet required we wait until yesterday's release of Challenger, Gray & Christmas data on job cut announcements. January being the busiest month of every year for layoffs, we thought nothing of the year-over-year (YoY) increase over 2020. Last January was, after all, a pre-pandemic month in U.S. economic history.
And then we saw the fine print. At 1,359, Retail jobs cut announcements were a fraction of 2020's tally of 10,444 and a tenth of the long-term average (red bars). The first thing that came to mind was, "Inconceivable!" Retail loads up on extra hands in the fall and jettisons them in January. "That's how it's always worked," our thought process continued, "unless…the gas tank was already on empty, just like that Seinfeld episode!" (Scary to see how we think.)
As things turned out, Retail was already running on fumes as 2020 turned to 2021. Job cut announcements last year totaled 184,886, dwarfing 2019's 77,475, which we thought back then to have been as bad as it could get. Peering all the way back to 1993, Retail cuts averaged 65,036 a year, a third of last year's slaughter.
That said, we know U.S. consumption was not a third of its long-term average, not with all of that stimulus money pumping through the economy's veins. That took us to the next stop, Challenger's last sector entry – Warehousing, which includes distribution centers. As it were, this January's layoffs in the sector more than tripled to 6,601 from last year's 2,180. While one year's break in seasonality does not make for a trend, this initial shift does posit online shopping will be with us for some time. We won't know for years but it's conceivable that distribution center holiday hiring will be the new seasonal swing factor to kick off the year…
---
To learn which company billionaire Eric Sprott just bought a
$10 million stake in click here or on the image below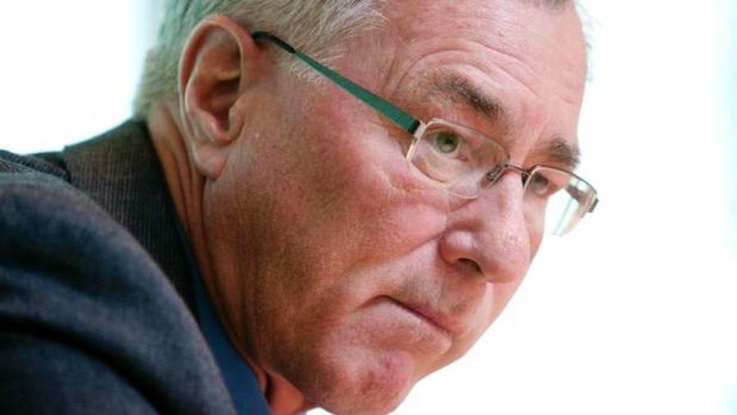 As for the broader economy, it's with good reason that Andrew Challenger said January's increase in nationwide job cut announcements appeared, "to be a new wave of layoffs hitting deeper than the initial blow." Indeed, ex-retail, the balance of 78,193 was the highest since October and well north of last January's 57,291. The chief reason for layoffs – "Demand Downturn" — coupled with the first post-pandemic month in which Leisure & Hospitality and Transportation (think airlines) did not top the layoffs list does suggest the economy has an element of permanent labor market damage.
Last January's nonfarm payrolls (NFP) seasonal adjustment for Retail and Leisure & Hospitality were 580,000 and 320,000 jobs respectively. But we know Retail hired a pittance this past fall compared to prior holiday seasons such that they didn't have to reverse that headcount in January. Ditto for Leisure & Hospitality. To the extent the seasonal add-backs cannot capture the effect of the pandemic, we could see upside in this morning's NFP.
With a hat tip to QI amiga Philippa Dunne, the Census Bureau's Household Pulse Survey did clock a loss of 1.7 million jobs between mid-December and mid-January. Consider that a good real-time check against the expected noise in today's jobs data.
That said, the one element we are, and should continue to see, given the potential for the vaccine to unleash services spending and the increased recent stimulus we've every reason to believe will continue indefinitely, is stability. After a 28-week stretch of negative prints versus the January 2020 baseline, job openings via Burning Glass data have been in the green in two of the last three weeks (green line)…
---
ALERT:
Billionaire and mining legend Ross Beaty, Chairman of Pan American Silver, just spoke about what he expects to see in the gold and silver markets and also shared one of his top stock picks in the mining sector CLICK HERE OR ON THE IMAGE BELOW TO HEAR BEATY'S INTERVIEW.

---
Moreover, temporary employment is flashing its own stability signal. We've been schooled to think of a rise in temporary employment is a precursor to increased full-time employment gains. In a post-pandemic world, however, temps represented employers' reticence to grow their businesses given the murkiness of the outlook. Perhaps the first decline in the American Staffing Association's Staffing Index in seven months (yellow bars) is thus a promising sign as well.
Geeks that we are, what we're really excited to see in tomorrow morning's report is the annual benchmark revision that covers the year through March 2021. C19 shell-shocked though we may be, we haven't forgotten that world trade contracted in full year 2019, a phenomenon that's always triggered a U.S. recession. Last year's benchmark revision was significantly negative. We'll now get to see the true state of the pre-pandemic U.S. economy that's so fragile we have to assign the term "indefinitely" to our expectations for continued unemployment benefits and other sources of stimulus spending. It's entirely possible that the economy was running on fumes before COVID-19 washed ashore.
To listen to Gerald Celente discuss why gold and silver will surge strongly and what surprises to expect in 2021 CLICK HERE OR ON THE IMAGE BELOW.
KWN has now released an audio interview with Alasdair Macleod discussing the shortages in the London metals market and you can listen by CLICKING HERE OR ON THE IMAGE BELOW.
Also released! Bubble Alert, Plus An Update On The Gold Market CLICK HERE TO READ.
Also released! This Is How We Will Know Gold Has Bottomed CLICK HERE TO READ.
Also released! Gold Plunges $50 But Greyerz Says There Are Major Shortages In The LBMA And Futures Markets CLICK HERE TO READ.
Also released! Truly Mind-Boggling Chart, Sprott Says They Have 100+ Million Ounces Of Physical Silver, Plus Unleashing Reserves CLICK HERE TO READ.
Also released! Sprott Asset Management: Silver Headed To $35, Above That Expect Price Spikes To $47-$119 CLICK HERE TO READ.
Also released! JP Morgan And Silver, The Great Rotation Into Gold & Silver, And Look At These Remarkable Charts CLICK HERE TO READ.
Also released! After Today's Pullback It Is Important To Look At The Big Picture For Gold & Silver CLICK HERE TO READ.
Also released! WHAT TIMING: Curiously JP Morgan Downgrades Silver Stocks, But This Is Even More Stunning CLICK HERE TO READ.
Also released! Reddit WallStreetBets Group Unleashing Silver Price, But This Will Trigger Real Panic Into Gold & Silver CLICK HERE TO READ.
Also released! SILVER: WHAT A DAY! Look At Who Just Predicted We Will See $2,500-$4,000 GOLD And $57-$131 Silver CLICK HERE TO READ.
Also released! SILVER PRICE SOARING ON SQUEEZE: $50 Price Target Just Issued But Look At This Surprise CLICK HERE TO READ.
Also released! Greyerz – Macleod Is Right, There Is NO LIQUIDITY IN LONDON And Bullion Banks Are Short 100 Million Ounces Of Silver CLICK HERE TO READ.
Also released! Robinhood Silver Traders May Break The Comex And Serious Hurt Bullion Banks CLICK HERE TO READ.
Also released! Central Banks Created Niagara Falls Of Printed Money And Debt, Gushing Chaotically All Over The World CLICK HERE TO READ.
Also released! NO SILVER LIQUIDITY IN LONDON: This "Could Destabilize All Gold & Silver Contracts" As Reddit Silver Short Squeeze Continues CLICK HERE TO READ.
Also released! REDDIT TRADERS TARGET SILVER: Man Who Oversees Nearly $160 Billion Says Silver May Be Poised To Skyrocket CLICK HERE TO READ.
© 2021 by King World News®. All Rights Reserved. This material may not be published, broadcast, rewritten, or redistributed.  However, linking directly to the articles is permitted and encouraged.