Albert Edwards just warned we should expect economic collapse, a 30% stock market plunge, and 10-Year US Treasuries to trade below 1%.
Albert Edwards: Economic Collapse Coming
November 2 (King World News) –  Albert Edwards, Former Global Strategist at Societe Generale:  "I'm just back from a trip to NY even more convinced that a recession is imminent. The best lead indicator ever is the number of times I hear that "manufacturing is a smaller share of the economy so its weakness doesn't matter as the consumer is strong", just before the economy collapses. It's in the dark amber zone… By the time it arrives in the red zone, it will (be) too late. The equity market will already be down 30%+ the 10y TNote bond yields will be below 1% heading to zero!"
How Did We Get Here?
Sven Henrich:  "On Friday total stock market capitalization to GDP hit 145.6% At the beginning of the year it was 122%. The long term average is 83%. (See below).
When Will The Insanity End?
---
Listen to the greatest Egon von Greyerz audio interview ever
by CLICKING HERE OR ON THE IMAGE BELOW.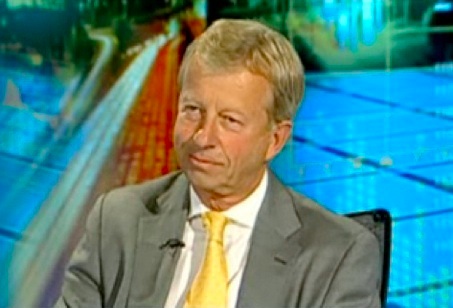 ---
World Turning Japanese
Holger Zschaepitz:  "The Central Bank world is turning Japanese. Fed and ECB have restarted their bond purchase programs. Fed's balance sheet now equals 18.7% of US's GDP, ECB's balance sheet now at 40.5%, on course to Japan's >100%? (See below).
The World Turning Japanese
***KWN has just released the powerful audio interview with Bill Fleckenstein where he discusses the gold market at length, what to watch in the stock market and much more CLICK HERE OR ON THE IMAGE BELOW.
Fleckenstein On The Gold Market
READ THIS NEXT! Fleckenstein – Stop Waiting For The Next Shoe To Drop In The Gold Market CLICK HERE TO READ.
© 2019 by King World News®. All Rights Reserved. This material may not be published, broadcast, rewritten, or redistributed.  However, linking directly to the articles is permitted and encouraged