With the Dow tumbling 200 and gold prices remaining firm in the face of a very strong rally in the US dollar, we are now headed down a 10-lane superhighway to inflation.
Doubling Down on Failed Policies
March 7 (King World News) – The ECB delivered a new round of monetary stimulus at its meeting today, just a few months after it had ended its QE program. The reason, according to Mario Draghi, was, "The persistence of uncertainties related to geopolitical factors, the threat of protectionism, and vulnerabilities in emerging markets appear to be leaving marks on the economic sentiment."..
---
ALERT:
Mining legend Ross Beaty (Chairman Pan American Silver) is investing in a company very few people know about. To find out which company CLICK HERE OR ON THE IMAGE BELOW.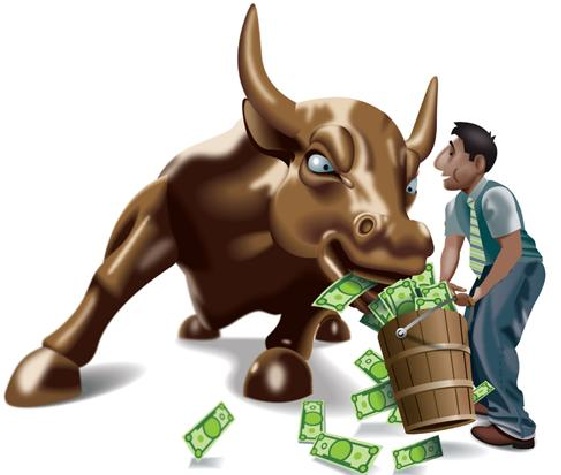 Sponsored
---
How to Create Not-Present-Value
What he didn't discuss, nor do any of the other central bankers, is that negative interest rates, QE, TLTROs, and everything else they've done have only produced a modest economic recovery, while allowing imbalances to explode in size.
Essentially, QE didn't result in all that much growth, given the intensity of it, anywhere except the U.S., where the speculation it created lit a fire in financial markets, which helped drag the economy along. (For whatever reason, the Fed was able to ignite speculation better than other central banks, which is not exactly something to brag about, however.) But at the end of the day, worldwide QE to the tune of $15 trillion, plus or minus, really did not do anything all that special.
Blasts From the Past
Before the activist central bank era, which began in the mid-to-late 1990s, economic recoveries were stronger without these radical policies. Of course, some of the biggest booms were back in the days of the gold standard, when the busts were sharper, and the booms were greater, but the imbalances were not allowed to ratchet ever higher over time.
As for today's action, the ECB news provided no help for the U.S. stock market, which fell about 0.75% in the first half-hour of trading in basically across-the-board selling. From there, the market tried to rally but couldn't, and with about 90 minutes to go, when I had to leave, the Nasdaq (the leader) had lost over 1%.
Away from stocks, green paper was stronger, with the euro taking a pounding, as one might imagine given the news. Fixed income was higher, and the metals were just fractionally lower.
Included below are two questions and answers from the Q&A's with Bill Fleckenstein.
It Will Outperform
Question:  Hi Will. The metals are having a pullback but I believe it will not last long. Things look and feel different this time. Gold is holding up very well and the miners too. How do you or your trading friends feel about silver going forward? Thanks!
Answer from Fleck:  "It will outperform, as it always does once the metals get moving, but will also remain very volatile. Until we see some real action in gold, i.e., over $1,350-ish, I doubt silver will do anything special."
10-Lane Superhighway To Inflation
Question:  "In a social democracy with a fiat currency, all roads lead to inflation." – Bill Fleckenstein
They heard you Fleck and they are building a 10 lane super highway to inflation. It's called Modern Monetary Theory.
Answer from Fleck:  "Yes, and everyone thinks it can't happen. It's a lay up."
***To subscribe to Bill Fleckenstein's fascinating Daily Thoughts CLICK HERE.
***KWN has released the powerful KWN audio interview with Dr. Stephen Leeb and you can listen to it by CLICKING HERE OR ON THE IMAGE BELOW.
***Also just released: What You Need To Know As We Celebrate The 10th Anniversary Of The 2009 Crash Low CLICK HERE TO READ.

© 2019 by King World News®. All Rights Reserved. This material may not be published, broadcast, rewritten, or redistributed.  However, linking directly to the articles is permitted and encouraged.