This will hit the economy hard, plus look at these two massive collapses (NOT BANKS).
May 8 (King World News) – Otavio Costa:  US oil and gas companies have officially begun to reduce their number of operating rigs.
First 5-month contraction since 2020.
These businesses are in no hurry to increase production in a market where supply remains incredibly limited.
In fact, oil production is still 6% lower than pre-pandemic levels.
If anything, the overall tightening of monetary conditions and the recent price volatility in energy commodities are severely affecting the capability of these companies to expand their resources.
Oil Price Weakens, Oil & Gas Rigs Plunge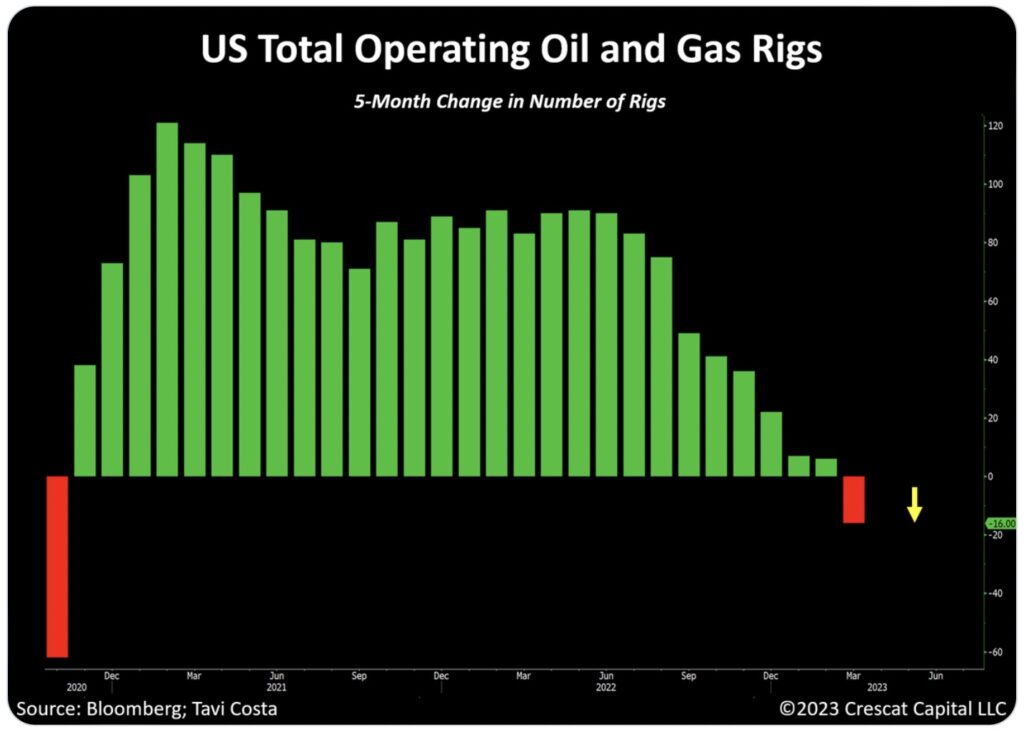 Banks Tightening As Credit Contraction Heats Up
Peter Boockvar:  Further tightening of standards as well as less demand for loans:
So here are some important comments and data points from the just released Senior Loan Officer Survey from the Fed. Keep in mind that the respondents total 65 domestic banks and 19 US branches and agencies of foreign banks. According to the Fed, "Respondent banks received the survey on March 27, 2023, and responses were due by April 7, 2023." Thus, we're talking about around a month passed before SVB collapsed.
I'm going to leave the bottom line to the Fed itself when they talk about the answers to the question of how does the balance of 2023 look like, which I agree with in terms of believing how this will play out…
---
This Is Now The Premier Gold Exploration Company In Quebec With Massive Upside Potential For Shareholders click here or on the image below.
---
On top of already much tighter standards, "banks reported expecting to tighten standards across all loan categories. Banks most frequently cited an expected deterioration in the credit quality of their loan portfolios and in customers' collateral values, a reduction in risk tolerance, and concerns about bank funding costs, bank liquidity position, and deposit outflows as reasons for expecting to tighten lending standards over the rest of 2023."
My bottom line, in this debate of recession or no recession, I just don't see how it's possible, especially post SVB, that we avoid a recession in response to the interest rate shock therapy we have been treated with. I'll argue again too that the debate will soon shift to how deep and how long it will be instead.
Here are some comments from it and then I'll include some specifics:
"Regarding loans to businesses, survey respondents reported, on balance, tighter standards and weaker demand for C&I loans to large and medium market firms as well as small firms over the first quarter. Meanwhile, banks reported tighter standards and weaker demand for all commercial real estate loan categories."
% of respondents with tighter standards to medium and large businesses: 46% vs 44.8% in January. For reference and I won't include Covid, it peaked at 59.6% in early 2000's recession and at 83.6% in October '08 right after the Lehman downfall.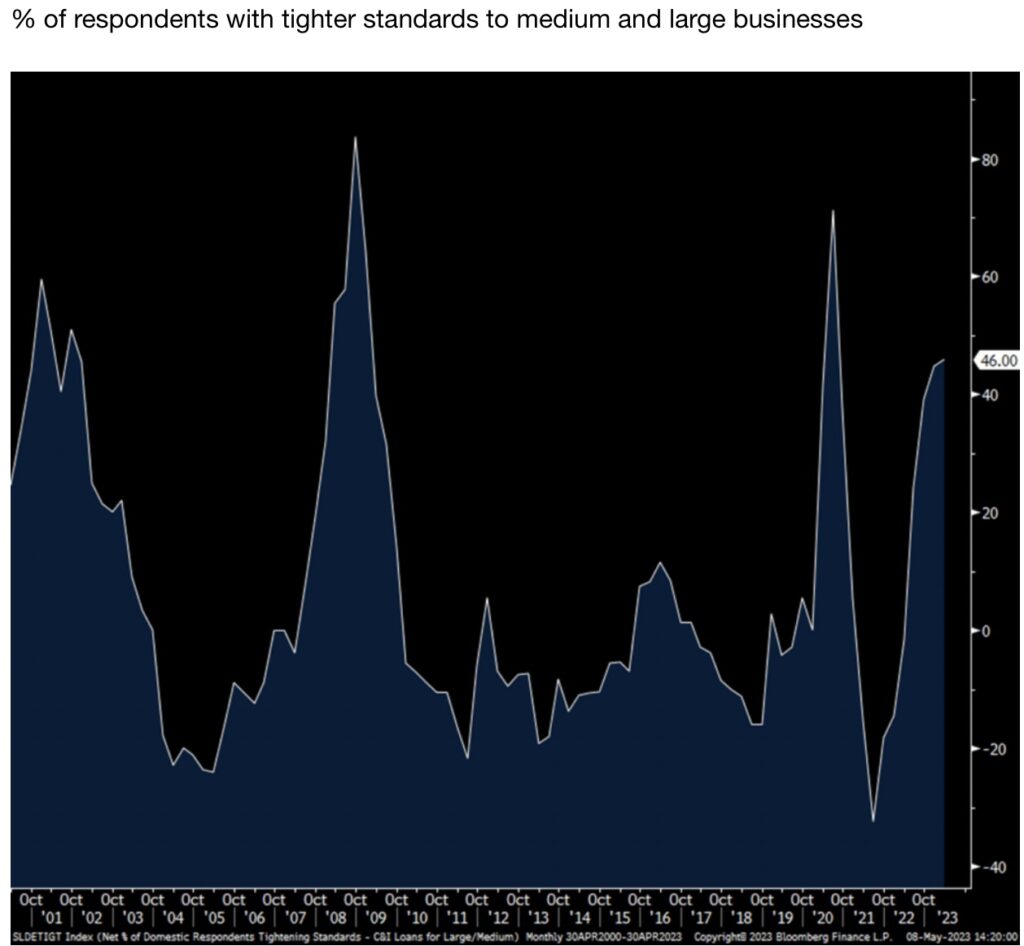 % of respondents with tighter standards to small businesses: 46.7% vs 43.8% in January. It peaked at 45.5% in early 2000's recession and at 74.5% in October 2008.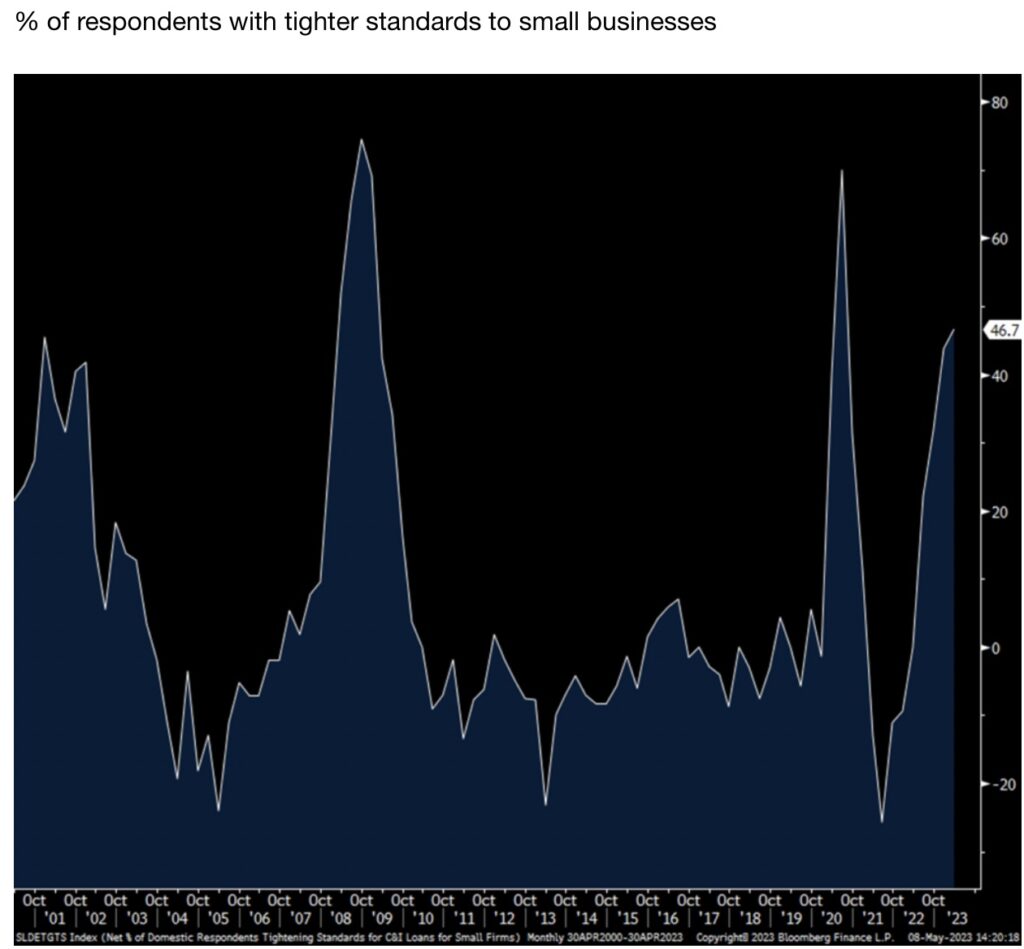 % of respondents reporting stronger demand for loans from medium and large co's: -55.6% vs -31.3%. It bottomed at -70.2 in October 2001 and -60.4 in January 2009.
THAT'S A COLLAPSE!
Loans To Medium & Large Companies Crashes!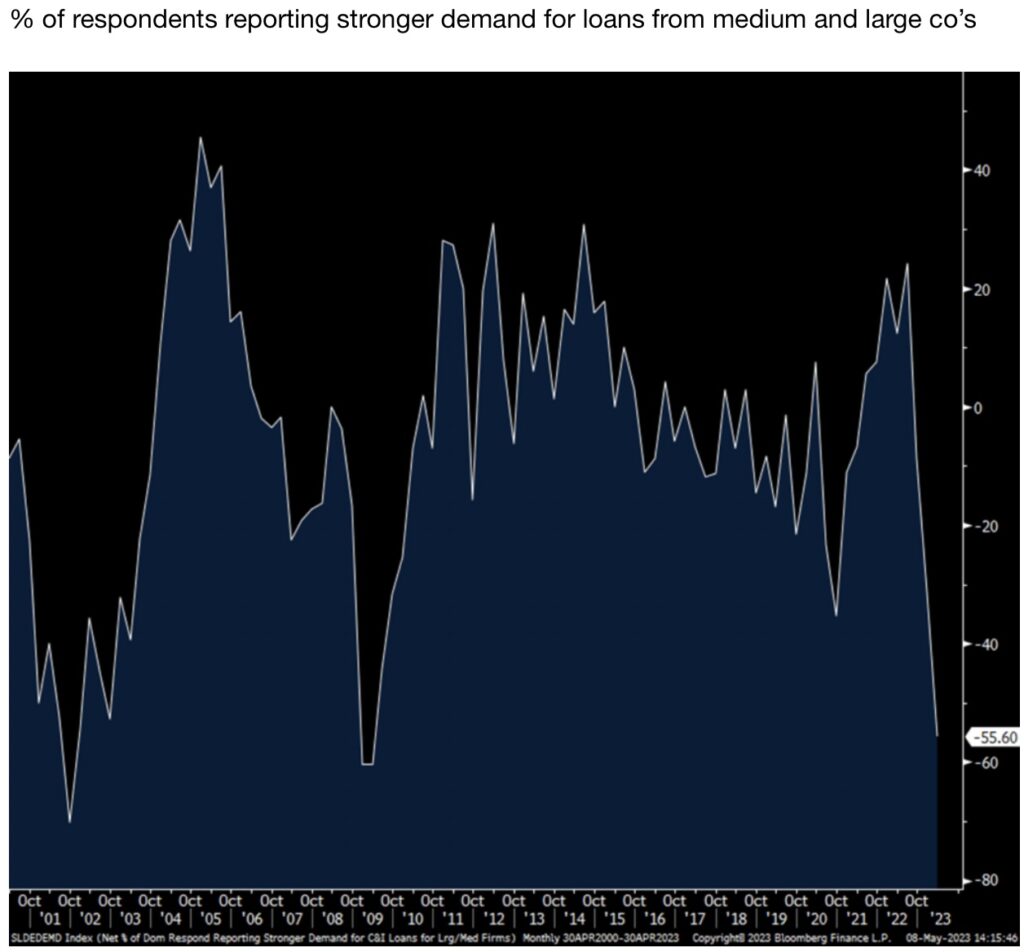 % of respondents reporting stronger demand for loans from small co's: -53.3% vs -42.2%. it bottomed at -50% in October 2001 and -63.5% in April 2009.
2ND MAJOR COLLAPSE!
Loans To Small Companies Also Crashes!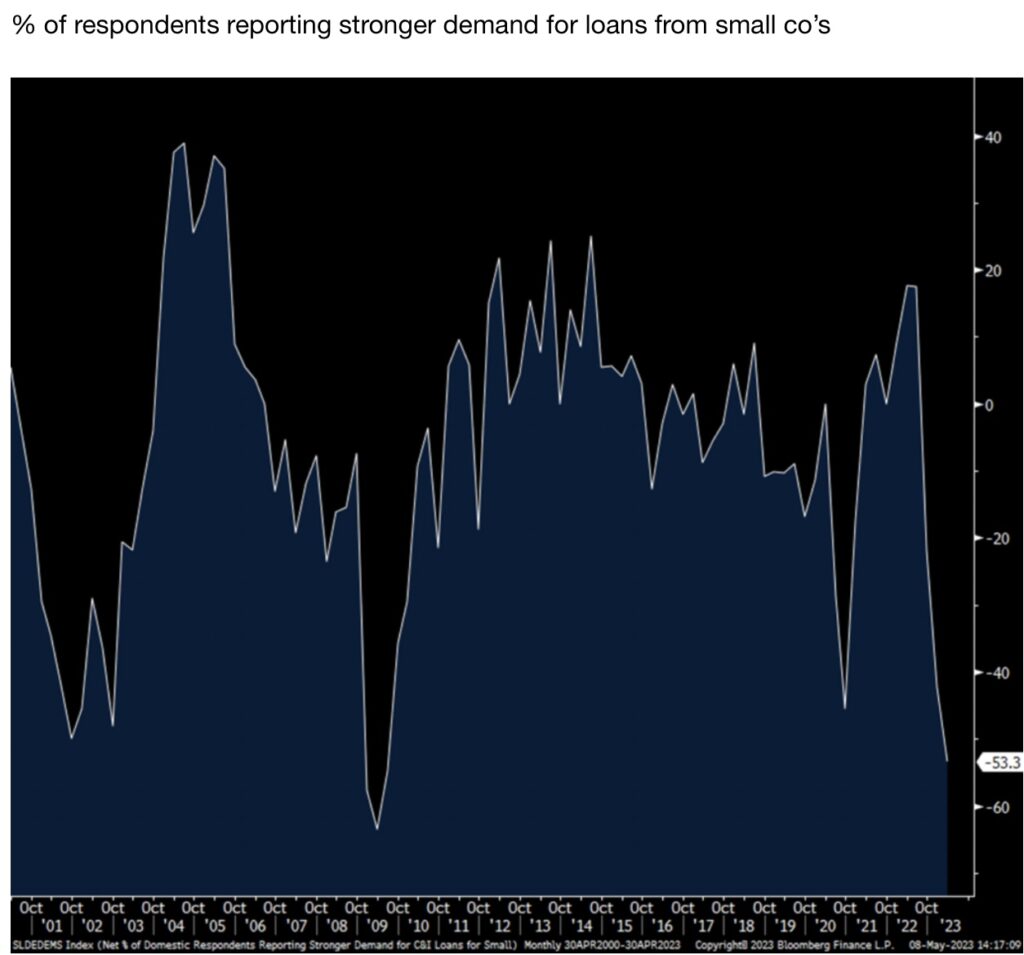 Lending Standards Tightening At All Banks
On Commercial Real Estate:
"Over the first quarter, major net shares of banks reported tightening standards for all types of CRE loans. Such tightening was more widely reported by mid-sized banks than by either the largest or other banks. Meanwhile, major net shares of banks reported weaker demand for loans secured by nonfarm nonresidential properties, construction and land development loans, and loans secured by multifamily properties."
"For loans to households, banks reported that lending standards tightened across all categories of residential real estate (RRE) loans other than GSE eligible and government residential mortgages, which remained basically unchanged. Meanwhile, demand weakened for all RRE loan categories. In addition, banks reported tighter standards and weaker demand for home equity lines of credit (HELOCs). Standards tightened for all consumer loan categories; demand weakened for auto and other consumer loans, while it remained basically unchanged for credit cards."
***To listen to James Turk discuss why the bank crisis is set to accelerate and how it will impact major markets including gold and silver CLICK HERE OR ON THE IMAGE BELOW.

***To listen to Alasdair Macleod discuss the accelerating bank crisis and how this will impact the gold and silver markets CLICK HERE OR ON THE IMAGE BELOW.

© 2023 by King World News®. All Rights Reserved. This material may not be published, broadcast, rewritten, or redistributed.  However, linking directly to the articles is permitted and encouraged.