What a way to kickoff trading in the month of February as the silver market surged over $30 at one point during trading. Look at who just predicted we will see $2,500-$4,000 gold and $57-$130 silver.
Sterling Silver
February 1 (King World News) – Top Citi analyst Tom Fitzpatrick:  The surge in Silver overnight has taken us back to the prior trend high just below $30 which we are trading close to this morning.
What now?
IF Silver can sustain above $30 on a weekly close basis it would open up the way for extended gains towards good horizontal resistance and the 76.4% pullback level just above $35…
---
To learn which company billionaire Eric Sprott just bought a
$10 million stake in click here or on the image below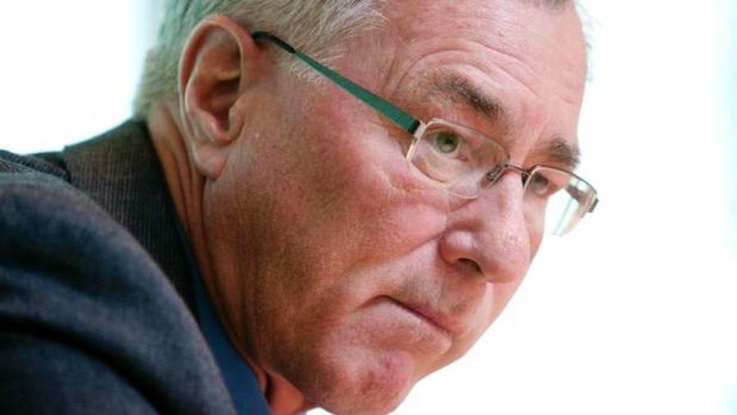 ---
On To $50
Above here and a return to the all-time double highs of $49.45 (1980) and $49.80 (2011) would look likely.
3rd Time's A Charm As $50 Will Be Broken
We have mentioned before that IF we were to test this huge level near $50 a 3rd time our bias would be "3rd time a charm" and we would suspect that it could give way.
At present levels Gold is over 100% higher than the peak seen in 1980 so that leaves Silver with plenty of catch up potential.
In that respect it is worth looking at the Gold/Silver ratio.
If Silver Closes The Week Above $30,
Look For Extended Upside Gains
This ratio looks like it can go significantly lower with a minimum target of 43.5 and possibly as far as 30.5. (We are not even focusing at this point on the low of 14 posted in 1980).
All of these lows in that ratio have been associated with an up move in Silver and also normally a rally in Gold.
1996-1998 was an exception to this when Gold actually fell during what was an extended bear market culminating in the Bank Of England (1999-2001) and the Swiss national Bank (2000-2008) selling off a significant portion of their Gold reserves.
Silver To Outperform
In General a move lower towards these lower levels in the Gold Silver ratio is more likely to be Silver outperforming (Poor man's Gold catching up) in a bull market.
$2,500-$4,000 Gold
Our bias has been that this bull market in Gold could take us to $2,500 (possibly even this year) and on a multi-year basis towards $4000.
IF (and it is a big if) we look at those numbers in conjunction with the Gold Silver ratio targets what do we get?
The most conservative dynamic is that Gold only goes to $2,500 and the Gold Silver ration only goes to 43.5. In that instance we would be looking at a potential Silver price of $

57

+
The middle scenario would be Gold only going to $2,500 and the ratio going to 30.5. That would put Silver close to $

81

The most aggressive scenario would be for Gold to go to $4,000 and the Gold Silver ratio at 30.5. That would put Silver at $

131

+
Silver To Significantly Exceed 2011 High Of $50
Time will tell if any of these numbers materialize but right now there seems a very credible argument for Silver over time to not only get back to but likely significantly exceed the all-time high levels posted close to $50 in 1980 and 2011.
Also released! SILVER PRICE SOARING ON SQUEEZE: $50 Price Target Just Issued But Look At This Surprise CLICK HERE TO READ.
BULLISH ON SILVER: To listen to Rob Arnott, the man who helps oversee $160 billion, discuss why the silver market could be the next to skyrocket and much more CLICK HERE OR ON THE IMAGE BELOW.
To listen to Alasdair Macleod discuss the fact that there is virtually no liquidity in the London silver market which may lead to a massive short squeeze in silver as well as the Reddit and Robinhood army of traders entering the silver market CLICK HERE OR ON THE IMAGE BELOW.
Also released! Greyerz – Macleod Is Right, There Is NO LIQUIDITY IN LONDON And Bullion Banks Are Short 100 Million Ounces Of Silver CLICK HERE TO READ.
Also released! Robinhood Silver Traders May Break The Comex And Serious Hurt Bullion Banks CLICK HERE TO READ.
Also released! Central Banks Created Niagara Falls Of Printed Money And Debt, Gushing Chaotically All Over The World CLICK HERE TO READ.
Also released! NO SILVER LIQUIDITY IN LONDON: This "Could Destabilize All Gold & Silver Contracts" As Reddit Silver Short Squeeze Continues CLICK HERE TO READ.
Also released! REDDIT TRADERS TARGET SILVER: Man Who Oversees Nearly $160 Billion Says Silver May Be Poised To Skyrocket CLICK HERE TO READ.
© 2021 by King World News®. All Rights Reserved. This material may not be published, broadcast, rewritten, or redistributed.  However, linking directly to the articles is permitted and encouraged.