Today one of the greats in the business said gold has finally broken out into a long term uptrend. Look at how impressive the gains could be as the gold bull market accelerates on the upside.
Gold breaks out from a consolidation
November 16 (King World News) – Jason Goepfert at SentimenTrader:  For over a year, gold hasn't gone anywhere. It peaked on a flurry of optimism last August and has struggled to hold any short-term rallies ever since. There is a sense of hope among gold bugs because after consolidating in a tight range, gold broke out above its weekly volatility bands.
Bloomberg tested a gold breakout system that looked for times when gold jumped higher after its weekly Bollinger Band tightened. Gold's Bands were within 6% of each other, ranking in the bottom 5% of all weekly readings since 1975. Now, it has shot above its upper Band.
These breakouts were mostly good for gold prices going forward. Its worst returns tended to be after it had rallied significantly; signals that triggered near a low generally continued higher. All of the signals in the past 20 years preceded higher prices from one month and beyond.
BIG 1 YEAR PRICE MOVES (FAR RIGHT):
Gold Shows Mostly Massive Upside Gains After
Breaking Out From Compressed Bollinger Band
The biggest question about whether the current signal will be successful is the market environment. The signals led to poor medium-term returns from 1985 through 1995 and strong ones since then. Trends in the U.S. dollar might have some say about that.
Shrugging off the dollar
A highly unusual circumstance we're seeing now is that gold is breaking out along with the dollar. In recent days, both markets have been hitting their highest levels in at least 90 days…
---
ALERT:
Legendary investors are buying share of a company very few people know about. To find out which company CLICK HERE OR ON THE IMAGE BELOW.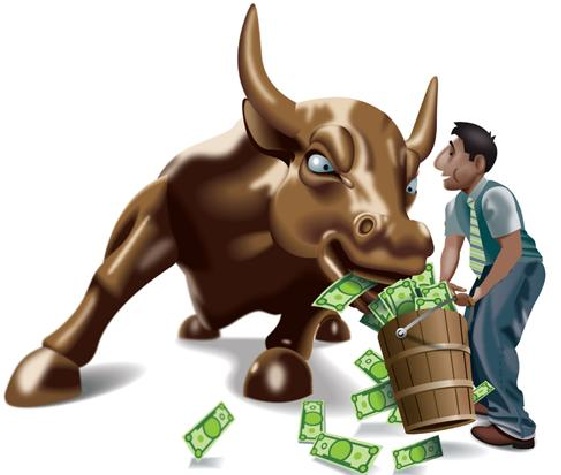 Sponsored
---
Since 1975, there has been a correlation of -0.31 (on a scale of -1.0 to +1.0) between daily changes in gold and the dollar. The correlation generally gets more negative as you expand the time frame. There have only been 9 other times when both markets hit a 90-day high at the same time.
Other indicators show mostly good signs
During the recent rally, "smart money" commercial hedgers have built up a sizeable short position against the dollar, accounting for more than 70% of open interest. The Backtest Engine shows that when hedgers were betting heavily against the dollar, gold did pretty well. Not perfect, but a double-digit annual return and 86% win rate is notable.
Other indicators also mostly support a rise in gold prices. Social Sentiment has been quite negative, showing about 1.5 negative messages for every positive one over the past month. The chart shows an inverse scale to better show periods of optimism and pessimism.
CONTRARIAN ALERT:
Negative Gold Sentiment Often Leads To Big Gains
The GLD fund has witnessed an outflow of more than $50 million on an average day over the past 200 sessions. Since the fund's inception, only late 2013 – early 2014 can compare.
Because of the steady outflow, ETF assets aren't rising along with prices. This isn't just a GLD phenomenon; total gold ounces held by ETFs continue to bleed lower and are about where they were in May 2020. While not a perfect proxy, this suggests that trend following traders aren't yet buying the idea of a new bull market in gold.
Despite the poor sentiment, gold's Optimism Index has held mostly above 50 over the past year, which is what bull markets do. During healthy environments, sentiment typically holds above 50, with dips below 40 normally triggering buying interest, and readings above 60 not leading to major declines. Unhealthy environments see the opposite.
What the research tells us…
Gold has had difficulty holding buying interest over the past year, and other times it shrugged off a rising dollar didn't help matters much. It can be dangerous to get too cute about how prices should behave, but since this market tends to settle back a bit after a surge and within an unfavorable seasonal window until mid-December, it would make sense if it pulled back. But most signs point to that potential as being a wiggle within what should be a longer uptrend. This is another example of why Jason Goepfert is the best in the world at what he does – providing actionable market data. To subscribe to the internationally acclaimed work Goepfert produces at SentimenTrader CLICK HERE.
***ALSO JUST RELEASED: Inflation Is Only Getting Worse, Take A Look At This… CLICK HERE.
***ALSO JUST RELEASED: PRICE GOUGING: AI Robots Now Determining What You Will Pay For What You Purchase CLICK HERE.

***To listen to James Turk discuss what key levels to watch in the silver market and why the mining stocks are poised to explode higher CLICK HERE OR ON THE IMAGE BELOW.
***To listen to Alasdair Macleod discuss the gold and silver breakouts and what to expect next CLICK HERE OR ON THE IMAGE BELOW.

© 2021 by King World News®. All Rights Reserved. This material may not be published, broadcast, rewritten, or redistributed.  However, linking directly to the articles is permitted and encouraged.