Today one of the wealthiest, street-smart professionals in the markets, who is also business partners with billionaire Eric Sprott, spoke with King World News about the sad truth about what is really happening in the United States. He also said Sprott is now at war with the Spicer family as it has just launched a hostile bid to takeover Central Gold Trust.
Rick Rule: "To me, Eric, the thing about Greece is not so much its absolute impact as the fact that it is symptomatic. As an American, when somebody brings up Greece, I think of Detroit or Illinois. We are creating our own homegrown Greece's right here in the United States….
Continue reading the Rick Rule interview below…
---
Advertisement
To hear what billionaire Eric Sprott & Rick Rule are doing with their own
money and which $7 billion company John Embry &
Dr. Marc Faber oversee click on the logo:

---
"Greece is symptomatic of politics and where we are in the financial services community. And I don't think that Americans need to look to Greece. I think they can look to Detroit or Illinois.
The Phony Economic Recovery In The United States
And when I look at the mainstream media touting an economic recovery in the United States, I have to tell you that I'm just not seeing it. I don't see the personal circumstance of most Americans improving from a credit point of view.
Yes, Americans are saving a little more and that's a good thing, but we haven't seen most workers' real wages increase since the 1970s. Certainly there are pockets of prosperity, but across the length and breadth of the country real wages for workers have been stagnant for 20 years.
I don't see what kind of recovery doesn't include a recovery in real workers' incomes. All we are seeing right now is an interest led recovery in asset prices. And certainly the circumstances now, with very low interest rates, benefits people like me who have assets to leverage. But it doesn't do much for the average American wage earner, and that's what I'm concerned about."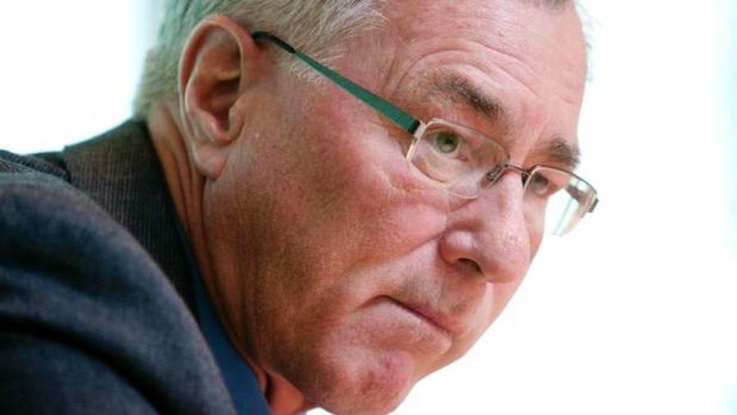 Sprott's Hostile Takeover Bid For Central Gold Trust
Rule also discussed Sprott's hostile takeover bid for Central Gold Trust: "Sprott has initiated an unsolicited takeover offer for Central Gold Trust. We have done this as a consequence of being asked to do it for probably 10 years by various GTU (Central Gold Trust) shareholders.
It's worth noting that virtually all of the professional and institutional investors who are unit-holders of GTU have supported and agreed to tender to the Sprott units. It is pretty obvious to anybody who has owned those units for a long time that the fact that their units are not redeemable for precious metals and ours are, has resulted in a situation where their units have traded at double-digit discounts to net asset values, where ours have spent most of the time trading at a premium to net asset value.
The Market Will Decide
Our units are also 10-times more liquid than their units. This management team — the Spicer family from Canada — has had 10 years to address the shortcomings that have caused their units to trade at double-digit discounts in the market and have never chosen to do that. The consequence of that is that we are going to let the market make the choice between a superior product and an inferior product.
We strongly believe that this is for the good of all unit-holders concerned and we have actually approached the Spicer family on several occasions about a meeting. And we are hoping to do it again so that we can cause their review board to explain how arithmetically our offer isn't a superior outcome for their investors.
The Neverending Large Discount To Net Asset Value
Their product traded at a large discount to net asset value through good markets and bad. When people think of precious metals management — gold, silver, platinum and palladium — they think of Sprott. They don't think of Spicer. That's probably another reason why our units have always exhibited a better market performance than theirs.
The other problem is that their units are held at a Canadian chartered bank, which might be threatened in any sort of circumstance that would cause gold to become suddenly more valuable.
What Is Really Going On Behind The Scenes At Central Gold Trust?
The other issue is the financial condition of the unit sponsor. The financial condition at Sprott is well-known because we are public. Our balance sheets are published quarterly and they are solid. We have $350 million in working capital, no debt and substantial free cash flow generation.
The Spicers are a private family so you never know what financial condition they are in, and that isn't prudent financial management to have your investments managed by somebody where you don't know anything about their financial condition or their solvency.
So I would suggest that anyone who is a unit-holder in GTU and is considering the offerings to try making two phone calls: One to the Spicers, if you can find their phone number. If you fail to reach them, you can call me, the second largest shareholder of Sprott. Call me at (800)477-7853. If you don't want to do that, email me at rrule@sprottglobal.com and compare what I have to say with what the Spicer family has to say — assuming that you can find their number or their email address." ***ALSO JUST RELEASED: Bill Fleckenstein – What To Expect From The Chaos In Greece And The Coming Market Dislocation, Plus A Bonus Q&A CLICK HERE.
© 2015 by King World News®. All Rights Reserved. This material may not be published, broadcast, rewritten, or redistributed. However, linking directly to the articles is permitted and encouraged.
If you are interested in purchasing physical gold and silver for delivery you can call Steve Quayle or his staff at (406)586-4842, or you can email them at tyler@safetrek.com or info@sqmetals.com
The audio interviews with Rick Rule, Nomi Prins, Gerald Celente, Bill Fleckenstein, Stephen Leeb, Andrew Maguire, Michael Pento, Dr. Paul Craig Roberts, Eric Sprott, Robert Arnott, David Stockman, Chris Powell, John Mauldin, Egon von Greyerz, Dr. Philippa Malmgren, Marc Faber, Felix Zulauf, John Embry and Rick Santelli are available now and you can listen to them by CLICKING HERE.