Today Michael Oliver, the man who is well known for his deadly accurate forecasts on stocks, bonds, and major markets, communicated to King World News that the gold and silver markets may be ready for a major upside reversal.
Silver Rout But No Gold Rout
April 28 (King World News) – Michael Oliver:  In our weekend report we used a somewhat cautionary tone and noted that while silver was threatening a level that we preferred not to see closed below on a weekly basis (that being $23.90), gold had a different temper and was not close to any comparable level of breakage (speaking of quarterly momentum in both cases, not annual momentum which is a fair distance below these markets and not being threatened).
We think the silver drop probably needs to be followed by a comparable drop in the dominant market (gold); otherwise there's something wrong with what silver is trying to tell people via its price action. It's screaming global deflation, commodity collapse, etc., yet gold and the Bloomberg Commodity Index are definitely not screaming such a story.
We suggest to the silver bears that they better get gold into some sort of screaming decline—and soon—or their downside gains on silver will constitute a slingshot situation that flips back to the upside for silver quickly…
---
Look At Who Is A Big Investor In This Soon-To-Be Self Funding Gold Exploration Company! To learn more click here or on the image below.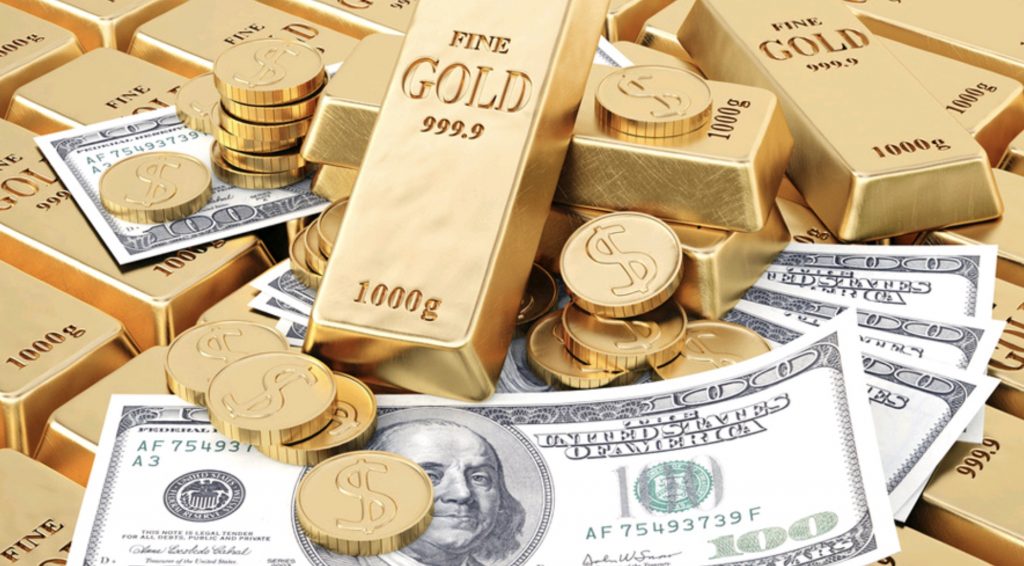 ---
Here we update short-term charts of silver and gold. Daily momentum has created a clump of ink all submerged below the zero line/3-day avg. Similar clumps of ink have been generated on both sides of that zero line over the past few months and each tends to produce a move the other way—even if short term—once that clump of ink is either broken out above or below. 
And frankly we don't think the silver bears can withstand a dollar or more of a move back to the upside, as that will indicate that this "collapse" (their hope) is not a collapse, but just another drop that does not gain traction. 
Also watch gold. We like what it just did in this particular selloff (the third redundant/overlapping selloff since its March 8th high). Especially the last two days. 
The daily price drop was large after the March 8th high. Within six trading days gold dropped into the $1890s. 
Then it rallied up to $1967, followed by another drop below $1900—to $1888.
Then that second rally carried up to just below $2000. It has since been followed by a selloff low that took out that prior pair of lows by enough to trigger any major sell stops. Even those keeping a $20 x 3 point-and-figure chart saw that set of lows taken out in this drop—reaching $1880 (actually just above $1870). Today's close puts gold where it was trading six days after that March 8th high! Where's the sustained downside. Six weeks spent?! 
If gold (June future) settles tomorrow above $1888.20 (the 3-day avg. is dropping daily, and for tomorrow it's below today's close), then daily/short-term momentum will close over the zero line, ending a likely basing action by momentum that has involved eight days submerged below the 3-day avg./zero line.
The zero line has been a pivotal structure going back to early April.
Again, the significance of such an upturn? Obviously it says that while gold had a chance to jump off the cliff, as so many expected, it instead got just low enough to blow out price chart sell stops—so far with no follow-through. (Momentum was not making new lows like price when that occurred.) A daily upturn says that the bears had their chance…to subscribe to Michael Oliver's MSA Annual Research at a special KWN discounted rate CLICK HERE. Look at these testimonials:
"MSA looks at the market from a somewhat different point of view. Rather than focusing on price, something that virtually everybody does, MSA tracks momentum, [revealing] trends that have been building for a long time, and have much more depth to them and staying power." — Wall Street Journal
"A friend shared about 5 of your recent letters with me, and I was so impressed I had to subscribe." — Bill Fleckenstein, Hedge Fund Manager
ALSO RELEASED:  Billionaire Frank Giustra – Someone Is Deliberately Suppressing The Gold Price Ahead Of A Global Reset CLICK HERE.
ALSO RELEASED:  Worried About The Takedown In Gold & Silver, Take A Look At This… CLICK HERE.
ALSO RELEASED:  Last Chance To Buy Cheap Silver, Plus A Look At Real Estate CLICK HERE.
ALSO RELEASED:  BUCKLE UP: First Time We Have Seen This In 120 Years! CLICK HERE.
ALSO RELEASED:  MAJOR GOLD BUY SIGNAL: Gold Surges 18% And Miners Soar 49% After This Indicator Flashes CLICK HERE.
ALSO RELEASED:  Plunge Protection Team At It…Again, Gold, Silver, Commodities, Plus China Cracking CLICK HERE.
ALSO RELEASED:  "When Stocks Crash, Gold Goes Down Initially" And "The Big Money Has Left The Stock Market" CLICK HERE.
ALSO RELEASED:  This Is About To Send The Price Of Gold Flying – First Stop $5,000 CLICK HERE.
© 2022 by King World News®. All Rights Reserved. This material may not be published, broadcast, rewritten, or redistributed.  However, linking directly to the articles is permitted and encouraged.