On the heels of another brutal takedown in the gold and silver markets that is thinning out the last of the remaining gold bulls, here is all you need to keep in mind for today:
"My suspicion is the nation is still in a recession and the big money is distributing stock under the guise of a booming economy…As for me, I feel comfortable in my long-term tradition of gold and silver. After all the currencies collapse, these will be the two last men standing." — The Godfather of newsletter writers, Richard Russell
King World News note:  There has been a psychological war against holders of gold that has been going on for many, many years.  I suspect we are reaching the final crescendo of the last great push to destroy the remaining bulls.  The end of this takedown will mark the beginning of one of the greatest advances of any secular bull market as the world's currencies move into their final stage of collapse.  As Russell said, "After all the currencies collapse, these (gold & silver) will be the two last men standing."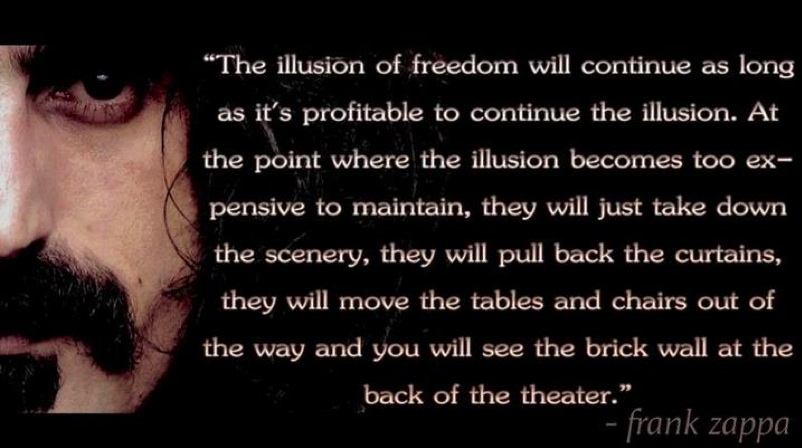 In the meantime, the central banks in the West are trying to convince people across the globe to believe in their twisted fantasy that the world is headed down a path of sustained growth.  Nothing could be further from the truth.  And as the great illusion is shattered, gold and silver really will be "the least two men standing."  As far as Frank Zappa's ominous warning above, you can rest assured that when people finally see "the brick wall at the back of the theater," it will be a world in the throes of a collapse much greater than 2008 – 2009.  Stay strong and be prepared for what is still to come and do not let the psychological warfare and centrally planned market action cause you to lose focus of the big picture.
To listen to the extraordinary KWN audio interview with whistleblower Andrew Maguire, where he discusses the gold and silver smash, what is really happening with gold demand in India and China, government plans for capital controls and much more, CLICK HERE OR ON THE IMAGE BELOW.
***ALSO JUST RELEASED: Bill Fleckenstein On The Fed Decision And The Wild Card Impacting The Gold Market CLICK HERE.
© 2015 by King World News®. All Rights Reserved. This material may not be published, broadcast, rewritten, or redistributed.  However, linking directly to the articles is permitted and encouraged.