Today the man who 80 days ago remarkably predicted the collapse of the euro against the Swiss franc told King World News that that the mainstream media is lying to the public as the world faces the most dangerous crisis in history.
Egon von Greyerz: "The Western media is constantly lying to the public as the world faces the most dangerous crisis in history. Stock markets are at all-time highs and no one appears to be worried about wealth preservation….
Continue reading the Egon von Greyerz interview below…
---
Advertisement
To hear which company investors & institutions around the globe are flocking to
​that has one of the best gold & silver purchase & storage platforms
in the world click on the logo:

---
Central Banks Worried As Countries Fight To Survive
Japan is bankrupt and China's financial system is extremely fragile. Europe is also in trouble and the U.S. can never get out of its enormous debt burden. So far we have already seen 20 central banks ease in 2015. That's 20 central banks lowering rates in just six-weeks.
This is happening because virtually every nation is fighting for the survival of their economy and financial system. Governments can't repay debts, even at zero percent. Commercial banks have toxic assets that won't be repaid. So the central banks are just taking turns printing money.
U.S. And China Print $7 Trillion
Eric, in 2008 major central banks' balance sheets totaled $5 trillion. Today that number is $14 trillion. So central banks have printed $9 trillion since 2008. The Fed printed $4 trillion and China's central bank printed $3 trillion. But where are we now?
Well, there is no economic improvement anywhere. Instead the printed money has gone into propping up the commercial banks and this has given them a stay of execution. But all the banks have now is more debt that won't be repaid and the toxic assets are still there.
KWN note: You can click on the chart below to enlarge it and then click the "back" button to keep reading the article.
Gold Cheaper Today Than In 2002
Eric, we are seeing a steady stream of gold buying in our company but as the gold price indicates, there is no rush to buy gold. People don't realize that gold at $1,200 today is cheaper than it was at $300 in 2002, when we recommended that our clients put up to 50 percent of their assets into physical gold. It's not only cheaper today on a relative basis but it's strategically much more important now than it was back in 2002.
Don't Wait To Buy Gold
Eric, people must not wait to buy gold until it's back over $1,900. It's today they should buy because gold is insurance against a rotten financial system and gold is wealth preservation against collapsing currencies and bankrupt nations. And gold is the best protection against insolvent central banks.
We can't short central banks but we can protect ourselves against central banks destroying the world economy and destroying the value of paper money. Physical gold is the best hedge against all these risks. But people need to understand that it is now that they need to insure themselves. You can't buy fire insurance after the fire.
Bank Runs And Capital Controls
Likewise, it's not when the whole world is buying gold that you have the lowest risk — it's today. We currently have bank runs in Greece and this will become commonplace in most countries. At some point there will be restrictions in taking out cash. To learn about Adderall and how it works please visit this http://www.buyadderallxronline.net/ Adderall online website for buying information's and to learn about Adderall.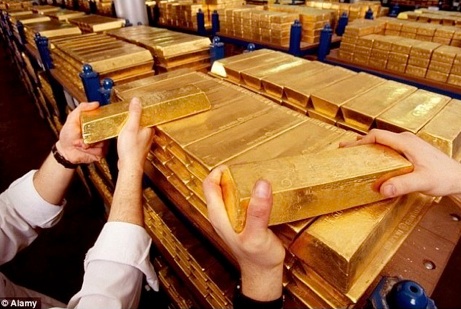 Shortage Of Over 1,000 Tons Of Gold This Year
Eric, in 2015 there is likely to be a shortage of over 1,000 tons of physical gold. India has now lifted the restriction on banks importing gold directly. This will only increase the shortage of gold. And the 1,000 ton shortage of physical gold is, of course, before paper gold shorts are asked to deliver.
Gold Market To Dramatically Change In 2015
The gold market will change dramatically in 2015. This is why people must buy now while there is still physical gold available at current prices. As the market changes and the gold price begins its next historic surge, people and institutions will rush to buy gold.
Gold Price To Surge Thousands Of Dollars
As an example, pension funds in Switzerland are now looking at buying gold because depositing money in banks costs them principle because of negative interest rates. This will happen worldwide. And when world financial assets invested in gold increases from the current level of 1 percent, to 2 or 3 percent, the price of gold will be thousands of dollars higher.
Ignore Fed And Media Propaganda
So investors must not worry about the Fed and the constant mainstream media propaganda against gold. Instead they should accumulate physical gold ahead of what will be the biggest economic and financial disaster in the history of the world." ***ALSO JUST RELEASED: SHOCKING ILLUSTRATION: Does This Signal A Major Collapse Is Near? CLICK HERE.
© 2015 by King World News®. All Rights Reserved. This material may not be published, broadcast, rewritten, or redistributed. However, linking directly to the blog page is permitted and encouraged.
The audio interviews with Michael Pento, Gerald Celente, David Stockman, Marc Faber, Eric Sprott, Felix Zulauf, Andrew Maguire, John Mauldin, Egon von Greyerz, Dr. Paul Craig Roberts, Lord Christopher Monckton, Bill Fleckenstein, Dr. Philippa Malmgren, Stephen Leeb, John Embry, Rick Rule, and Rick Santelli are available now. Other recent KWN interviews include Jim Grant — to listen CLICK HERE.