Look at who just warned the price of crude oil will spike to $250-$300, plus look at what else is soaring.
$250-$300 Crude Oil
October 18 (King World News) – Graddhy out of Sweden:  I have said for 2 years that the greatest commodities bull market we have ever seen will happen, plus that real inflation will ramp up with that. It is now happening. I hope you have listened and neglected all the talking heads and mass media narrative.
I am expecting to see Crude Oil trade at $250-300 before this historical commodities bull market is over, in today's currency value. Where do you think the price of stuff will be at that time? As said, this bull is going to burn you hard if you do not make use of it…
---
To learn which company billionaire Eric Sprott bought a
$10 million stake in click here or on the image below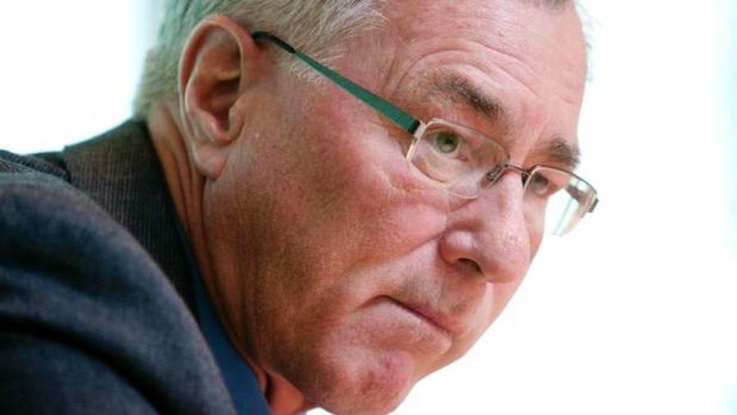 ---
Interest Rates Surging Around The World
Peter Boockvar:  We have another global rate rise and it started in Asia, particularly New Zealand who reported that inflation rose 4.9% y/o/y in Q3 and 2.2% q/o/q, both well above the estimate of up 4.2% and 1.5% respectively. The rate response was pretty swift and vertical with their 10 yr yield spiking by 15.5 bps to 2.41%. It was 2% three weeks ago and at the highest level since December 2018.

New Zealand 10 Year Interest Rates Surge
The 2 yr moved even faster, rising by 24 bps to 1.68%, and most sensitive to rate moves by the RBNZ.
New Zealand 2 Year Interest Rates Surging Faster
The Australian 10 yr in sympathy jumped by 9 bps to 1.74%, the highest since May. The South Korean 10 yr was up 6 bps and the Chinese 10 yr was up 5 bps.
In turn, European bond yields are up across the board but also encouraged higher by comments Sunday by Bank of England Governor Bailey who said:
"Monetary policy cannot solve supply side problems, but it will have to act and must do so if we see a risk, particularly to medium term inflation and to medium term inflation expectations…And that's why we at the Bank of England have signaled, and this is another such signal, that we will have to act."
Yes, monetary policy is not going to build new chips but it could slow the demand for cars. The 2 yr Gilt yield on Bailey's comments is up sharply, also going vertical, by 14 bps to .725%. It was .28% in mid September and is at the highest since May 2019.
Huge Move Higher In UK Interest Rates
A rate hike from the BoE might come next month. The 10 yr Gilt yield is up by 6 bps. German and French yields across their curves are up 4-5 bps.
Mugged By Inflation
What is different here is that central bankers are getting mugged by the reality of inflation. They have lost the hands that inflation was first rising on 'base effects' and now that it is 'transitory' and they are being forced to pivot based on these new circumstances rather than at the pace at which they hoped it to be.
I've said before that the lack of inflation since 2007 up until last year gave all central bankers a hall pass to do anything they wanted to do, even the experiment of negative interest rates which never really existed in 4000 years of documented rate history. That hall pass has now been taken away because inflation is here and widespread at the same time monetary policy globally has NEVER been more easy. 
US yields are jumping in response, particularly on the short end again with the 2 yr and 5 yr yields also going vertical. The 2 yr yield has doubled over the past month and the 5 yr at 1.19% is up from just .35% at the beginning of the year. That is essentially 3 Federal Reserve rate hikes this year. 
This is also all happening on a day where commodity prices are ripping higher again, both energy and metals. Speaking of vertical, have you seen the price of zinc? It's at a 14 year high.
Zinc Price Hits 14 Year High!
Closing In On New All-Time High
Copper is testing a record high.
Copper Price Testing All-Time High!
More "Transitory" Propaganda
ECB president Christine Lagarde repeated her belief that there is nothing to see here. Speaking on Saturday she said "Inflation is largely transitory" and "Monetary policy will continue supporting the economy in order to durably stabilize inflation at our 2% inflation target over the medium term. The ECB is committed to preserving favorable financing conditions for all sectors of the economy over the pandemic period." The 5yr 5yr Euro inflation swap is now at a 7yr high at 1.88%. 
Trouble In China
China, for reasons we all know by now, said its economy grew just 4.9% y/o/y in Q3, a touch below the estimate of 5% and outside of the Covid slowdown in 2020, that is the slowest in decades. After a sharp slowdown in August, retail sales did surprise to the upside but offset by slowing in industrial production and fixed asset investment. The rolling blackouts and slowdown in residential real estate are the two biggest things impacting the Chinese economy right now, stating the obvious at this point. I mentioned that yields jumped in China, notwithstanding this weakness but stocks were little changed.
***To listen to this powerful audio interview with Alasdair Macleod where he discusses the complete chaos we're seeing and the earliest signs of a crack-up boom CLICK HERE OR ON THE IMAGE BELOW.
***ALSO JUST RELEASED: Greyerz – BUCKLE UP: This Global Crisis Is Going To Get Much Worse Than What We're Seeing Today CLICK HERE.
***ALSO JUST RELEASED: CAUTION: "It's Complete Chaos, This Is The Earliest Sign Of A Crack-Up Boom" CLICK HERE.

© 2021 by King World News®. All Rights Reserved. This material may not be published, broadcast, rewritten, or redistributed.  However, linking directly to the articles is permitted and encouraged.