With many investors around the world focused on today's Fed Meeting, look at what just hit an all-time high, plus look at this major driver of gold's rally.
Another Day, Another All-Time High
July 29 (King World News) – Holger Zschaepitz:  ECB Balance Sheet hit fresh all-time high at €6,351.4 billion as Lagarde keeps printing press rumbling. Total assets rose by another €28.8 billion on QE. ECB Balance sheet now equal to 53.3% of Eurozone GDP vs Fed's 32.3% or BoJ's 119.6%.
ECB Balance Sheet Skyrockets To All-Time High
At €6,351 Billion Or 53.3% Of Eurozone GDP
---
Listen to the greatest Egon von Greyerz audio interview ever
by CLICKING HERE OR ON THE IMAGE BELOW.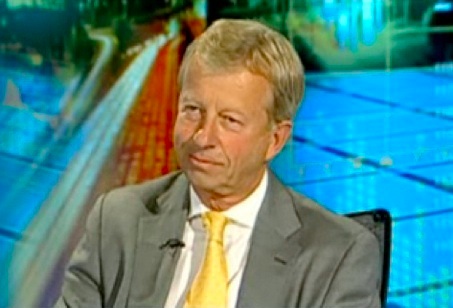 Sponsored
---
One Major Driver Of Gold's Rally
Holger Zschaepitz:  This chart highlights one major driver behind the Gold rally. The rise in negative-yielding debt >$15 trillion has helped take gold to a new record.
Gold Hits All-Time Record As Negative Yielding
Debt Is More Than A Staggering $15 Trillion!
Also of importance…
Multiple High Grade Gold Assays Over Wide Intervals
Bryan Slucharsuk:  "Eric, we have just received our first assay results from this program and I am very pleased to report to you that our initial holes have encountered multiple wide cuts of high grade gold. This is an exceptional start to drilling and the high gold grades are going to create a lot of attention.
Spectacular Gold Intercepts – And They're Just Getting Started
Today, Fosterville South announced some spectacular gold intercepts. Investors can view the Fosterville South News Release for full details but results include holes such as GMDH28 which records core length 39.5 meters at 7.25 g/t Au from 118.6m including 10.6m at 17.1 g/t Au from 137.85m and drill hole GMDH26 which records core length 5.8 meters at 18.4 g/t Au from 91.8m including 4.6m at 22.68 g/t Au from 93m. Also note, that in drill hole GMDH28, three occurrences of visible gold have been observed over a drill length of 12 meters located on fractures and within quartz veins.
Mineralization Open Along Strike & Depth And Drilling Is Accelerating
Drilling is ongoing with two drill rigs currently turning at Golden Mountain. The mineralization is open along strike and open at depth so we are incredibly excited. In fact, in the past few days, our team in Australia have quietly staked another 400 square kilometers for Fosterville South and therefore have tied up the prospective ground contiguous with our Golden Mountain claims. With high grade gold results like this, we wanted to make sure to have everything around us tied up and consolidated.
My personal belief, Eric, is that this gold bull market is just getting started and it is a once in a generation opportunity. And for us to have these types of high grade gold results at the start of a drill program in one of the top jurisdictions in the world is incredibly exciting. I can't wait to talk again in the near future as more gold assay results flow from our increased drilling activity at Golden Mountain. Fosterville South, symbol FSX in Canada and FSXLF in the US.
---
Legend Pierre Lassonde gave an an incredibly powerful interview to King World News discussing where the gold market, gold industry, and mining stocks are headed, and what he had to say will surprise a lot of people around the world. To find out why legend Pierre Lassonde says the upside on gold is unlimited and much more click here or on the image below.
Will Gold See A Historic Short Squeeze?
***ALSO JUST RELEASED: Could This Really Happen? Will The Gold Market See A Historic And Massive Short Squeeze? CLICK HERE.
© 2020 by King World News®. All Rights Reserved. This material may not be published, broadcast, rewritten, or redistributed.  However, linking directly to the articles is permitted and encouraged.