On the heels of the continued weakness in the gold market, today one of the greats in the business was kind enough to allow his gold report (that is only sent to his institutional and high net worth clients) to be shared exclusively with King World News readers around the world.  This is not something that is normally allowed and we thank him for his generosity.
Gold: You can hear a pin drop
August 12 (King World News) – Special report on the recent action in the gold market from Michael Oliver at MSA (www.olivermsa.com):  We'd still like gold to tag its 3-yr. avg. of $1202.90 and trade down to $1200. Then we'd want to see an upturn soon thereafter...
---
Listen to the greatest Egon von Greyerz audio interview ever
by CLICKING HERE OR ON THE IMAGE BELOW.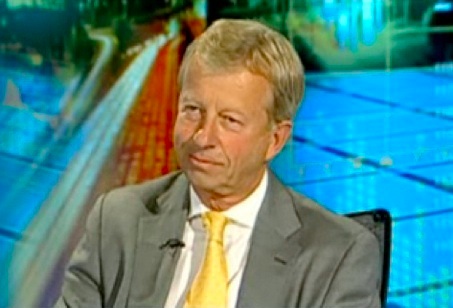 Sponsored
---
Michael Oliver continues:  The past two weeks have seen lows in the $1205 area and the action has been very narrow, despite volatility in other markets.
The pending upside breakout structures on weekly momentum (not shown) and monthly momentum (below) are amply ripe for breakout.
They have age and clear multi-point structures (unlike price) to break above and signal a turn. And that sort of preparatory groundwork usually means conditions are ripe for the turn, the rule being that you can't break a trend unless there's something to break.
First, there's a downtrend that goes back to January with at least five defining closes (circled). It's being crowded by recent action. That red line will come out first with a daily close next week (August future) at $1218, which also breaks out 3-wk. avg. momentum. This monthly oscillator also has a pivotal horizontal level that goes back to mid-May. For good measure, we prefer to see the black horizontal structure overcome on this 3-mo. avg. oscillator, and that takes a daily close at $1230.
Michael Oliver also told King World News:  "It's quite apparent that gold bulls are freaking out as they always do on every major selloff.  I get that people were freaking out when gold fell from $1,372 in July of 2016 to $1,120 by December of 2016.  So in six months we had significant damage.  But we've only fallen roughly $150, and it has taken place over eight months.  The time factor and the depth of the 2016 selloff was of a far greater magnitude in a much shorter period of time. 
The bottom line is that the extra time involved in this selloff has worn on gold bull's nerves.  It has nothing to do with price because this drop is much shallower.  To put this into perspective, gold right now at $1,211 is trading precisely at the midpoint of the trading range of the 2016 high and the December of 2015 bear market low.  That's all that's happened.  Long-term gold bulls need to take advantage of this selloff and stay strong mentally."
King World News note:  Michael Oliver is right, this is how bottoms are formed — with a crescendo of selling and capitulation that takes place.  For what it's worth, the big, smart money has continued to accumulate shares of the high-quality mining companies.
ALSO JUST RELEASED: Greyerz – ECB To Issue Emergency Liquidity As Turkish Contagion Spreads CLICK HERE TO READ.
© 2018 by King World News®. All Rights Reserved. This material may not be published, broadcast, rewritten, or redistributed.  However, linking directly to the articles is permitted and encouraged.