Gerald Celente just issued this major alert with King World News on gold and the stock market.
ALERT: Gold & The Stock Market
November 27 (King World News) – Gerald Celente:  U.S. equities hit new highs this week. 
While the biggest of U.S. companies have reduced spending on equipment and other capitalist investments, the cheap money flow into the equity markets keeps pushing the overvalued stocks higher.
According to Atlanta Federal Reserve reports, one in five manufacturers cut spending in the first half of 2019. In fact, the Organization for Economic Co-operation and Development (OECD) said that companies are not reinvesting in machinery, buildings, and software, which could cause the "sluggish performance" of these economies to become "entrenched."
While businesses blame some of the cutback on trade wars, it's anathema considering how high equities keep flying, and how much money they're investing in the markets. If the business sector were overly concerned about slowing global growth, funds would not be flowing into equities at their current pace…
---
ALERT:
Mining legend Ross Beaty (Chairman Pan American Silver) is investing in a company very few people know about. To find out which company CLICK HERE OR ON THE IMAGE BELOW.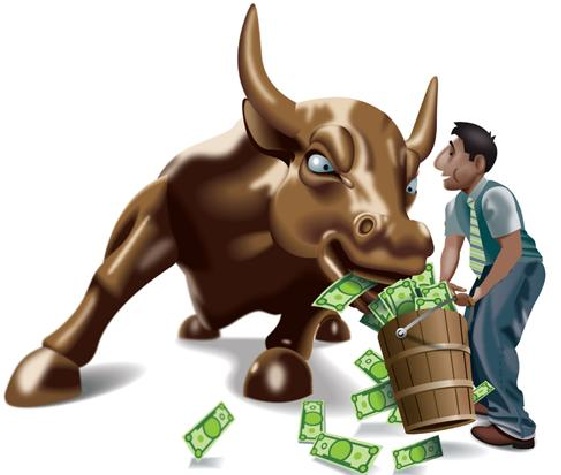 Sponsored
---
And it is beyond irresponsible and reckless for the business media to also claim that rising consumer concerns are holding back retail sales. The average consumer, or even the informed ones, know little or could care less about trade war details. 
It has nothing to do with policy. If consumers have the money, they'll spend it; if they don't, they won't. 
The same holds true for the equity markets: the more cheap money gamblers get, the more they bet. Just today, the Federal Reserve Bank of New York pumped $92.7 billion into the financial system.
TREND FORECAST:
With markets continuing to hit new highs, while consumer confidence dipped for the fourth straight month, President John Williams of the Federal Reserve Bank of New York said, "The U.S. economy is in a very good place… I think we have monetary policy in the right place. The key thing is we're not locked into any specific decision at policy meetings in the months ahead." 
We maintain our forecast that as the global economy continues to slow, so, too, will America's. While we do not forecast a rate cut following the Fed's upcoming December 2019 meetings, we do forecast further cuts from to zero to negative percent before Election Day 2020.
As we go to press, gold is at the critical $1,450 range per ounce. Should it weaken below that range, we maintain that its bottom will be $1,390 per ounce.
Also of importance…
Eric King:  "John, your share price has been skyrocketing after the latest drill results were released."
This Sent The Stock Skyrocketing
John Lewins:  "We've been putting out results every four to six weeks.  And we literally report every single hole because just about every hole hits mineralization within a massive system.  If you look at the latest results that were released, that included 13 meters of 291 grams per tonne equivalent.   That is, according to analysts, the best gold intersection in the last six months and the 3rd best in the world in 2019.  And just 30 meters away from it we recorded 13.6 meters at 111 grams per tonne, also in the same vein.  So we have continuity of grade as well.
Those two holes are outside of our existing resource so they will be expanding our resource.  They are adding to a picture and that picture is now showing that we have mineralization of 1,000 meters vertically and it is still open at depth, and of course it is still open along strike as well.  Meaning, all of the mineralization sits directly above the adit where we access the mine, so from a mining perspective it is much easier to mine.  What we're seeing is that we've more than doubled the amount of holes that we've put into this resource and there is huge potential to dramatically increase the upcoming resource that will be released in Q1 of 2020.
2020: Expect Dramatically Increased Gold Production And Cash Flow
At the same time, we're looking at coming in this year at the top end of our updated production guidance.  This means that we will produce 76,000-80,000 ounces of gold this year.  And when you look at costs for the first three quarters, our all-in sustaining costs was around $650 an ounce, which is in the lowest quartile globally in terms of cost of production.  But what is even more exciting, Eric, is the fact that we are set to dramatically ramp up production in the upcoming year.  This will also substantially increase an already steadily rising free cash flow. 
It is too early to release projections on free cash flow and earnings for the coming year, but it is safe to say, Eric, that both will be significantly higher than what was seen in 2019.  We will also be releasing studies in mid-2020 that will give both investors and analysts an idea about the next phase of expansion.  In closing, Eric, 2019 was very much a transformative year for K92, but 2020 is shaping up to be even more exiting for shareholders." K92 Mining, symbol KNT in Canada and KNTNF in the US. To see the drill results that sent the stock skyrocketing CLICK HERE.
One Of The Most Important Charts For Gold
READ THIS NEXT! This Is The Chart That May Unleash A Major Upside Thrust In The Gold Market CLICK HERE TO READ.
***KWN has released the powerful KWN audio interview with Stephen Leeb CLICK HERE OR ON THE IMAGE BELOW.
© 2019 by King World News®. All Rights Reserved. This material may not be published, broadcast, rewritten, or redistributed.  However, linking directly to the articles is permitted and encouraged