Today the top trends forecaster in the world, Gerald Celente, just issued a major new trend forecast for gold, stocks, and the economy in 2019.
NEW TREND FORECAST FOR 2019
January 3 (King World News) – Gerald Celente: Just three days into the New Year and it's already an old story. U.S. equities had the worst December on record since the Great Depression and equity markets across the globe closed out 2018 sinking into bear and/or correction territory … or had their worst year since the Panic of '08…
---
BONUS INTERVIEW:
To listen to Doug Casey's just-released KWN interview discussing his prediction of financial and economic chaos and a panic into gold CLICK HERE OR BELOW:
Sponsored
---
Why? The same old song that was played last year when the markets began to unravel is still ringing loud and clear in the New Year: "Tariffs and Trade Wars." It's even the headline excuse as to why Apple shares are tanking.
Rather than stating the fact Apple's China business has been on a down-trend for the last two years as competitors offered more innovative alternatives at lower prices, Apple CEO Tim Cook instead blamed "trade tensions between the United States and China."
"Trade Tensions" are not trade facts. At worst, it is estimated that tariffs would slow China's growth by 0.6 percent next year. Clearly it is not tariffs that stopped Chinese consumers from buying autos which had their biggest decline since the 1990's or shopping, as retail sales slumped to a 15-year low in November.
GLOBAL ECONOMIC SLOWDOWN
The dismal Chinese economic climate was evidenced by the latest Purchasing Managers' Index (PMI) which fell to 49.7, from 50.2 in November, the first time it declined to contraction levels in 19 months. Subsequently, China-dependent economies of South Korea, Taiwan, Malaysia, Philippines, etc. are reporting PMI declines and sharp equity market selloffs.
And the Japanese and German economies, number three and number four in the world respectively, ended 2018 on the edge of recession.
Indeed, as global economies slow and equity markets continue to descend into bear and correction territory, as we forecast on September 19, 2018, the first shots of a global "Economic 9/11 Terror Strike" have been fired…
---
Listen to the greatest Egon von Greyerz audio interview ever
by CLICKING HERE OR ON THE IMAGE BELOW.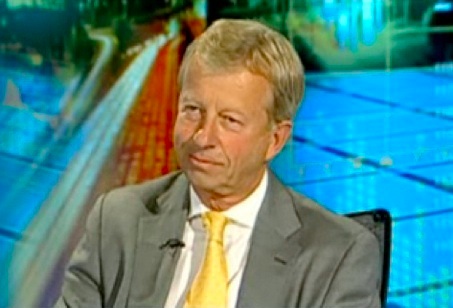 Sponsored
---
FOLLOW THE MONEY
On banking fronts, despite a green light from the Federal Reserve that allowed 34 of the largest banks to use extra capital to buy back billions of dollars of their stocks, the banking sector is closing out 2018 with deep stock value losses. For example, Citigroup, despite repurchasing $38 billion of its own shares, is down 30 percent. Goldman Sachs is posting a 35 percent loss and Morgan Stanley is down 24 percent. 
And Germany's largest bank, Deutsche Bank, shares closed down 58 percent in 2018, while across Europe bank shares have fallen on average 25 percent… the most since 2011.
TREND FORECAST:
These worsening economic trend lines could compel the Federal Reserve to not only slow interest hikes, but even cut rates this year. While it would temporarily boost equities again it would lower the value of U.S. currency and weigh favorably on the price of the gold.
Thus, we maintain our forecast that gold remains the ultimate safe haven asset. We had forecast that prices would bottom out at around $1,200 per ounce. They have and now gold is flirting at $1,300 per ounce. When gold solidifies above $1,450 per ounce, we forecast a sharp spike toward $2,000 an ounce.
ALSO RELEASED: EXPECT MORE VIOLENT TRADING: The Most Stunning Chart As We Kickoff 2019 Warns More Fireworks Ahead CLICK HERE TO READ.
© 2019 by King World News®. All Rights Reserved. This material may not be published, broadcast, rewritten, or redistributed.  However, linking directly to the articles is permitted and encouraged.