With gold and silver still consolidating recent gains, one of the legends in the business warned a panic to own physical gold is coming.
Deflationary Forces Overpowering Central Banks
From the late, great, Richard Russell:  "The great deflationary forces that are overpowering central banks everywhere have settled in. In an effort to combat the world deflationary forces, every nation wants a cheaper currency to benefit their exports. The result is a world choking on ever expanding fiat money.
This is pushing assets higher. The result will be a limited-time explosion with assets priced in terms of soaring fiat currencies. This will give us the third phase of the bull market that started in 1980. Ultimately, the power of world deflation will end the bull market and we will enter a correction (bear market) that will take the price of everything except gold to unbelievable new lows.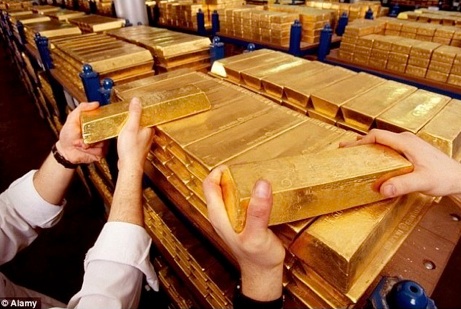 Expect To See A Panic Into Gold
I expect the reaction to world deflation will be the revaluing of gold and new gold-backed currencies, in an attempt (as FDR did in 1933) to thwart deflation. The one percent of smart money sees the picture and is preparing for it. Gold has entered a resumption of its bull market and is climbing higher in a zigzag pattern — two steps up, one step down.
One last comment – I note that suddenly the sentiment toward gold brightens. In coming years, we'll see a panic to own physical gold. The most derided object in the world will become its most beloved and treasured item. I have elected to go the "peace of mind route." That is why I maintain a large position in gold."
Richard Russell was proven correct…
Investment Demand For Gold Skyrockets To All-Time Highs!
Gold has already surged more than 25 percent in 2016, and investment demand has been soaring, as sales of gold coins from the U.S. Mint have now soared a jaw-dropping 84 percent.  But it's not just investment demand from the United States.  With negative interest rates picking up steam in Europe, many Europeans have been flocking to the safety of gold, especially in light of the dangers of holding capital inside the fragile European banking system.  In fact, investment demand for gold has now surpassed jewelry demand for the first time in history.
***KWN has now released the extraordinary audio interview with Stephen Leeb discussing the gold and silver markets, what major surprises investors should expect and much more and you can listen to it by CLICKING HERE OR ON THE IMAGE BELOW.
***ALSO JUST RELEASED: ALERT: Alasdair Macleod Just Issued A Terrifying Warning CLICK HERE.
***KWN has also now released the incredible audio interview with Rick Rule, where he discusses what investors should be doing with their money and their accounts right now, the gold and silver markets and much more CLICK HERE OR ON THE IMAGE BELOW.
© 2016 by King World News®. All Rights Reserved. This material may not be published, broadcast, rewritten, or redistributed.  However, linking directly to the articles is permitted and encouraged.