Here is a look at the downward pressure on banks, inflation, the US dollar and gold.
Downward Pressure On Banks
May 11 (King World News) – Art Cashin, Head of Floor Operations at UBS:  The downward pressure on the regional banks is abetting slightly in midmorning, but there is no equivalent ease back in the pressure on the general market.
The media is trying to blame most of the weakness in the Dow on Disney, but it is only accounting for 70 or 80 points of it.
The yields went lower on the mild flight to safety and have not shown any reaction to the slowing of pressure on the regionals.
The technicals had been looking for some weakness today, but this is a bit more resolute than the technical indicators had said.  So, we will continue to watch.
Sellers are churning into the support between 4100 and 4120.  Again, if they conclusively move below 4100, we will watch to see if it brings any carry on selling.
So, continue to watch the yields, but with a grain of salt that some of it is a flight to safety and do keep your eye on the regionals.
It should be an interesting day.
Stay safe.
Arthur
Inflation
Peter Boockvar:  PPI for April was about as forecasted when we include the revisions to March. Versus last year headline PPI has slowed to 2.3% from 2.7% and that is the slowest pace of gain since January 2021 but keep in mind here, while price gains are definitely slowing, the comparisons are VERY EASY too. In April 2022 PPI was up 11.2%. Energy prices rose .8% m/o/m but lower by 8.1% y/o/y. Food prices declined by .5% m/o/m while still up 2.5% y/o/y.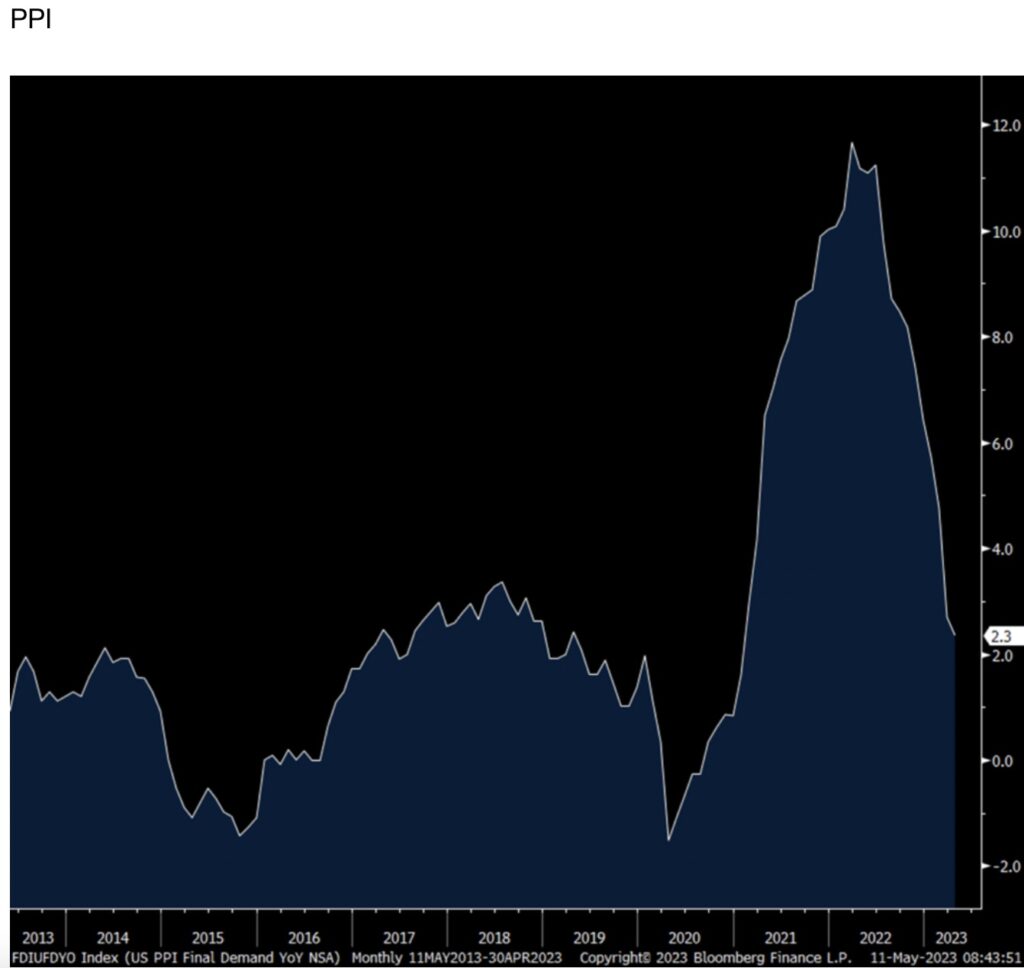 Inflation in the pipeline ex food and energy rose m/o/m though prices are down y/o/y.
I'll say again that the real question is where do things settle out at when the goods inflation dust settles in 2024. In the 20 yrs leading into Covid, core goods prices in CPI averaged ZERO. Are we going back to that trend line? I don't think so because labor costs globally will be more expensive and just in time inventory management is dead. That doesn't mean goods inflation will be high though, we always get the benefit of technology, but all it needs to do is rise 1-2% instead of zero and that is a notable change in long term trend.
Dollar & Gold
As seen with CPI, PPI provided no upside surprise and continue moderation and yields are falling in response as are inflation breakvevens but that is also due to the jump in initial claims (see below). The US dollar though is up [and] gold is [down].
Initial jobless claims jumped to 264k from 242k. That's the biggest one week print since October 2021.
Unemployment Is Rising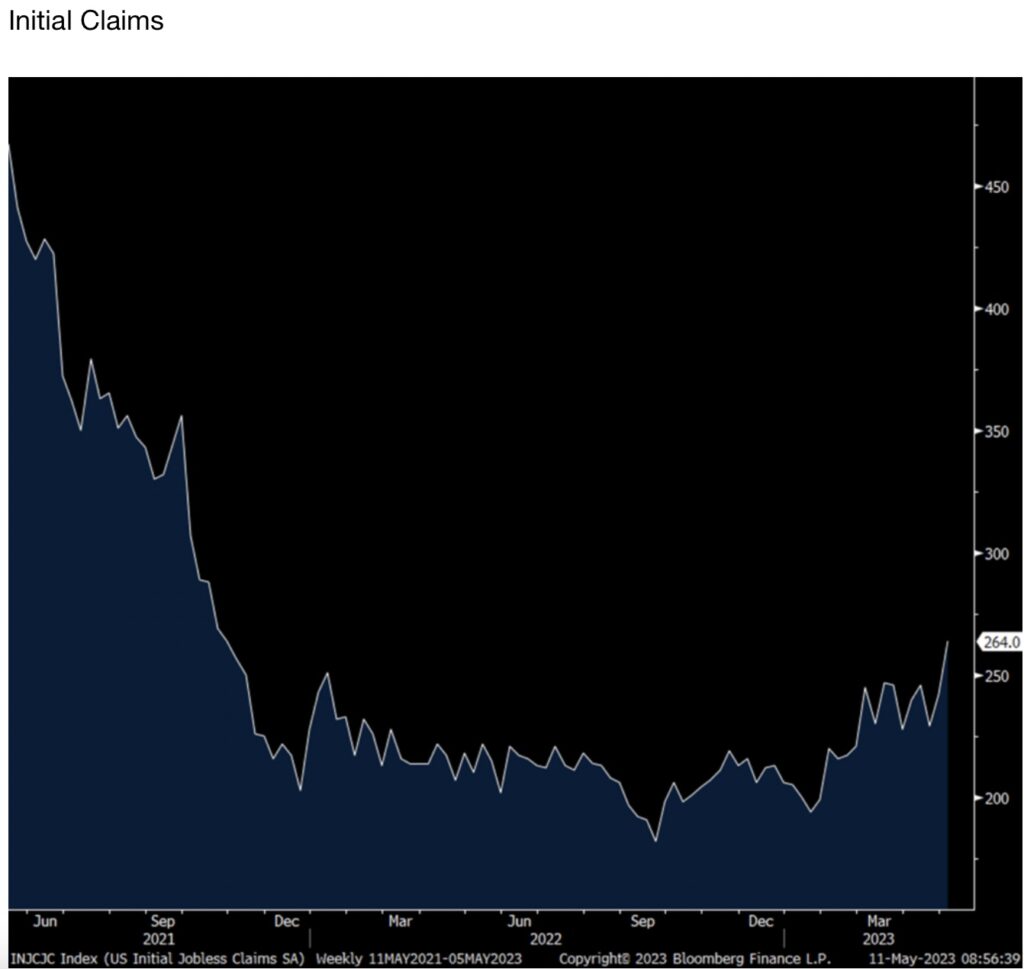 The 4 week average rose to 245k from 239k. Continuing claims were up by 12k after falling in the two prior weeks. They are now above 1.8mm for the 8th straight week.
Bottom line, between this report, what I heard from ZipRecruiter Tuesday night, and the holes in the BLS report seen Friday, the labor market continues to show fraying around the edges that I expect to be more notable in the months and quarters to come as the economic recession becomes clear.
Also of importance…
Finding The Gold
N. Superior drills 31.4 m of 2.13 g/t Au at Philibert!
Simon Marcotte, president and chief executive officer of Northern Superior, commented: "The results communicated today continue to demonstrate the exceptional grade and width of the Red Fox zone. With the campaign uncovering this new high-grade area, we see a clear opportunity to extend near-surface mineralization along strike and down plunge towards the east-southeast. 
Moreover, the drill holes investigating the western extent of the Red Fox zone have revealed that it remains open in that direction, providing a significant opportunity for the company to expand the mineralized corridor in the future. Over all, these results continue to demonstrate the significant potential of Philibert as we continue to progress towards a maiden resource calculation, which we believe will establish Philibert as a pillar in the rapidly emerging Chibougamau gold camp." Norther Superior Resources, symbol SUP in Canada and NSUPF in the US.
***To listen to James Turk discuss why the bank crisis is set to accelerate and how it will impact major markets including gold and silver CLICK HERE OR ON THE IMAGE BELOW.

***To listen to Alasdair Macleod discuss the accelerating bank crisis and how this will impact the gold and silver markets CLICK HERE OR ON THE IMAGE BELOW.

© 2023 by King World News®. All Rights Reserved. This material may not be published, broadcast, rewritten, or redistributed.  However, linking directly to the articles is permitted and encouraged.