With the U.S. President Donald Trump backing another $200 billion in tariffs in the escalating trade war, China may unveil its secret weapon — a staggering 30,000 tonne gold hoard.
The World Is About To See A Big Change
September 2 (King World News) – Dr. Stephen Leeb:  "I did not expect gold to dip below $1270-1280. Nor did I expect the aggressive trade tactics on the part of the U.S. toward China. China, too, may have been caught flat-footed as they likely saw increasing American trade pressure as favorable to China on many fronts. That the dollar strengthened in the face of the initial success of the petro-yuan contract is especially surprising. (Chinese traders have begun deliveries of oil against the Shanghai contract.) But, in the end, all it suggests is that loud bluster even with a shrinking stick can have a short-term effect.
As I pointed out, China has adjusted to the unexpected dollar strength by letting the yuan temporarily weaken while keeping its link to gold intact. I think the effects of bluster have nearly run their course and we are close to entering a triumphant phase for gold and the yuan. The rise of gold will likely accompany profound dollar weakness. This brief interregnum in gold's ascent gives investors another chance to load up on the surest insurance for the coming turbulence — gold…
---
ALERT:
Mining legend Ross Beaty (Chairman Pan American Silver) is investing in a company very few people know about. To find out which company CLICK HERE OR ON THE IMAGE BELOW.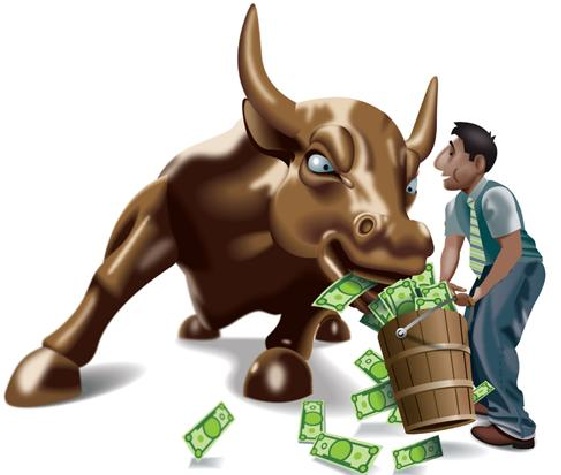 Sponsored
---
Should Trump go ahead in early September – as he has said he would – with tariffs on an additional $200 billion of Chinese imports, it will likely lead to an acceleration of Chinese hegemony in the East – and indeed among virtually all emerging economies.
Gold Price Will Be Five Figures
It is clear that the only factor standing in the way of Chinese Eastern hegemony is the dollar's status as the world's reserve currency. The incipient trade war has dramatically accelerated the move away from the dollar and toward gold throughout the East. I have a December book deadline and had hoped the book would be published at the advent of the next leg in the gold bull market – a leg destined to carry gold into five figures. I fear now that I may be a bit late, but given the potential strength of this coming bull market, much better late than no book. 
Remarkably, among the items included in the prospective new round of tariffs are critical metals including rare earth metals and cobalt. This highlights the reality that you can't isolate economic warfare from other geopolitical considerations. 
The inclusion of critical metals on the tariff list is only one example of the intricate interconnections among economics and geopolitics. I view the tariff war as a tremendous gamble. Its outcome, I fear, will favor China far more than the U.S. – and on more than one level. You have to be prepared and the easiest way is to own gold.
An Escalating Trade War
On economic grounds, alone, an escalating trade war is tough to quantify. While most economists agree that it is a lose-lose situation, their argument on the whole amount to little more than platitudes about the virtue of free trade. That's because the economics of trade is very complicated and dynamic. I certainly don't claim to be a trade expert. 
But instead of parroting clichés I prefer to take the opinion of those that have a bird's eye view of trade dynamics. One candidate is Soren Skou, who heads the largest shipping company in the world, Copenhagen based Moller-Maersk noted:
"Tariffs could slow global annual trade growth by 0.1 to 0.3 percent", though for the U.S. the effect could be "perhaps 3 or 4 percent." 
In other words, the tariffs will have little effect on China and likely lead to a recession in the U.S.
BHP Weighs In On Trade War
Another voice from an in-the-know business comes from the world's largest commodity producer BHP. In a recent Bloomberg interview CEO Andrew Mackenzie, said:
"U.S. risks losing out from its curbs on trade as rival nations including China will seek to more business with each other…' There's a lot of countries in the world that want to trade more with each other, now that it looks like the U.S. wants to trade less with them' Mackenzie said citing discussions with global trade ministers. 'China will absolutely look to walk in that area and look to find exports with other people"'
A few days or so after Mackenzie's comments a Bloomberg story appeared regarding India. China and India the two most populous countries in the world have had their spats through the years. Though China is India's largest commercial partner, the number one issue between the countries is China's huge trade surplus with India makes the partnership one sided. The headline of the article: "India Is Said to Plan to Fill Gap Left by U.S. Exports to China." And so, the U.S. gets credit for mending fences and increasing economic vibrancy and interdependence among 2.5 billion people. And one has to wonder about prospects for those former U.S. exporters to China. 
But economics is just part of the story. U.S. tariff actions, and the generally more strident and aggressive tone the U.S. has been taking toward China, are serving to bolster China's role as the East's hegemon in other ways. In particular, the South China Sea, through which nearly $3.5 trillion worth of trade flows every year, is deeply implicated.
Massive Naval Exercises
China recently conducted massive naval exercises in the South China Sea. These featured more than 40 ships along with drills involving submarines as well as a Chinese-built aircraft carrier. The country also has conducted major exercises in the airspace above the waters, demonstrations that clearly aim at showing China's ability to effectively counter any attempt by the U.S. to command that airspace.
As The New York Times described in an article earlier this week examining China's rising naval power:
"While China lags in projecting firepower on a global scale, it can now challenge American military supremacy in the places that matter most to it: the waters around Taiwan and in the disputed South China Sea. 
That means a growing section of the Pacific Ocean — where the United States has operated unchallenged since the naval battles of World War II — is once again contested territory, with Chinese warships and aircraft regularly bumping up against those of the United States and its allies. 
To prevail in these waters, according to officials and analysts who scrutinize Chinese military developments, China does not need a military that can defeat the United States outright but merely one that can make intervention in the region too costly for Washington to contemplate. Many analysts say Beijing has already achieved that goal."
Earlier this year, Peter Jennings, head of the Australian Strategic Policy Initiative, predicted that sometime next year:
"China's armed forces will hold exercises in the international waters of the South China Sea and that, to protect public safety, it will close the air and the sea space in the area." 
Of course, this would be presented as a temporary measure. But in effect it would represent stunning proof of China's de facto unchallenged control over the world's largest commercial trade artery. 
Well-regarded Australian senator Jim Molan has put it most bluntly, asserting:
"The battle for control over the South China Sea has been lost, with nothing short of all-out war capable of dislodging Chinese forces from a string of heavily fortified islands."
To which it's worth adding that the Pentagon has warned that China is developing nuclear plants on some of the South China Sea islands it now controls – certainly complicating the calculus for the U.S. of undertaking any sort of military action.
And to note one more factoid, one of China's strongest suits – one that all available evidence indicates the U.S. can't match – is its military's ability to guide its hypersonic missiles, a key factor in its control over air space. That capability, in turn, depends on the permanent magnets that are based on rare earth metals. That these metals and other critical metals are on our tariff list is utterly mindless.
Even a cursory knowledge of history, as I have pointed out previously, suggest that a strong foothold in Central Asia is what the Shanghai Cooperation Organization (SCO) is all about is one necessary ingredient for control of Eurasia. The other is an  an unassailable Navy.
China's strengthening military position in the East is just one aspect of how the world is changing in ways that don't serve our interests. I also see our stance on trade as surely further incentivizing China and other countries to transition from dollar-based trade to something else. As we noted recently, America's ability to penalize other countries, via measures that include sanctions as well as tariffs, stems from the dollar's role as the major reserve currency. Take away that role, and suddenly the U.S. can far more easily be ignored.
As expressed in a recent CNBC posting by Gal Luft, co-director of the Institute for the Analysis of Global Security, the U.S. currently is waging economic warfare against two billion people with a combined GDP of more than $15 trillion. Add countries like those in the BRICS group and the BRI and you have a collection of countries whose populations and cumulative economies dwarf those of the entire developed world. And China is the glue that keeps these countries marching more or less on the same growth path.
This massive economic mass represent a potential anti-dollar constituency that would be happy to go along with a new monetary system, something that is clearly part of China's plans. Luft argues as I have said many times before the monetary system will likely involve some form of blockchain, which China – thanks in part to its dominance in mining crypto-currencies – dominates.
While Guft does not mention gold, it is clear as day that China will insist that gold be at the center of a new monetary system. As China has said many times, any monetary system based on sovereign currencies, even if it were the yuan played the major role, is just asking for major trouble. Our massive trade deficit is much more a function of an overvalued dollar than all other countries trying to take advantage of us. The new system will be tied to gold and will virtually eliminate the dollar's role in much of the world. Good bye to economic sanctions. And, incidentally, hello to new homes for a huge chunk of current China exports to the U.S. 
China's 30,000 Tonnes Of Gold
And speaking of gold, there has been much speculation about China's enormous gold holdings. One estimate of 30,000 tonnes has come from Simon Hunt, a very credible metal's analyst whose firm was absorbed by Wood Mackenzie. If true – and I do believe it – China is, as I have been saying, well positioned to transition at least a good chunk of the East and developing countries in the West into some sort of gold based monetary system, very likely involving blockchain.
In sum, as we see it, in our pursuit of a supposedly better trade environment the U.S. is being shortsighted. It's failing to put things together and see the interconnections between trade, the military, and the overall economy. It's ignoring the reality that effects on one country have ripple effects throughout the world."
***KWN has now released the powerful audio interview with Egon von Greyerz and you can listen to it by CLICKING HERE OR ON THE IMAGE BELOW.
ALSO JUST RELEASED: Greyerz – People Are Not Going To Be Able To Get Their Money Out Of Their County CLICK HERE TO READ.
© 2018 by King World News®. All Rights Reserved. This material may not be published, broadcast, rewritten, or redistributed.  However, linking directly to the articles is permitted and encouraged.