As the robot traders continue to keep hope alive on the ticker, are things finally beginning to come unglued? More people are borrowing just to get by, what could go wrong? A warning regarding stocks, plus an important gold chart.
HOW IS THIS A GOOD THING? More People Borrowing To Get By
July 9 (King World News) – Federal Reserve:  "May consumer credit up 5.0%; revolving credit up 8.2%; nonrevolving credit up 3.9% (SAAR)"
Just Keep Printing And Easing! What Could Go Wrong?
Jeroen Blokland:  "For decades the US debt limit tended to follow nominal GDP, but since the start of this millennium it has clearly decoupled. (See chart below).
IT WAS BOUND TO HAPPEN AT SOME POINT: For Some Time Now It Has Required More And More Electronically Printed Dollars Just To Get One Dollar Of GDP Growth
A Warning Regarding Stocks
Jeroen Blokland continues:  "Peak employment is great, but not for equity markets! (See chart below).
No One Is Saying Stock Market Crash…Yet
Nothing To See Here…
Jeff Snider at Alhambra Partners:  "In the past few days: India's crd mkt shuts down, Turkey sacks central bank head over interest rates, Malaysia bond mkt begs for rate cuts, Australia 2nd rate cut in as many months, DB bankruptcy-like restructure, and now EFF." (See chart below).
Are Things Finally Beginning To Come Unglued?
How Can They Compete?
Robin Brooks, Chief Economist at IFF:  "What's striking in terms of US retail is that productivity in department stores is not improving. The number of employees needed to generate $1 million in sales per year is stuck above 8 (blue), even as it takes only 0.6 employees to generate the same number in e-commerce (red). (See chart below).
Traditional Retail Troubles Continue: Expect Even More Store Closings
---
ALERT:
Mining legend Ross Beaty (Chairman Pan American Silver) is investing in a company very few people know about. To find out which company CLICK HERE OR ON THE IMAGE BELOW.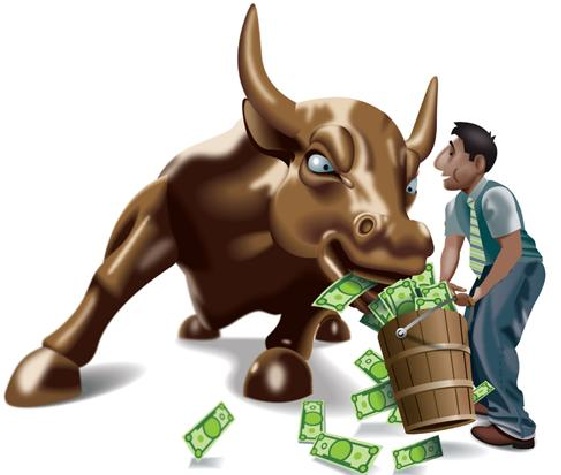 Sponsored
---
Another Warning Signal
Daniel Lacalle, Chief Economist at Tressis:  "The appointment of Christine Lagarde as president of the ECB has been greeted with euphoria by financial markets. That reaction in itself should be a warning signal."
Important Gold Chart
King World News note:  The price of gold has been closing in on all-time highs in British pounds. Meanwhile, the US dollar price of gold continues to consolidate and shakeout weak hands before heading higher (see chart below).
Gold Close To Hitting New All-Time Highs In British Pounds (Red), US Dollar Gold Price Will Not Be Far Behind After Shakeout & Consolidation (Green)
WHAT DO THEY KNOW?
READ THIS NEXT! WHAT DO THEY KNOW? Bullion Banks And Commercials Ramp Up Short Positions In Gold…Again CLICK HERE TO READ
KWN has just released the powerful audio interview with Gerald Celente and you can listen to it by CLICKING HERE OR ON THE IMAGE BELOW.
More articles to follow…
In the meantime, other important releases…
Conditions Similar To 2007 Prior To Stock Market Crash, Rate Cuts Will Not Save It, Worries About Economy Mount, Plus Big Picture For Gold & Silver CLICK HERE TO READ
THIS CAN'T BE REAL: Look At What Just Cratered, Plus Markets Are Not Fair CLICK HERE TO READ
Greyerz – The Road To $18,160 Gold And The Wisdom Of Jesse Livermore CLICK HERE TO READ
The Price Of Silver Is Finally Ready To Launch Higher, Enjoy The Ride CLICK HERE TO READ
Gerald Celente On Friday's Action In The Gold Market CLICK HERE TO READ
© 2019 by King World News®. All Rights Reserved. This material may not be published, broadcast, rewritten, or redistributed.  However, linking directly to the articles is permitted and encouraged