On the heels of the price of bitcoin surging above $18,000, London analyst, Alasdair Macleod, looks at bitcoin, gold and the end of fiat currencies.
November 18 (King World News) – London analyst, Alasdair Macleod:  Eric, watching bitcoin trading above $18k while gold languishes is fascinating. At the same time Wall Street is challenging all-time highs. Commodity prices, such as soybeans are rocketing.
Other than the underperformance of gold and silver, markets appear to be responding to monetary inflation. Bitcoin is perhaps a special case, with a sudden realisation that central bank digital currencies are giving cryptos credibility, PayPal allowing customers to buy bitcoin and increasing institutional demand are all driving the price…
---
To learn which company billionaire Eric Sprott just bought a
$10 million stake in click here or on the image below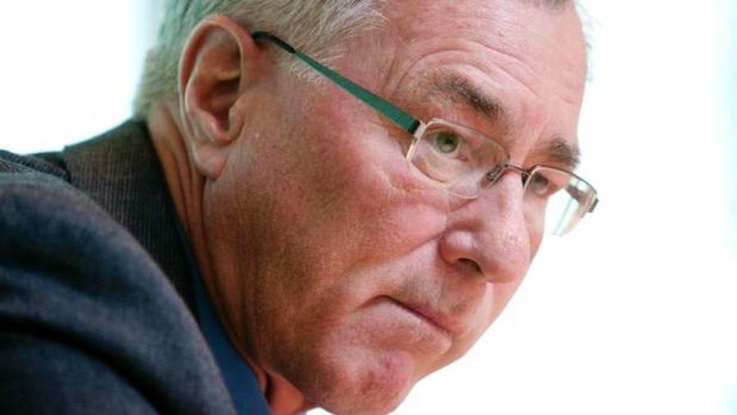 ---
No one is really thinking it all through. While we can now see the ending of fiat currencies, the only reset can be with gold, because that is what the central banks own. They will have to offer full convertibility with existing, or new currencies operating as gold substitutes. When that happens, the role of cryptocurrencies will simply cease.
It also tells us the gold price is devoid of speculation and yet to reflect that reset. It will be interesting to see how all that changes as fiat currencies lose purchasing power from here.
The chart below shows gold priced in bitcoin.
Also of importance…
Newmont Deal Is Very Big News
Dan O'Flaherty:  "Eric, what we just announced is incredibly exciting. This is the second major acquisition of royalty assets from Newmont. As you know, when Maverix Metals was launched by former Pan American CEO, Geoff Burns, in his planning with Ross Beaty, the acquisition of Newmont's first tranche of royalty assets in 2018 was a catalyst for enriching shareholders. Newmont sat with Ross Beaty prior to that first major acquisition because they wanted to confirm his long-term commitment to Maverix Metals. When Ross Beaty confirmed his long-term commitment, Newmont became a major shareholder of Maverix Metals in 2018.
The exciting thing is these are all gold assets and they are all in the Americas. This transaction dramatically enhances our near-term growth pipeline. And you have to remember, Eric, that Newmont agreed to this second major acquisition in part because they are so pleased as shareholders of Maverix Metals with what we did with the first group of royalty assets. Meaning, the first transaction acted as a key driver not only for a major move in our share price, but also in cementing this long-term and very fruitful relationship with Newmont. This demonstrates Newmont's confidence that Maverix Metals can continue building on its momentum from the past few years and also continue to push its share price significantly higher over time.
Expect A Higher Share Price
And, Eric, this comes on the heels of Maverix announcing a record breaking third quarter across the board in terms of revenue, GEOs, net income, and cash flow. The bottom line is this puts Maverix Metals in a very powerful position going forward in terms of unlocking the value of this attractive portfolio of royalty assets that was just acquired from Newmont. This deal will help drive continued growth in revenue, earnings, cash flow, and attributable gold production well into the future, providing a clear path for near-term shareholder value creation. Maverix Metals, symbol MMX in Canada and the US.
To listen to Egon von Greyerz discuss the shortages in the silver market and much more CLICK HERE OR ON THE IMAGE BELOW.
© 2020 by King World News®. All Rights Reserved. This material may not be published, broadcast, rewritten, or redistributed.  However, linking directly to the articles is permitted and encouraged.